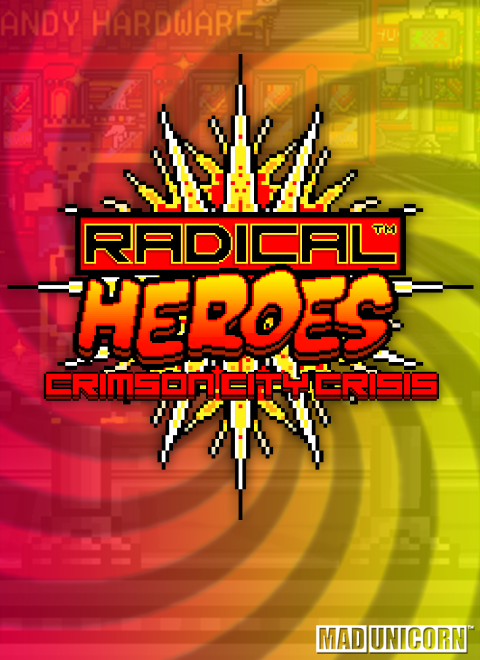 Game Info:
Radical Heroes: Crimson City Crisis
Developed by: Mad Unicorn
Published by: Apogee
Released: October 4, 2016
Available on: Windows
Genre: Beat em' Up
ESRB Rating: Not Rated
Number of players: 1
Price: $2.99
Thank You Mad Unicorn for sending us this game!
Radical Heroes: Crimson City Crisis is a fun Beat em' up that is inspired by 'River City Ransom' from the NES. It feels nice, plays easily, and doesn't take up much space. For its price, it is surprisingly fun and plays well. When I play this game, it runs okay, but it may lag a bit. It has crashed a good amount of times and has a lot of bugs.
If you fight enemies, you can use abilities that you may have bought to help you. You can fight many different enemies, and save Crimson City from an invasion. There are lots of stores and training places you can go to, and they all are very useful for your character. You can unlock various characters to play as, and they all have their own benefits.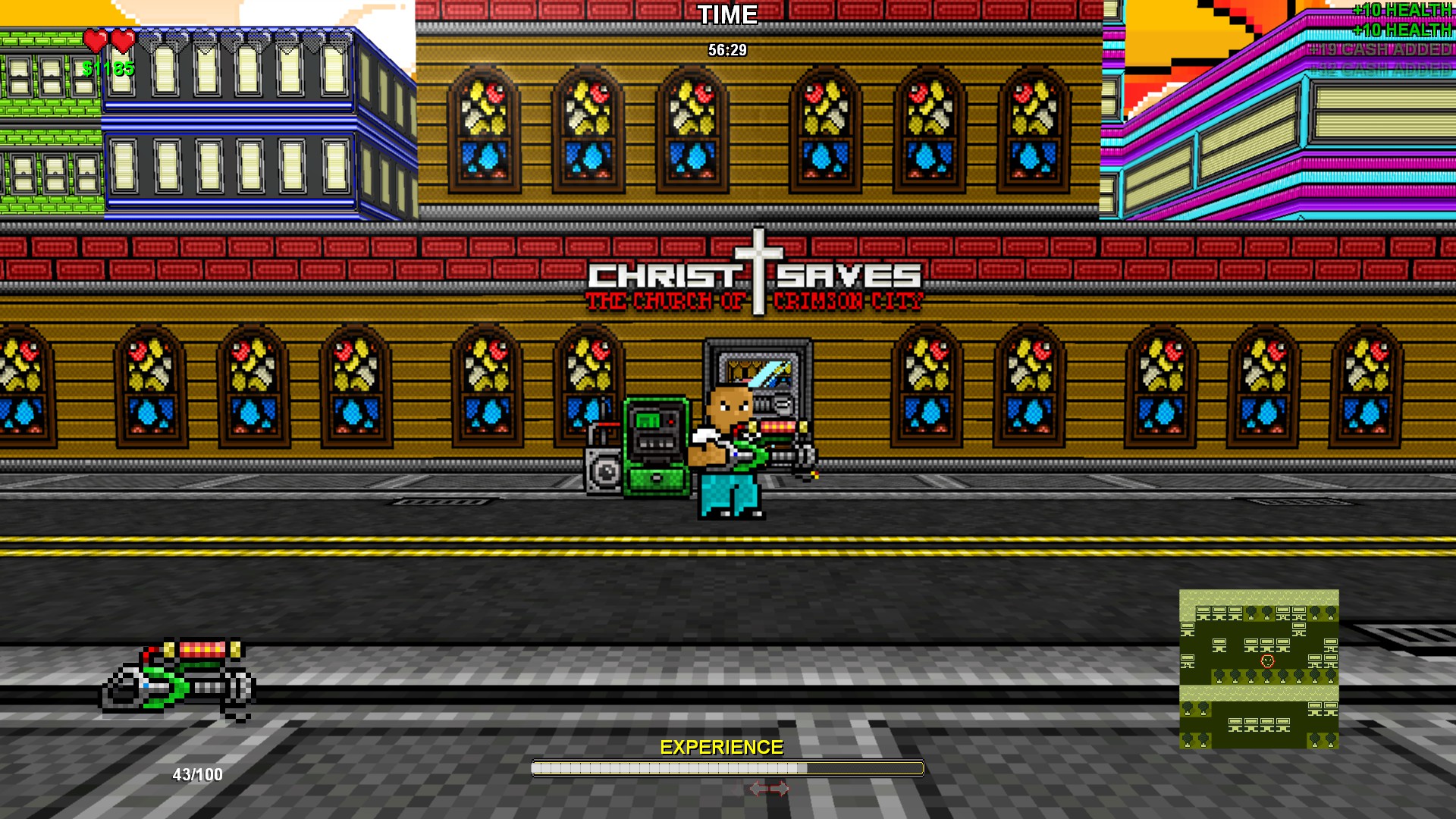 Highlights:
Strong Points: Fun; great music; good pixel art
Weak Points: No multi-player; tons of bugs
Moral Warnings: Mild blood
I think that playing this was not that hard, but it got a little difficult at times (not many). Other than its lack of challenge, it was very fun to play and to just mash buttons on my controller, while beating up enemies at the same time.
There is a story, but there is not much to it. There was an invasion of some evil force and everyone is counting on you to stop it. This "evil force" consists of gangsters, zombies, ghosts, clowns, ninjas, aliens, robots, and also all of the bosses. Anyways, after the police tells you about the evil force, you go forward and see a floating, holographic man with a mask and cape. He calls to you and tells you to defeat the evil force. But first, he teaches you your first special move: the Leaping Lizard. He tells you that the Leaping Lizard is a powerful uppercut only Heroes know (making you a hero).
I love this game's music. There are lots of different songs that it plays, and I love them all. They can be pretty catchy, but I actually like it when these songs get stuck in my head because of how good they are. There is only one person who actually has a voice. And that person is the holographic man. And he only shows up once. There is also some commentary heard in the background while you are fighting.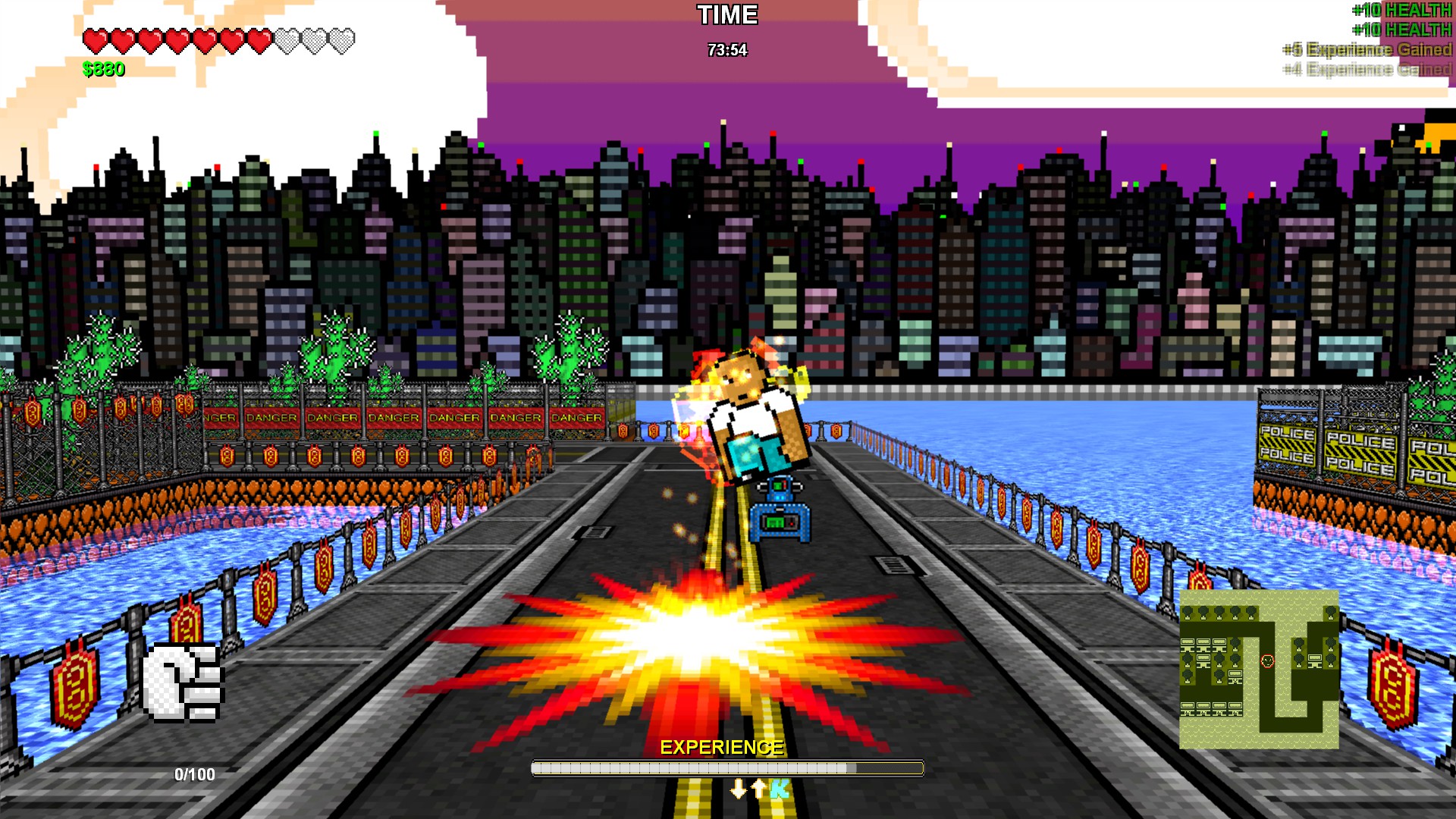 Score Breakdown:
Higher is better
(10/10 is perfect)
Game Score - 72%
Gameplay - 15/20
Graphics - 7/10
Sound - 10/10
Stability - 1/5
Controls - 3/5

Morality Score - 85%
Violence - 6/10
Language - 10/10
Sexual Content - 10/10
Occult/Supernatural - 6.5/10
Cultural/Moral/Ethical - 10/10
The controls are kind of weird to me, because they aren't my style. But luckily you are allowed to change them. Another thing that bugs me about the controls is that they are meant for playing on the keyboard, so on a text screen when you are talking to a person, it says "Press Space to Continue". Also, in the menu where you can change the controls, instead of it saying "A button", "B button", or anything like that it says "Button 1", and "Button 2", and I think that's pretty annoying.
There is a lot of cartoon violence because that is pretty much what it's all about. There is not any inappropriate language or any sexual content. Since there are some power moves and aliens and stuff like that, I would say that there is some supernatural stuff in this game. I did not find any cultural, moral, or ethical problems here, either.
I enjoyed playing this a lot, and I think anyone who likes the side-scrolling Beat em' up action would enjoy playing Radical Heroes: Crimson City Crisis. I don't think that there is much wrong with this title, and I think that it is very fun.