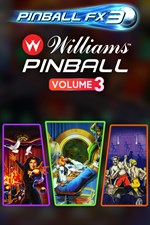 Game Info:
Pinball FX3 – Williams Pinball Volume 3
Developed by: Zen Studios
Published by: Zen Studios
Release date: March 19, 2019
Available on: Android, iOS, macOS, PS4, Switch, Windows, Xbox One
Genre: Pinball
Number of players: Single-player
ESRB Rating: E 10+ for fantasy violence, mild language
Price: $9.99

Thank you Zen Studios for sending us this DLC to review!
So far we have reviewed and enjoyed Zen Studio's recreations of the Bally/Williams pinball tables. Volume 4 will be releasing soon so we're looking forward to that collection as well. Volume three has some interesting choices and here's a breakdown of the three tables available in this DLC:
Out of the three tables, The Theatre of Magic is probably my favorite. This table was released in 1995 and sold 6600 units. It's very generous on the scoring and it's not too difficult to accumulate several hundred million points. There are four ramps and the game tells you which ones to aim for to perform various magical illusions. If you get three balls locked away in the magic trunk, you'll trigger a 4-ball multi-ball event which can lead to some serious points. I like how the balls glow pink and the female magician animated with the visual enhancements enabled.
Highlights:
Strong Points: Nice re-creations of the physical versions with optional 3D animated enhancements
Weak Points: Only one successful table featured in this collection
Moral Warnings: The Theatre of Magic Table features magical illusions and spirit cards; boxing/sports violence
The Champion Pub was released in 1998 and only manufactured 1,369 units. This table focuses more on fighting than drinking. Some of the mini-games include training by having your ball jump rope or moving a spittoon around to collect spit from the patrons. If you move your ball right you can trigger a fight with different boxers. Winning will be determined by how accurately you can hit the boxer in the middle of the table. Multi-ball events are called Maulti-Brawl and you can get up to four balls in the game.
Safe Cracker is my least favorite table in the pack. This table was produced in 1996 and sold 1,148 units.  Your goal in this table is to crack a safe and get away without alerting the security guards, dogs, and police.   There are references to donuts for the security guards, so real-life ones may take offense to this table.  The scoring is conservative compared to the other two pinball tables in this collection.  The multi-ball event only releases three balls.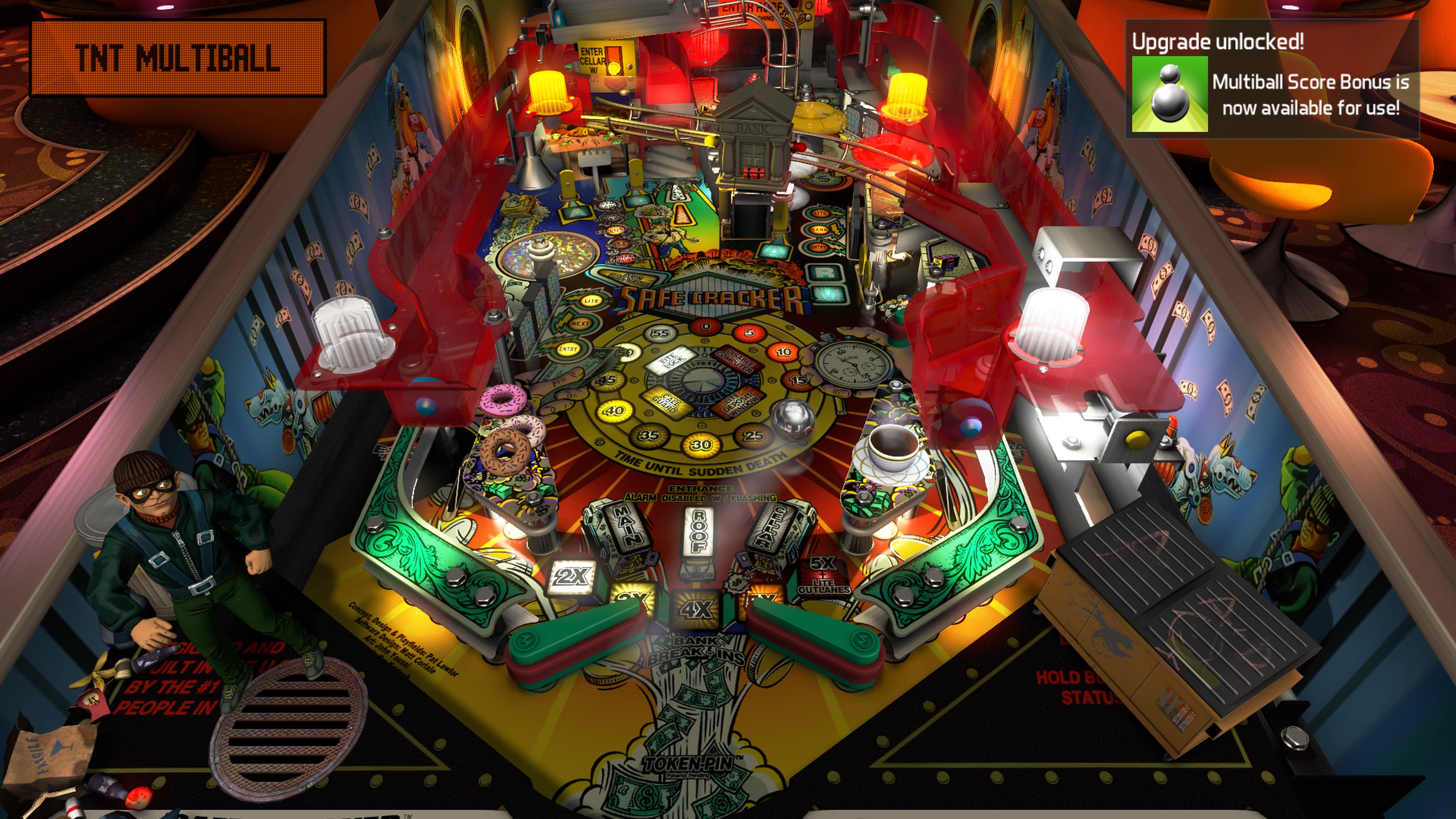 Score Breakdown:
Higher is better
(10/10 is perfect)
Game Score - 86%
Gameplay - 17/20
Graphics - 8/10
Sound - 8/10
Stability - 5/5
Controls - 5/5

Morality Score - 86%
Violence - 8/10
Language - 10/10
Sexual Content - 8/10
Occult/Supernatural - 7/10
Cultural/Moral/Ethical - 10/10
All of the tables look and sound very close to the originals. I like how the game asks if you want the uncensored or family-friendly sound effects. Even without the family-friendly filter enabled, I didn't notice any foul language. By default, the tables are shown in the remastered modes with animated 3D characters and enhancements. By pressing the B button, you can revert back to the classic look.
Just like the other Pinball FX3 tables, this DLC supports table upgrades, hot seat multiplayer, and challenge modes. The three challenge modes are 1 ball, 5 minutes, and survival mode. The goal in the one-ball challenge is to get the highest score possible with only one ball. If you lose the ball while the ball save light is illuminated, the ball is still saved, but if it's off, you're done for. After the ball is lost for good, your score is added to the global leaderboards and stars are earned depending upon how good of a score you received. The 5-minute challenge gives you an unlimited number of balls so you have plenty of opportunities to get a high score within the time limit. The survival mode gives you unlimited balls as well; however, if you don't meet the score requirement in the time limit, your game will end.
Although I'm familiar with the original tables, from what I've seen on YouTube and from images, these digital recreations are amazing. I do prefer the 3D animated enhancements, but I've never claimed to be a pinball purist. If you're a fan of Bally tables, then this collection is worth picking up.