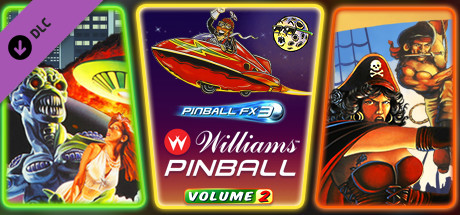 Game Info:
Pinball FX3 - Williams™ Pinball: Volume 2
Developed by: Zen Studios
Published by: Zen Studios
Release date: December 4, 2018
Available on: PS4, Switch, Windows, Xbox One
Genre: Pinball
Number of players: Single-player
ESRB Rating: E 10+ for Fantasy Violence, Mild Language
Price: $9.99
Thank you Zen Studios for sending us this game to review!
We previously reviewed Pinball FX3 - Williams™ Pinball: Volume 1 on the Switch. While the Volume 1 collection focused on Williams tables, Volume 2 has Bally/Midway tables that came out in the 90s after Williams acquired them. Here's a quick breakdown of each of the 3 tables:
Black Rose: This table was released in 1992 and sold 3,746 units. In this pirate-themed table, your goal is to sink ships by illuminating the words "sink ship". Once that's done, you can take control of a cannon and aim for the broadside of the enemy's ship. Another mini-game is "Walk the plank" where you have to mash the A button to swim fast enough to land before being eaten by a shark. I have yet to avoid being eaten. There are three flippers, ramps, and stand up targets to keep things interesting. Multiball with 3 balls is fairly easy to trigger and can earn you a good amount of points in the process.
Highlights:
Strong Points: Neat re-creations of the physical versions with optional 3D animated enhancements
Weak Points: The sounds are a bit crackly but probably sound authentic
Moral Warnings: An optional family mode disables any foul language present in these tables; sexual innuendo
If you're looking for a high score, then the Attack From Mars table is for you. By merely launching the ball, you can get 30 million points. This table from 1995 gives out points like no tomorrow! Your goal in this table is to destroy as many UFOs as possible before they annihilate highly-populated cities. If you can save all of the cities, your final confrontation will take place on Mars. 3,450 of these pinball machines were produced, and this table features 2 flippers and ramps. If you can trigger a multiball, 4 will be at your disposal. It's not too difficult to get a score in the billions with this table.
The Party Zone was released in 1991 and features Captain B. Zarr as your host to this wacky party-themed pinball table. There are dance-offs and you can change the background music. I ignored the song 'Safe Sax' in favor of 'Pinball Wizard'. If you blast through the O-Zone you can score a good number of points. The 2-ball multiball is a bit lacking, but the personality of this table makes up for that.
All of the tables look and sound very close to the originals. I like how the game asks if you want the uncensored or family-friendly sound effects. Even without the family-friendly filter enabled, I didn't notice any foul language. By default, the tables are shown in the remastered modes with animated 3D characters and enhancements. By pressing the B button, you can revert back to the classic look.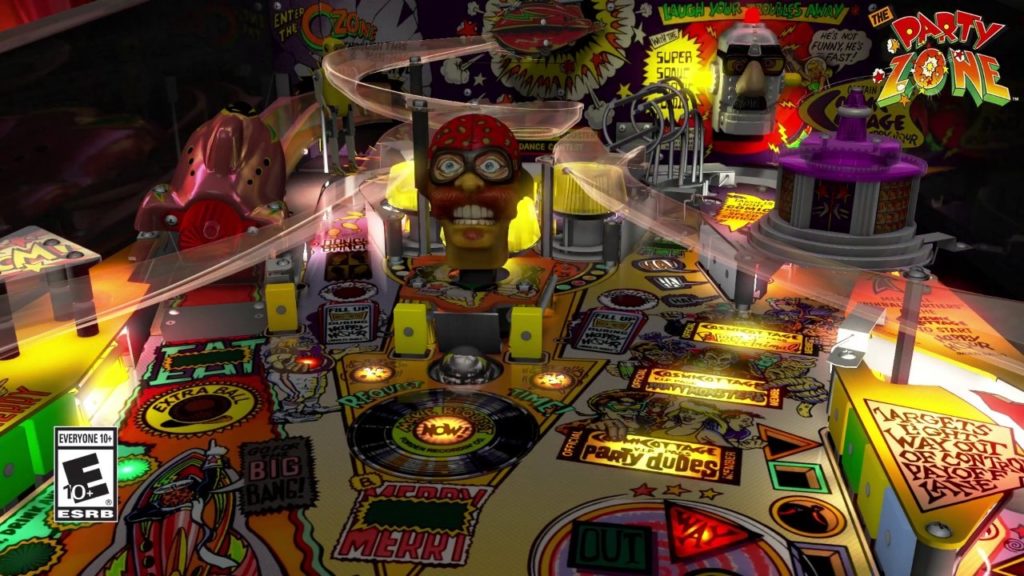 Score Breakdown:
Higher is better
(10/10 is perfect)
Game Score - 86%
Gameplay - 18/20
Graphics - 8/10
Sound - 7/10
Stability - 5/5
Controls - 5/5

Morality Score - 92%
Violence - 8/10
Language - 10/10
Sexual Content - 8/10
Occult/Supernatural - 10/10
Cultural/Moral/Ethical - 10/10
Just like the other Pinball FX3 tables, the tables in this DLC support table upgrades, hot seat multiplayer, and challenge modes. The three challenge modes are 1 ball, 5 minutes, and survival mode. The goal in the one-ball challenge is to get the highest score possible with only one ball. If you lose the ball while the ball save light is illuminated, the ball is still saved, but if it's off, you're done for. After the ball is lost for good, your score is added to the global leaderboards and stars are earned depending upon how good of a score you received. The 5-minute challenge gives you an unlimited number of balls so you have plenty of opportunities to get a high score within the time limit. The survival mode gives you unlimited balls as well; however, if you don't meet the score requirement in the time limit, your game will end.
Although I'm familiar with the original tables, from what I've seen on YouTube and from images, these digital recreations are amazing. I do prefer the 3D animated enhancements, but I've never claimed to be a pinball purist. The sound effects are a little scratchy, but that's probably how they sound in real life. I have no other complaints. If you're a fan of Bally tables, then this collection is worth picking up.