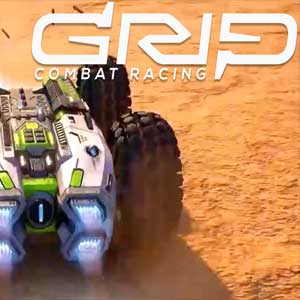 Game Info:
GRIP: Combat Racing
Developed By: Caged Element Inc.
Published By: Wired Productions
Release Date: November 6, 2018 (Steam Early Access was February 2, 2016)
Available On: Windows, PS4, Switch, Xbox One
Genre: Arcade Racing
Number of Players: 1-4 local with split-screen, 10 online
ESRB Rating: E10+ for Fantasy Violence
MSRP: $29.99 (Windows), $39.99 (consoles)
(Humble/Amazon Affiliate Links)
Thank you Wired Productions for sending us this game to review!
There are many kinds of racing games out there; on one side of the spectrum we have the simulation racers, where accurate physics, road, and vehicle handling and performance is emulated as closely as possible. On the other side, we have what we call arcade-style racers, where fun takes top priority over any of that realistic stuff. GRIP: Combat Racing falls firmly in the second camp - and succeeds in being a ton of fun.
In GRIP, you race in one of several available vehicles, which you unlock as your profile gains experience and levels. They all have a futuristic look to them, which prominently feature huge tires that allow you to keep going if you flip your car over. They also have a place to put those all-important guns, which you can use to really mess up your opponents as you go along. The cars must be made to take it though, as there is no lasting damage after even a missile hits you.
What makes GRIP tick is that you race through these fantastical levels, twenty-three of them when I counted, at blisteringly high speeds. There are five racing modes, three arena modes (only one of which is unlocked pre-launch), and a 'Carkour' mode. Carkour reminds me a lot of some of TrackMania's trickier levels. Basically, you learn how to get through some crazy obstacles using your car and the physics engine. They are often simple, short levels where you simply try to make it to the end, and are timed doing so. It's a fun diversion, but not a mainstay of your time in GRIP.
Most of your time will likely be spent in either the campaign, or single-player modes (or multiplayer, if you like people better than bots). Most of those modes are under the 'race' heading, and are Classic Race, Ultimate Race, Elimination Race, Speed Demon, and Time Trial. Classic Race and Speed Demon are both your classic 'cross the finish line in the best place you can,' with the variation being all normal weapon pickups and power-ups are available for Classic, while Speed Demon has only the Firestorm power-up, which is a turbo speed boost.
Other race modes include Ultimate Race, which is a mode where how much damage you do matters far more than how fast you are. You rank purely based on points, which are far easier to earn via weapons and stunts than through racing. Elimination Race is a mode where the player in last place is eliminated every thirty seconds; don't be last, and go fast! Time Trial is just what it sounds like – do your best to make the fastest laps possible.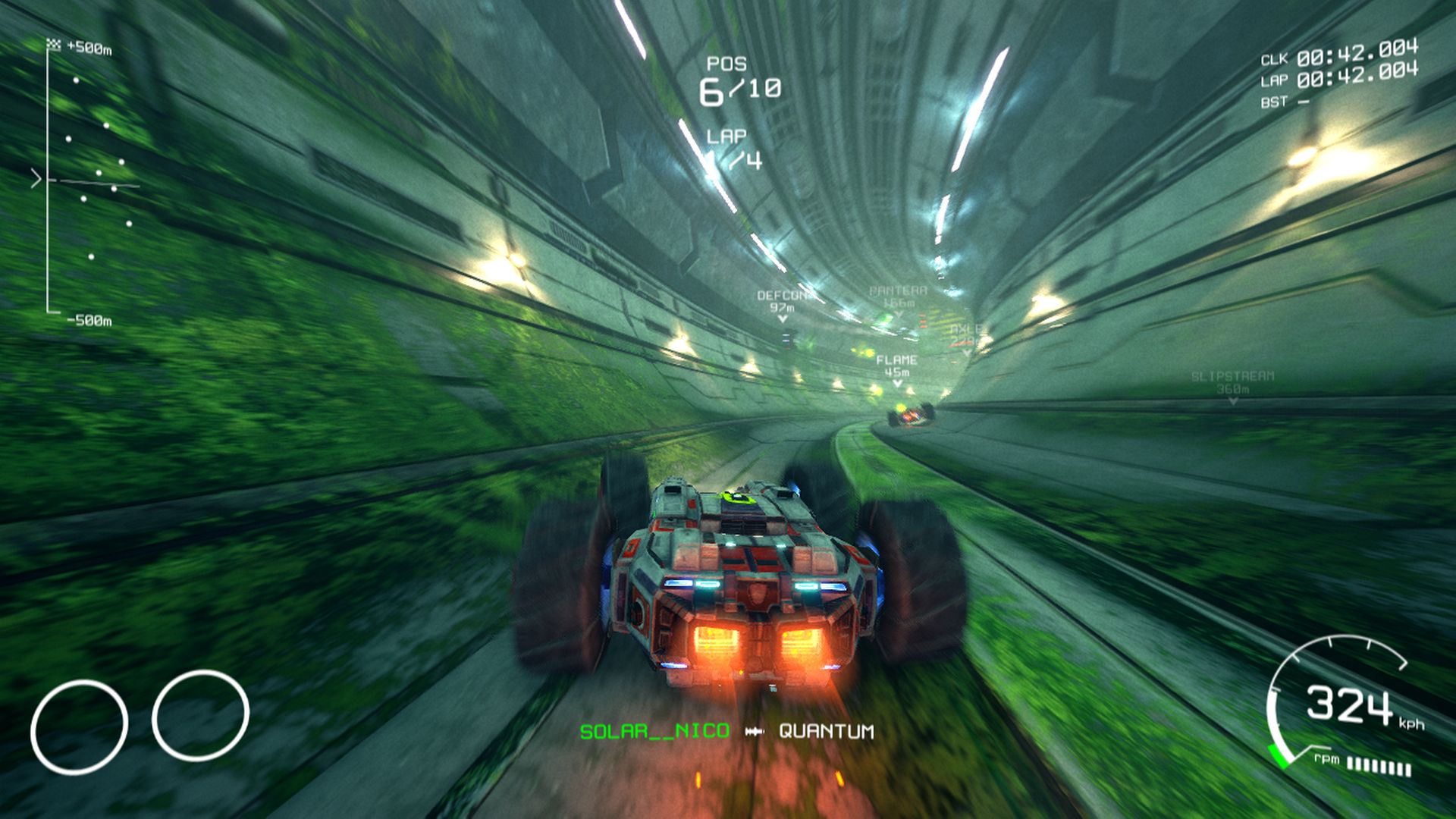 Highlights:
Strong Points: Fast, frantic, and fun racing experience; guns work well once you get used to them; graphics look great; sound effects are very good; nice customizations available for your ride
Weak Points: Swappable tires are cosmetic only; car customization user interface is a bit clunky; a few small interface tweaks would be helpful in several areas
Moral Warnings: Cars blow other cars up with guns and missiles; one use of 'h*ll' in the backstory

There are also Arena modes, which focus on fighting more than purely racing. As FlatOut, Rocket League, and others have shown, cars can be used for more than just driving around a track. Here, there are three modes, though two of them will be unlocked after release. Deathmatch is just what it sounds like – if you smoke the most enemy vehicles, you win. I really enjoyed this mode, and got a good feel for the weapons here as well. Steal the Stash appears to be a variation on capture the flag, and is not yet playable. Time Bomb looks like an interesting variation on king of the hill, as a player can place bombs that catch other players in it to eliminate them. The last one standing wins. This is also not yet playable as of the writing of this review.
The weapon pickups are Scorpion, Raptor, Assassin, Hydra, and Spearhead. The power-ups are Painkiller (formerly called Aegis), Firestorm, Ramraider, and Disruptor. Scorpion is a homing missile. Raptor is a front-mounted machine gun. Assassin is a missile that seeks out the first-place racer. The Hydra is a swarm of micro missiles. Spearhead is a set of explosive darts shot ahead of you that detonate a moment later.
The power-up Painkiller is a handy shield that deflects any single weapon impact. It doesn't last long though, so getting the timing right is really important. As mentioned before, Firestorm boosts your speed for a moment. Ramraider causes your vehicle to disrupt other drivers very close to you, allowing you to easily clear a path ahead of you. Disruptor slows down other racers, proportionate to how far ahead of you they are.
The weapons and power-ups did remind me a bit of Mario Kart, though they are also different enough to be their own thing. The Painkiller is unique, though certain uses of a Shell or the Horn can be used similarly. The Firestorm is clearly like a Mushroom. The Ramraider is probably most like a short-term Star. Disruptor is clearly like Lightning. Scorpion is closest to the Red Shell. Assassin is clearly Blue Shell-like. Hydra, Spearhead and Raptor are unique enough to be their own thing, though as for filling a role, I guess Fireflower and Green Shell could be the most similar I suppose.
However, unlike said Mario Kart, skill has much more of an impact on your final success. You also go much, much faster – there is Low, Normal, and Wild engine power, not unlike Mario Kart's 50cc/100cc/150cc system. But the speeds you can go are pretty crazy. Low has you averaging in the 200mph range, with boosts in the 300s. Normal has you averaging in the low 300s with boosts into the 400s. Wild has averages in the 300s, with boost that can easily clear 500+. Depending on the car, I'm sure that the advertised 767mph is totally attainable. And if you aren't a fan of miles per hour, kilometers is also available, as is Mach – it's pretty hard to surpass Mach 1, but hey, you can give it a try.
Also, weapons, while they do have an impact, are nowhere near as crazy as said kart racers, despite having similarities. If you are good at going fast, dodging obstacles, and managing turns well, you have a great chance at victory. Besides, at those speeds, it will take opponents of considerable skill to catch you.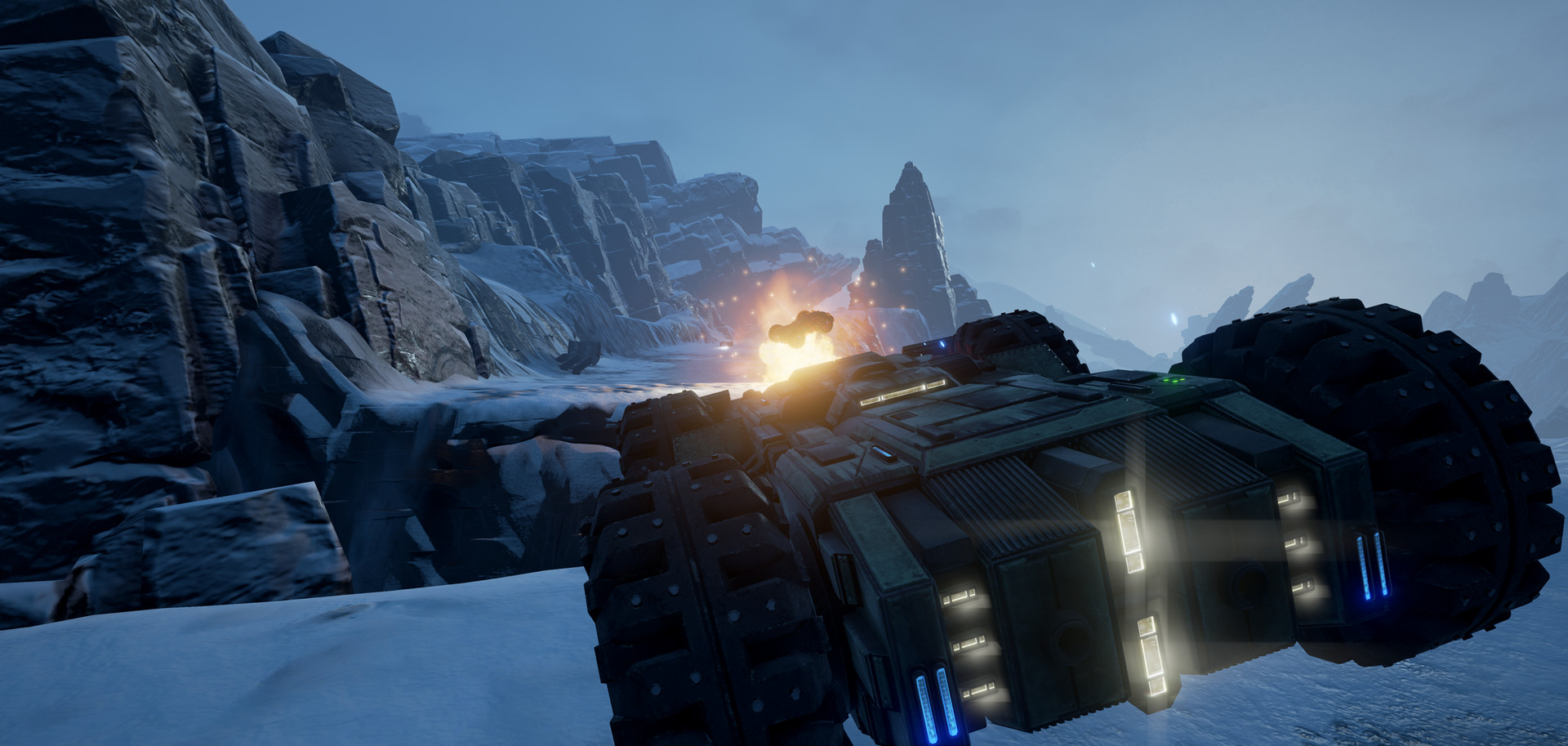 Score Breakdown:
Higher is better
(10/10 is perfect)
Game Score - 92%
Gameplay - 18/20
Graphics - 10/10
Sound - 9/10
Stability - 5/5
Controls - 4/5

Morality Score - 90%
Violence - 7/10
Language - 8/10
Sexual Content - 10/10
Occult/Supernatural - 10/10
Cultural/Moral/Ethical - 10/10
All power-ups also have a charge-up mode, which is unfortunately not available in campaign mode. If you have two power-ups, you can hold down the button on the one you want to keep which sacrifices the other one to make the first much more powerful. This can change the behavior pretty significantly, and is a nice variation to the already powerful pickups.
There are fourteen vehicles that you can race as, with many of them unlocking as you play more and more. Each race you take a part in earns you some experience, with placing better earning you more. Some of the other tasks, like Carkour, also earn experience. Each car plays quite differently, and also looks the part. I found the variation on acceleration, maximum speed, grip, brakes, and strength to really make a difference. Acceleration is really important if you make a lot of mistakes. Maximum speed is great, but hard to maintain without a lot of skill, as the faster you go, the harder it is to turn. Grip has a much larger impact than I expected. With a lower setting, you slip and slide, especially on ice levels. Cars with a high grip (though usually slower) hold quite well. I didn't notice much on brakes, but strength helps you push your weight around when you impact other cars.
The graphics are very nice, and do a wonderful job conveying a sense of speed. It uses the Unreal Engine, and looks fantastic, and scales down very well if you wish to play it on lower-end hardware. I was able to make it quite playable on my handheld PC, the GPD Win 2, though it certainly stressed that tiny little system quite a bit. It flew through that battery probably as quickly as I've ever seen any game do so. I still got a couple of hours out of it though. The music is fast-moving techno, and sounds fine, though not particularly memorable. The sound effects are great and do quite a good job for themselves.
This is a game that I can safely recommend to all but the youngest players. There is vehicular violence, though no one dies as far as I can tell. The backstory does mention death, and uses the word 'h*ll' once as a curse, though most people will not even look at it, since it's buried under the boring 'Game Info' section next to the manual (and who reads those, right?).
The interface is fine 95% of the time, though the car customization UI could use a bit of tweaking. For instance, if you customize a specific model car, it doesn't save it unless you save it to a profile. I would much rather have it save automatically while having a reset button. It's also a shame that the many custom tire options don't actually affect the car's performance in any way. It would be nice if there were further customization options available rather than just the cars.
GRIP: Combat Racing surprised me on how much fun it is. It took me a bit to warm up to the racing and especially the weapons. But once I spent a round in Arena mode and understood the weapons, I went back to the racing ready to rock – and had a blast. It has a great sense of speed, and the cars zoom (or fly!) around the track at crazy high speeds, bringing quite the rush. The campaign is quite challenging, and really ramps up the difficulty at around the halfway point. GRIP is great fun, and a game that I highly recommend – it's a blast. (Pardon the pun...)