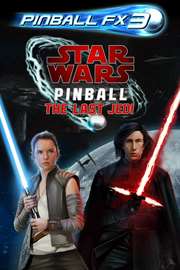 Game Info:
Star Wars Pinball: The Last Jedi
Developed by: Zen Studios
Published by: Zen Studios
Release date: April 17, 2018
Available on: Android, iOS, macOS, PS4, Windows, Xbox One
Genre: Pinball
Number of players: Up to two in hot seat mode
ESRB Rating: E 10+ for mild language and fantasy violence
Price: $6.99
Thank you Zen Studios for sending us this DLC to review!
Star Wars Pinball: The Last Jedi offers two more tables to add to your growing collection. As the title suggests, they are themed after the latest film (as of this review), The Last Jedi. The asking price is a reasonable $6.99 and each table offers plenty of challenges to keep you coming back for more in hopes of getting a higher score and ranking on the global leaderboards. Your Steam friends will also see your standings compared to their scores.
The first table is Ahch-To Island where Rey tries to convince the secluded Luke Skywalker to train her to become a Jedi. Along with Rey's plight, you can also play as Chewbacca as he decides whether or not to eat an adorable Porg for dinner. Last but not least, is Luke's mode which has a fishing mini-game. The voice clips are recognizable from the movie, but John William's score is noticeably absent.
Highlights:
Strong Points: Fun tables and challenges to keep me improving upon my high scores
Weak Points: No John Williams music 
Moral Warnings: Spaceship and gun violence; mild language (hell)
R2D2 launches the ball and there are a couple of porgs and other aliens nearby as well. Out of the two tables, this one isn't as flashy and focuses more on the characters than eye candy. There are plenty of opportunities to earn points and to keep the ball in play with the five controllable flippers. The bumpers are not as easily accessible, but they're there. Since they're out of the way, you may want to consider a different upgrade than the bumpers for this table.
Like all other Pinball FX3 tables, both of the tables in this DLC support table upgrades, hot seat muliplayer, and challenge modes. The three challenge modes are 1 ball, 5 minutes, and survival mode. The goal in the one ball challenge is to get the highest score possible with only one ball. If you lose the ball while the ball save light is illuminated, the ball is still saved, but if it's off, you're done for. After the ball is lost for good, your score is added to the global leaderboards and stars are earned depending on how good of a score you received. The 5 minute challenge gives you an unlimited number of balls so you have plenty of opportunities to get a high score within the time limit. The survival mode gives you unlimited balls as well; however, if you don't meet the score requirement in the time limit, your game will end.
Score Breakdown:
Higher is better
(10/10 is perfect)
Game Score - 88%
Gameplay - 18/20
Graphics - 9/10
Sound - 7/10
Stability - 5/5
Controls - 5/5

Morality Score - 86%
Violence - 8/10
Language - 8/10
Sexual Content - 10/10
Occult/Supernatural - 7/10
Cultural/Moral/Ethical - 10/10
The other table, The Last Jedi has a lot going on with its seven controllable flippers, bumpers in the middle, and lots of game modes based on scenes from the movie. My favorite scene to do is Ground Attack which unleashes about a dozen balls into play. This does wonders for your score. Sadly, you can only play through a scene once per game. I haven't been able to endure all of the episodes in one gaming session so this hasn't been an issue for me.
Even with all the balls in play, I didn't notice any stuttering which is great. The visuals are nice in both tables though I have to give the nod to the Last Jedi one for having more eye candy in it. The voice acting is good in both of the tables and I recognized many of the lines used throughout the movie. One of the quotes has the word hell in it.
If you enjoy the latest Star War films and pinball, then this DLC pack is a no brainer. Though the $6.99 price is reasonable, the price is sure to drop on an eventual Steam sale if you're not in a rush. Who knows what the leaderboards will look like by then. All I know is that I'm not much of a threat to anyone.