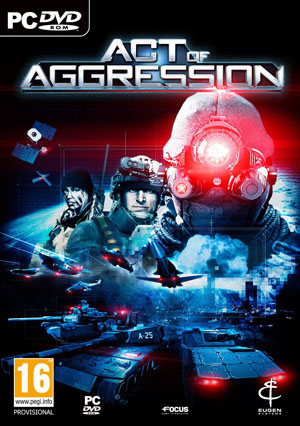 Game Info:
Act of Aggression
Developed by: Eugen Systems
Published by: Focus Home Interactive
Release date: September 2, 2015
Available on: Windows
Genre: Real Time Strategy
Number of players: Single-player/ Online multiplayer
ESRB Rating: Not rated
Price: $29.99
(Humble Store Link)
Thank you Eugen Systems for sending us this game to review!
Following the success of Eugen's 2005 Act of War, the developer promised a sequel that would play similarly to "90s Golden Age of Real-Time Strategy Games". In 2015, Act of Aggression's release was a bit rocky and due to the mixed Steam reviews, the developers overhauled the game and re-released the game as a "Reboot Edition". The owners of the original game are eligible for a free upgrade to the enhanced version.

Some of the improvements include a single-resource economy (as opposed to one requiring oil, aluminum, and rare Earth elements) as well as better looking and more responsive units. A couple of the units have been replaced and their scale has been increased too. Lastly, the construction costs are now deducted upfront.
The story takes place in the near future in 2025. In 2019, the Chinese financial system plunges and causes an economic meltdown on par with the Great Depression. A private military corporation called the Cartel seize this opportunity to take over several weakened nations. The United Nations investigates the economic crash and the Carrtel's actions with their military faction: the Chimera. The economic crash hit America pretty hard and their forces are feeling the pinch of defense budget cuts. Tensions escalate between the United States Army and the newly formed Mexican nation and it gets so bad that the other factions may have to assist them.
You can play online skirmishes as any of the three factions (Cartel, Chimera, US Army) and they each have their own unique abilities. The Cartel has stolen high-tech weapons and armor at their disposal. The Chimera can upgrade their units on the fly to give them an advantage on the battlefield. The United States Army is combat focused and relies on specialized veteran units to get the tough jobs completed.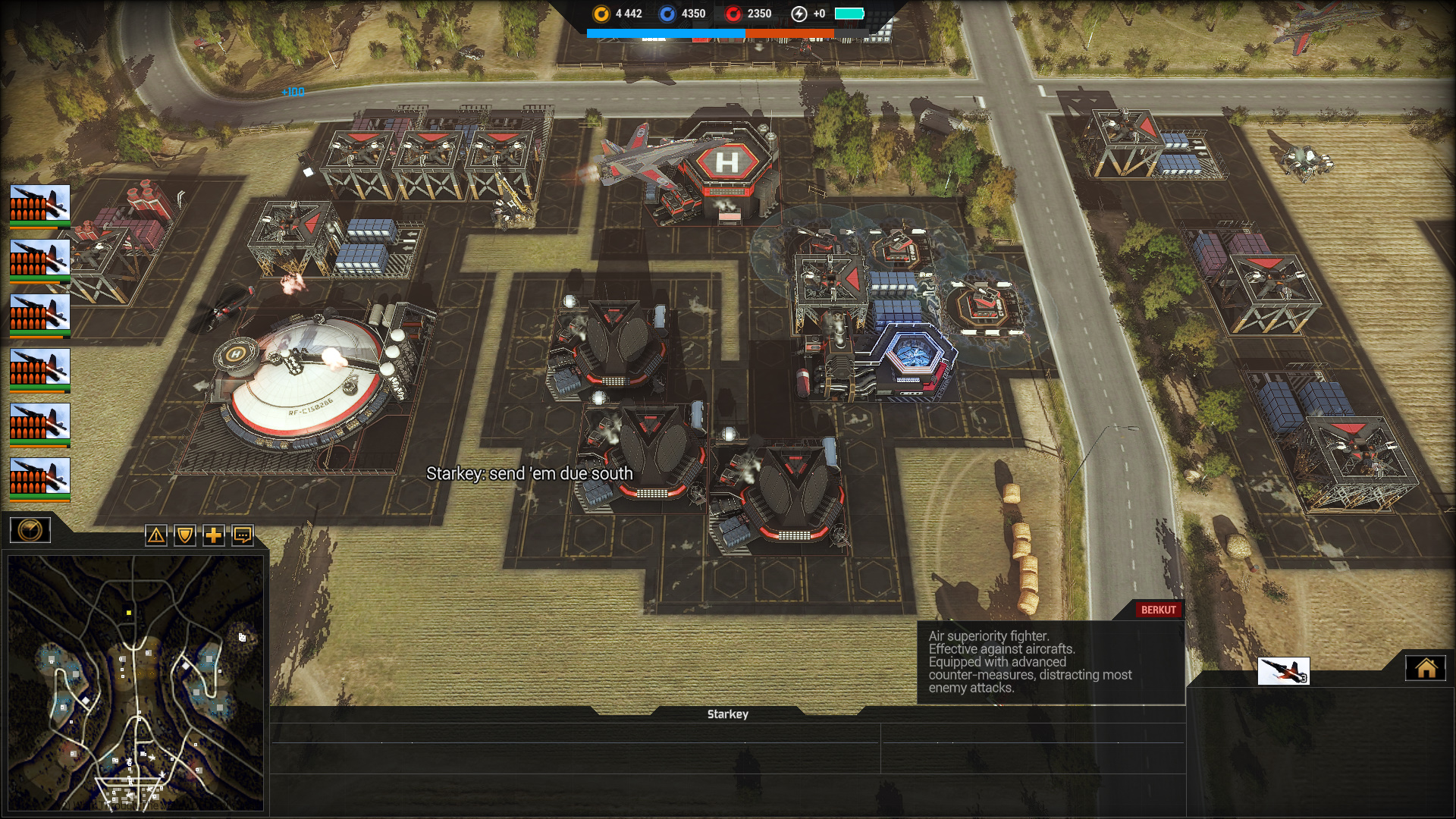 Highlights:
Strong Points: Solid futuristic RTS game; nice 3D visuals; engaging story; active online multiplayer
Weak Points: The initial release of the game was rebooted with some major changes; a Eugen account is required; game crashes when it loses focus
Moral Warnings: War violence; strong language (f*ck)
Upon launching the game you'll be required to create a Eugen account and enter the (Steam provided) CD key needed to play online matches. I like how the game benchmarks itself to automatically configure the best graphical settings for your system. You can cancel the process and configure them yourself if you prefer. One thing I noticed about this game is that it does not like to be minimized or have its focus taken away. Having a dual screen setup, I often keep an eye on my e-mails on my second monitor. I have experienced several game crashes by attempting to use another program simultaneously. By using Steam's Shift+Tab key combination, I was able to access other applications successfully. For my failed attempts, I was happy to find that the game auto-saves whenever an objective is completed in a mission.
The single-player campaign starts you off with campaigns for the Chimera and Cartel factions. These are a great place to start before diving into the multiplayer arena. There are eighty-five Steam achievements which are awarded to you for completing the story missions as well as taking part in online skirmishes. Thankfully, there are still a decent number of players online to do battle against.
I enjoyed the story-driven campaign which has you hunting down prestigious insurgents who are often well guarded and slip away at the last second. On the flipside, you'll sometimes have to keep a specific person alive. This is easier said than done since many of the foot soldiers and people to protect have hit points in the single digits.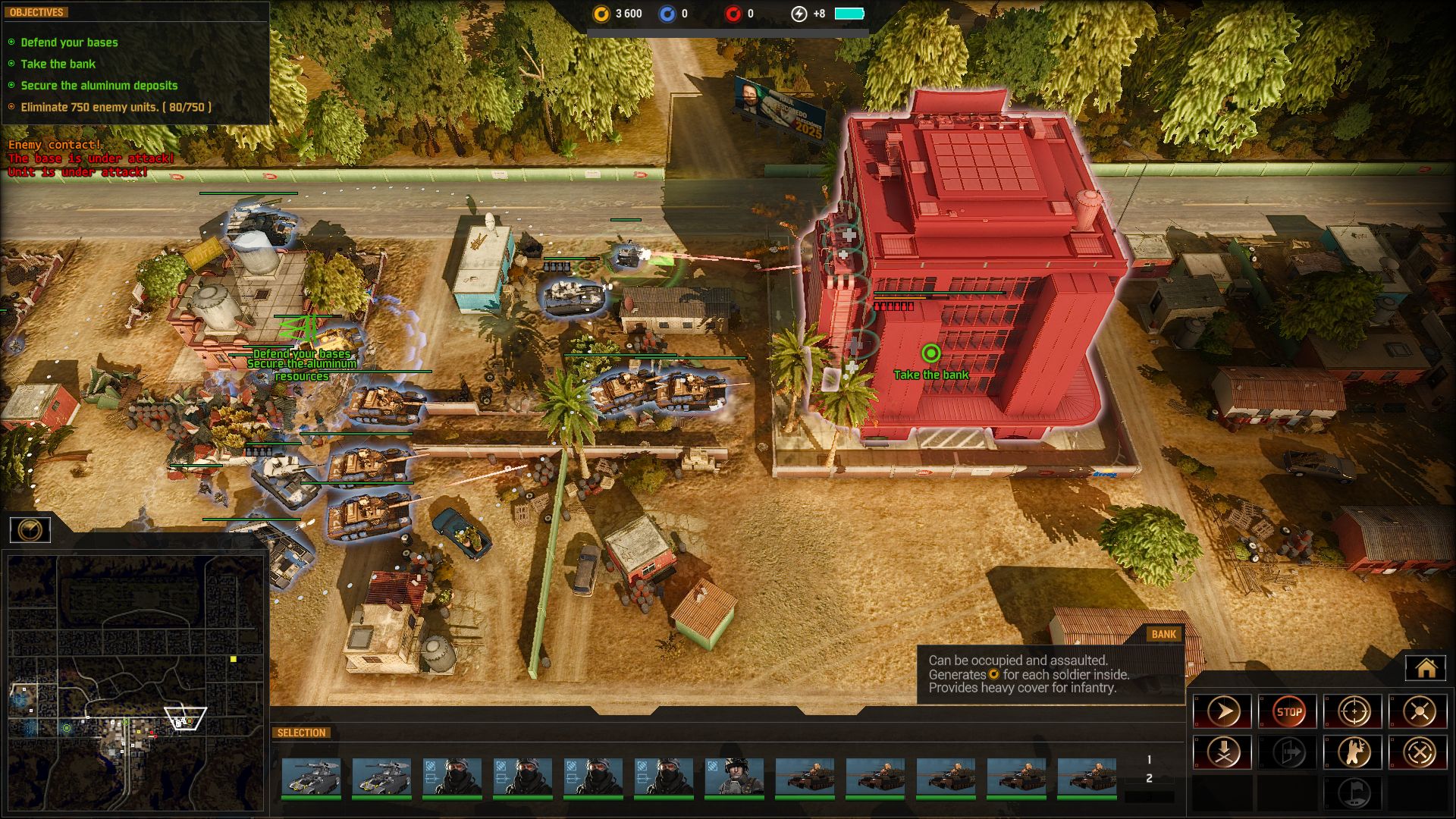 Score Breakdown:
Higher is better
(10/10 is perfect)
Game Score - 84%
Gameplay - 17/20
Graphics - 8/10
Sound - 8/10
Stability - 4/5
Controls - 5/5

Morality Score - 88%
Violence - 6/10
Language - 5/10
Sexual Content - 10/10
Occult/Supernatural - 10/10
Cultural/Moral/Ethical - 10/10
There's a good amount of soldiers, tanks, and airborne units available to help you get the missions completed. As long as you have your bases secured and enough resources on hand, you should be able to keep cranking them out. Like many RTS games, the better the unit, the more they'll cost you. For every unit, there is a countermeasure so be mindful of the anti-missile/aircraft defenses that your enemy has in place and be sure to use them to protect your own military buildings. Non-military buildings can be used by your soldiers for cover or by snipers to pick off enemy units from afar. Scouting units don't have any firepower, but they do come in handy in letting you know what you're up against.
As units come under attack, the game will let you know. When vehicles are destroyed, the explosions that follow look pretty good. The 3D graphics are decent and with the graphics cranked, they can slow down my R290X powered desktop. I like the news style cutscenes that bring you up to speed before each mission.
The voice acting is good with various units having different accents and phrases. Sometimes the phases are pretty vulgar, but understandable when the units are under fire and dying. If there are a lot of enemies, the units will describe them as a cluster f*ck. The background music is serviceable,but often drowned out by the chatter amongst the troops.
In its current state, I found Act of Aggression enjoyable and challenging. The asking price of $30 is reasonable, but sweeter if purchased on sale. If you like war themed RTS games, then you should consider adding this one to your watch list or collection.