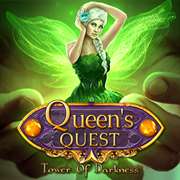 Game Info:
Queen's Quest: Tower of Darkness
Developed by: Brave Giant LTD
Published by: Artifex Mundi
Released: September 10, 2015
Available on: Android, iOS, Kindle, macOS, SteamOS/Linux, Windows, Windows Phone
Genre: Puzzle
ESRB rating: E10+ for fantasy violence
Number of players: 1
Price: $4.99 (Google Play, Amazon, iOS, Windows Phone); $6.99 (Windows Store, App Store); $5.32 (Kinguin Affiliate Link)
It's a hard life being a queen. You have to attend state functions and be pleasant to foreign dignitaries. You have to review and enact laws. You need to rescue your daughter from the evil wizard who abducted her. You have to look dignified and respectful at all times. So many hassles!
Thus is the story of the nameless queen in Artifex Mundi's "Queen's Quest: Tower of Darkness." An evil wizard appears in the throne room, turns her husband to stone, and kidnaps her daughter. Her godfather, a powerful wizard in his own right, needs to report something to a magical council and disappears. So it falls to the queen to figure out how to travel to the evil wizard's Tower of Darkness and free her own daughter. Her only companion is her daughter's fairy godmother – a literal fairy who can fly to high places and help the queen solve some of the many puzzles.
Yes, the plot is distinctly lacking in substance in the game, and some of the elements make very little sense. For instance, why would someone take a broken knife handle, lock it in a box, and hide that box underneath a bush? But this is an Artifex Mundi game – the emphasis is less on a coherent story, and more on the puzzles. They are here in abundance – especially the hidden object puzzles which has become the signature style of this Polish game company. These puzzles have a couple of twists to them. Sometimes you need to manipulate the scene, such as opening drawers, in order to find all the objects. A few items also change shape, and you need to select them when they have morphed into the thing you need to find.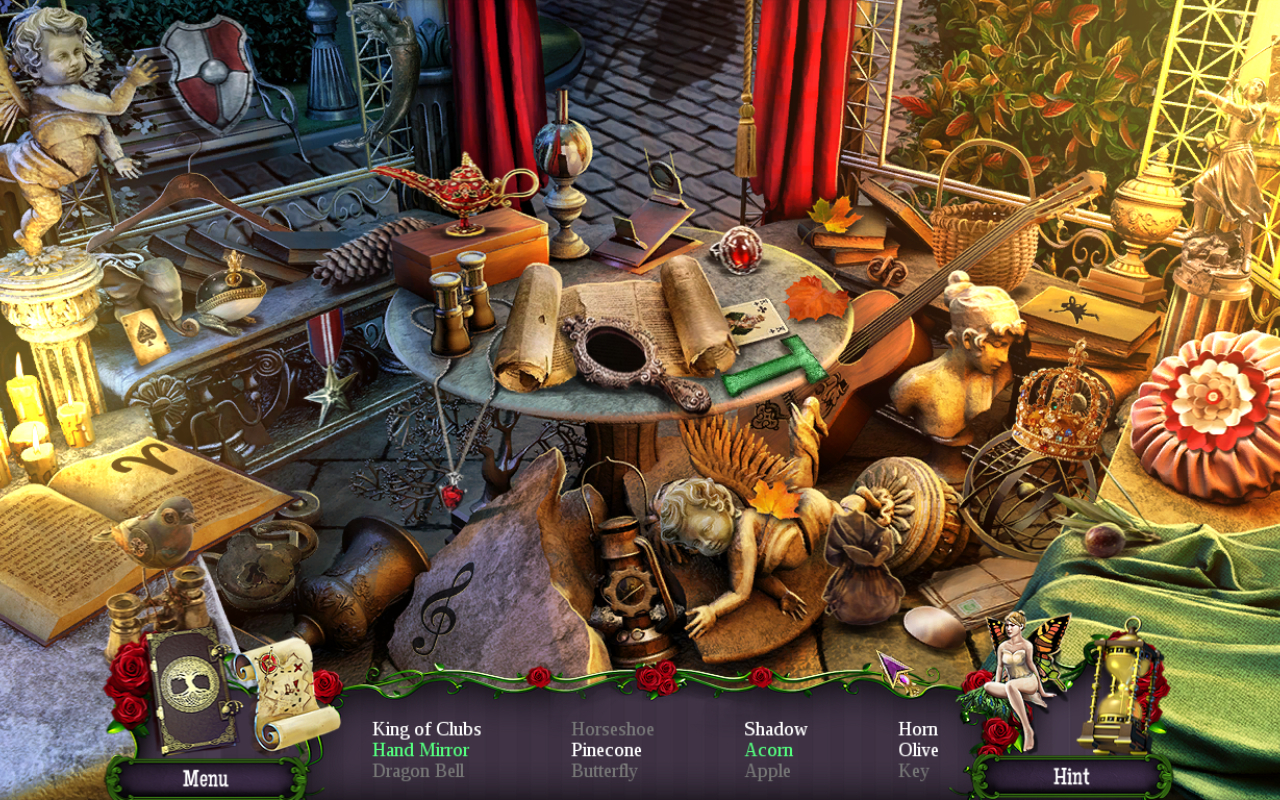 Highlights:
Strong Points: Variety of puzzles; lovely artwork
Weak Points: Not very challenging; inconsistent art; clumsy animation and music
Moral Warnings: Fairy tale creatures and monsters

Other challenges also need to be cleared in order to proceed. These are similar to puzzles found in many other games, such as moving crates to certain locations, or manipulating rings of beads into their proper configuration. There is the option to skip many of these puzzles, or to find hints in hidden object scenes. Using these options means that you will fail to get an achievement for solving the puzzles, though. However, the puzzles really aren't too difficult. Although entertaining, they serve more as a speed bump from the story or the next hidden object puzzle. A total of 22 achievements are available, as well as Steam trading cards.
Most of the scenes are lavishly painted and gorgeous to look at, but there are some animated elements that seem incongruous to the rest of the art style. Portions of the game are CGI – in fact, the fairy companion appears to be the base "Victoria" figure from DAZ 3D – and end up giving the game more of a patchwork appearance. Another issue with the animation comes when the different characters speak. They seem stiff and almost puppetlike. It looks better than some of the earliest Artifex Mundi games, but there is still room for improvement. The voice acting is decent, at least. The music is all right, but has obvious starts and stops when played in a loop.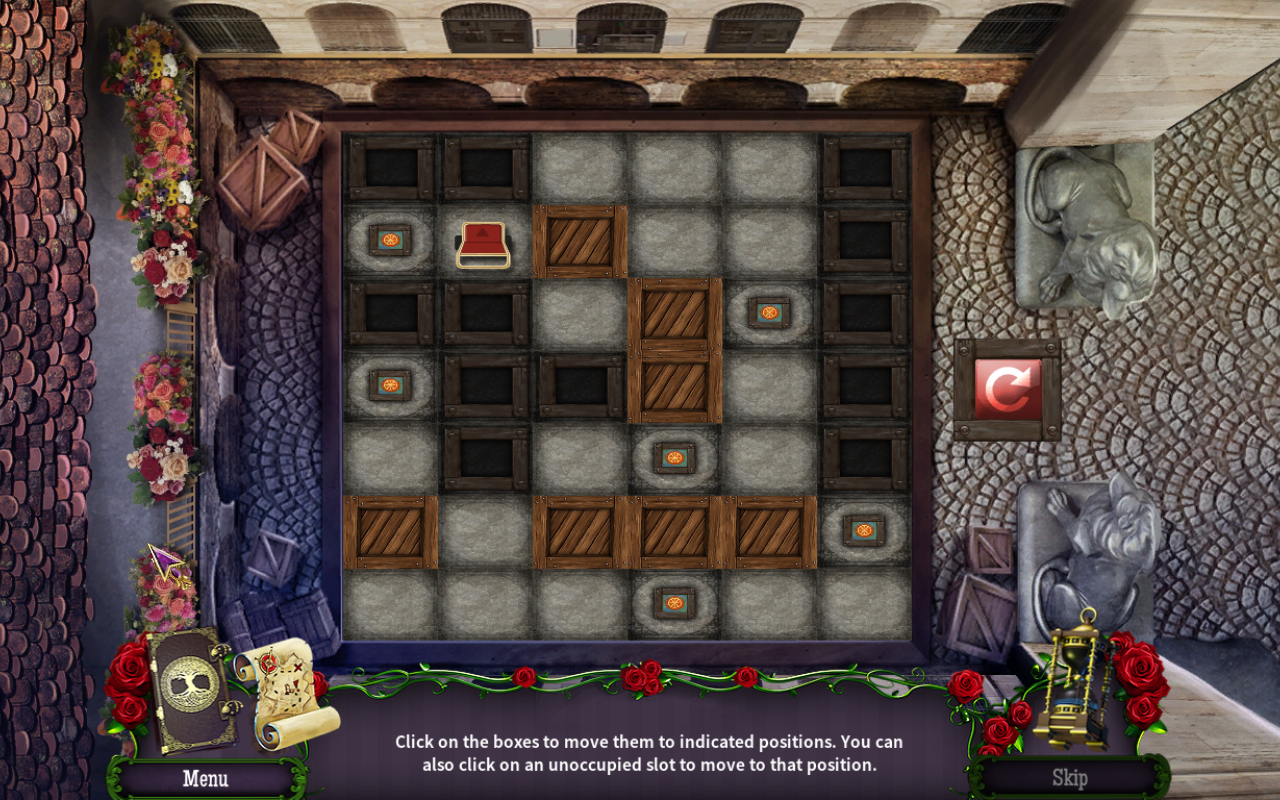 Score Breakdown:
Higher is better
(10/10 is perfect)
Game Score - 64%
Gameplay - 11/20
Graphics - 5/10
Sound - 6/10
Stability - 5/5
Controls - 5/5

Morality Score - 90%
Violence - 8/10
Language - 10/10
Sexual Content - 10/10
Occult/Supernatural - 7/10
Cultural/Moral/Ethical - 10/10
From a moral perspective, there isn't too much to be alarmed about. There is an evil wizard who seems to use dark magic. Some of the items the queen can use are magical, but she doesn't seem to be able to cast any spells herself. There are fairy tale creatures such as dwarves, satyrs and gryphons. In a puppet play there is a fortune teller with a crystal ball. But there aren't any language issues or sexual situations to be alarmed about.
The game can be completed in five to six hours, and all the achievements can be gained in that time. Once completed, there is little reason to play through the game again. The game is less expensive for portable devices and can be worth the $2.99 price. For other platforms, it would be best to wait for a sale or a bundle to pick it up. While entertaining, this Queen's Quest is hardly memorable.