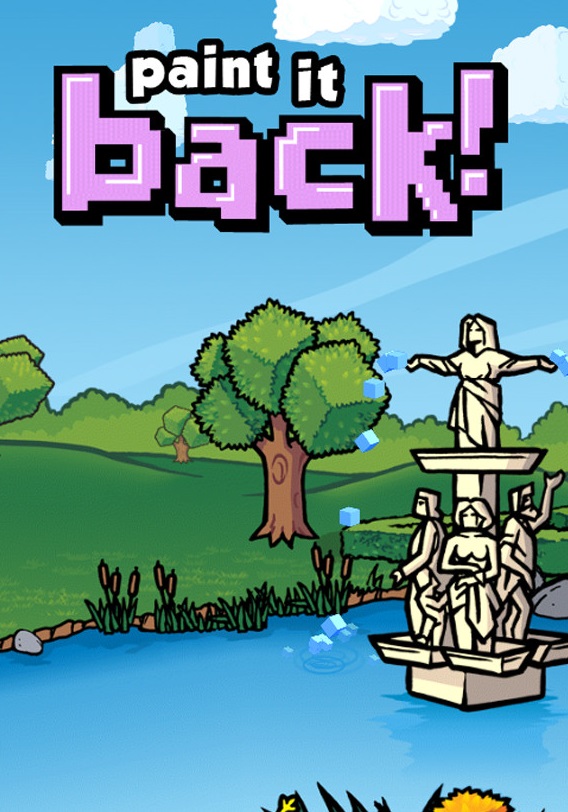 Game Info:
Paint it Back
Developed by: Casual Labs
Published by: Casual Labs
Released: October 14, 2015
Available on: Windows, macOS, SteamOS/Linux, iOS, Android
Genre: Puzzle
Number of players: 1 
Price: $7.99 (Steam), free (Android, iOS, with different levels available for purchase)
Many, many years ago, a new type of puzzle appeared in one of my favorite magazines. Called "Paint By Numbers," these were logic puzzles from a company called Conceptis, Ltd. in which clues can be used to form a picture. So when "Paint it Back" by Casual Labs popped up for sale on Steam, I quickly added it to my wish list! This style of game has been done by other companies – including Nintendo with the popular Picross games – but Casual Labs' approach is just as entertaining, and provides 150 new puzzles to solve.
Paint it Back has a fairly simple, silly story. A ghost has appeared in an art gallery, but while he wandered about, he frightened all the artwork away, leaving nothing but blank canvases. The ghost apologizes to the artist-in-residence, but there's a lot of work to be done to restore the paintings. Fortunately, the artist has an assistant – you!
A tutorial is included to help you understand the concept of the puzzles. You have a grid of empty squares, with numbers along the top and the left side. The numbers tell you how many of the squares need to be filled in, or painted. If there is a space between the numbers, then at least one blank square separates the painted portions of that row or column. Using logic, you'll eventually be able to figure out what squares need to be painted in, and the painting will be restored.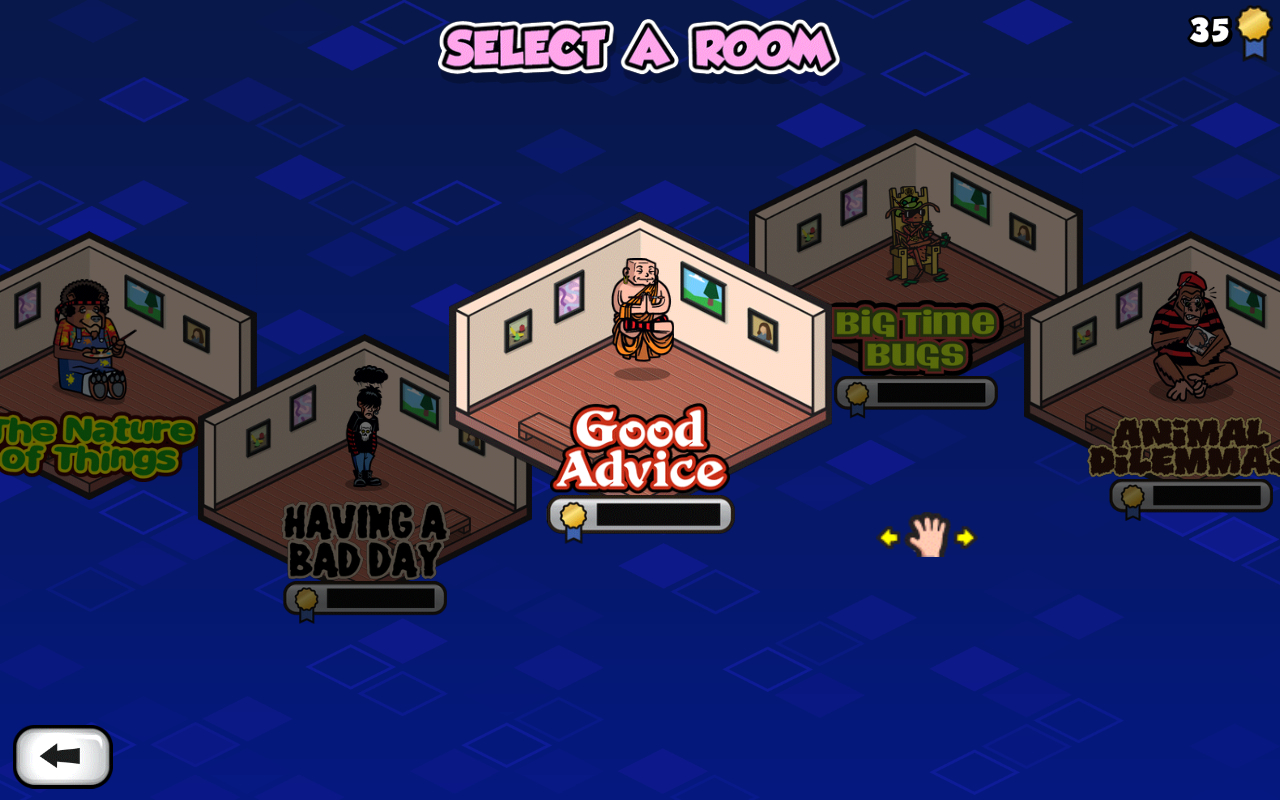 Highlights:
Strong Points: Several logic puzzles to solve in an amusing setting; Steam Workshop connection for more puzzles; good price for the amount of content; free demo available
Weak Points: Bland, repetitive music; average graphics
Moral Warnings: Alcohol and tobacco references; minor occult references 
Take note that, even though the end result will look like pixellated color pictures, you aren't solving a colored variation of these puzzles. Rather, you'll solve a black and white version of the painting, and the color is added on the little canvas in the upper left corner, and to the final painting once completed. Many of the puzzles have multiple difficulty levels, granting between one to three medals. The more medals you earn, the more galleries will be unlocked. A few other challenges will be added as well, including timed puzzles, or ones where you're not allowed to use any "x"es to mark blank squares. The game comes with more than 150 puzzles to solve, but the Steam version also includes Steam Workshop integration, so others can create and upload their own puzzles for people to solve. 
The cartoonish figures that appear in each of the galleries are cute, but move stiffly. You'll see them very seldom, though, as the bulk of the game will be spent with the grid of squares against a pale blue background. The music is pleasant, with a bit of a retro video game feel to it, but hardly memorable. In fact, it grows repetitious before too long, since you'll be hearing the same tunes repeatedly as you spend time on the puzzles. The controls are simply done with the mouse, and except for typing in your name at the start of the game, no other peripherals are even used.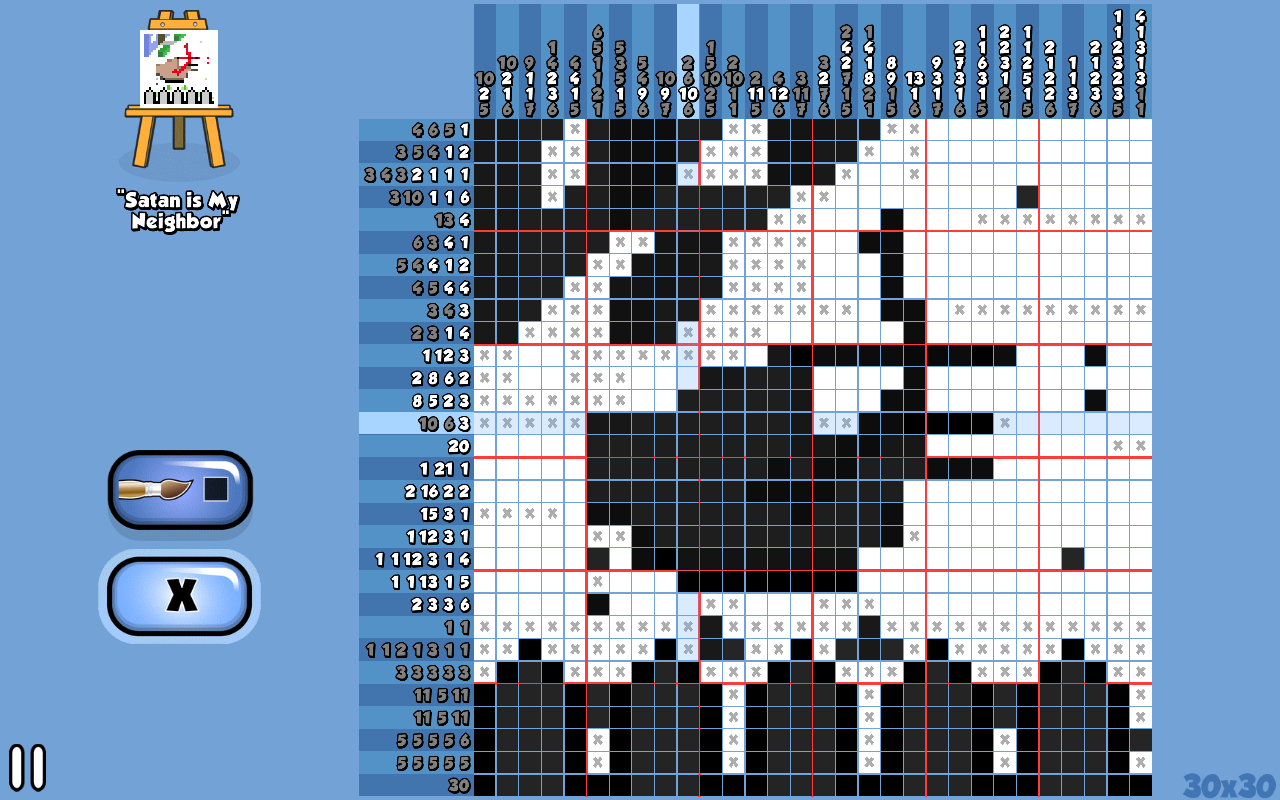 Score Breakdown:
Higher is better
(10/10 is perfect)
Game Score - 74%
Gameplay - 15/20
Graphics - 7/10
Sound - 5/10
Stability - 5/5
Controls - 5/5

Morality Score - 96%
Violence - 10/10
Language - 10/10
Sexual Content - 10/10
Occult/Supernatural - 8/10
Cultural/Moral/Ethical - 10/10
There are a few parts of the game that may lead to moral concerns, but these are fairly minor. A few of the puzzles have alcohol and tobacco references, and one of the painters can be seen using his paintbrush as a cigar, complete with smoke rings. There is the aforementioned ghost, a witch and even the devil are the subject of some of the paintings. Fortunately, even though it is an art gallery, I didn't spot any nudes among the collection. I can't say the same for any of the Steam Workshop content, though – as that is created by some of the players, it's outside the scope of this review.
The Steam version includes all of the puzzles. Although the Android and iOS versions are free, each separate chapter isn't included and must be purchased separately. The full version can be purchased from the App Store or Google Play for $2.99 though, so if you're looking for a way to get the entire game, this is the most economical way to do so. The game also is available on Amazon, for those that use Kindles, and is completely free for Amazon Prime members.
Paint it Back is a fun puzzle game that brings a familiar favorite to the computer screen. Those who enjoy logic puzzles will get a kick out of these challenges as well – especially while they create amusing pictures at the same time. Although it does have its flaws, the puzzles in the game are very well done. A free demo is available on Steam, and if you want more of these types of puzzles, do a search for Conceptis, Ltd.