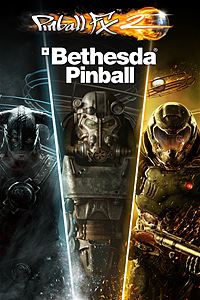 Game Info:
Pinball FX2 Bethesda Pinball
Developed by: Zen Studios
Published by:  Zen Studios
Release date: December 6, 2016
Available on: Android, iOS, macOS, PSN, Switch (FX3), Windows, Xbox 360, Xbox One
Genre: Pinball
Number of players: Single-player
ESRB Rating: E 10+ for mild fantasy violence
Price: $10.99
Thank you Zen Studios for sending us this DLC to review!
Pinball FX2 came out in the Spring of 2013 and has been offering various DLC tables based on popular superheroes, TV shows, and movies.  The tables can be bought individually, in packs, or as a bundle for a discount.  Picking up the DLC tables on a Steam sale is the most cost efficient way of expanding this free to play game. Though the game is free to install, the tables have a limited amount of play time before requiring you to purchase them.  The most recent DLC features three of Bethesda's popular games: DOOM, Fallout, and Elder Scrolls V: Skyrim.
The price is a bit steep at $10.99, but the tables are complex and incredibly detailed.  Each of the tables captures the look and feel of the game they represent and goes beyond keeping the ball in play by offering side quests as well as main quests to complete.  The Skyrim table lets you save and continue the progress made with your character while the DOOM and Fallout tables have you start fresh each time.  The Fallout table lets you specify your character's gender and gives you the option to individually setup their stats or randomize them.  The DOOM table gives you two difficulty levels: "Hurt Me Plenty" and "Nightmare".
There's a built in guide to tell you how to score lots of points in each table which is automatically compared to those of your Steam friends and shared to a global leaderboard.  I found it encouraging to be notified in-game when I blew past a friend's score.  Steam Cloud saves are utilized so your Skyrim character can travel between systems with you.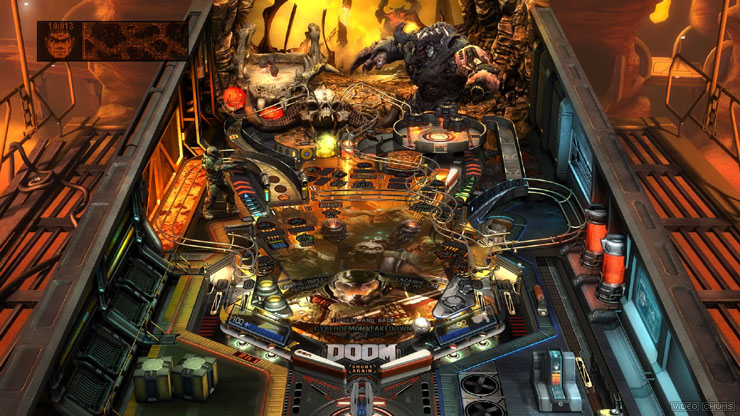 Highlights:
Strong Points: Amazing tables that capture the essence of the games they represent with spot on visuals, voice acting, and background music
Weak Points: Pricey
Moral Warnings: References to Hell and demons; violence; healing magic
Though the tables are in 3D, I must confess that they feel very flat to me since I've been spoiled by the re-done virtual reality tables.  I cannot wait to see these tables get the VR makeover.  The visuals are still stunning in this version though.  The 3D modeled demons, dragons, and characters look great.  There are various dragons and bosses that look menacing and their fire effects are pretty good.  
Like all of the pinball tables, you can trigger ball saves, multiple balls, and extra lives by completing various objectives and mini-games.  In Skyrim and Fallout, you can join different guilds or factions and complete side-quests for extra points and experience.  The DOOM table has various missions to accept as well.  
If you trigger the main quest in the Skyrim table, you'll be awarded a million points for trying to defeat the boss dragon, Alduin.  Naturally, the Skyrim theme song plays in the background and gets your adrenaline pumping.  Alduin is much harder to defeat in comparison to the lesser dragons you can battle.  DOOM's heavy metal background music and demon battles are pretty intense too.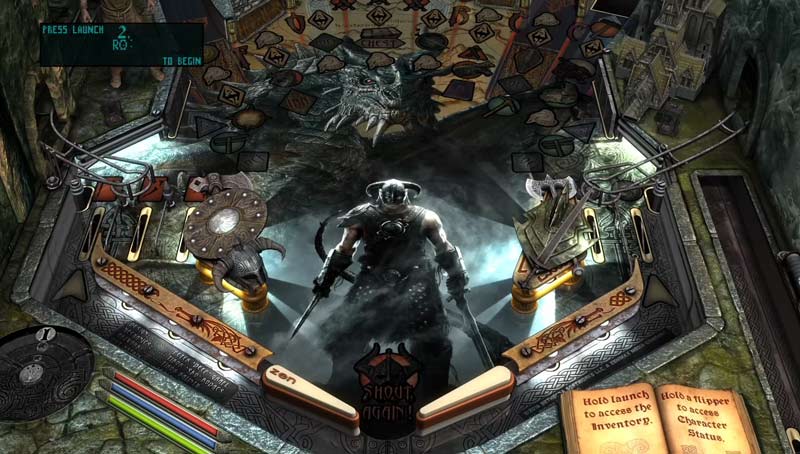 Score Breakdown:
Higher is better
(10/10 is perfect)
Game Score - 90%
Gameplay - 17/20
Graphics - 9/10
Sound - 9/10
Stability - 5/5
Controls - 5/5

Morality Score - 84%
Violence - 7/10
Language - 10/10
Sexual Content - 10/10
Occult/Supernatural - 5/10
Cultural/Moral/Ethical - 10/10
If you get injured in battle, you can visit an inn at the Skyrim table and shops are available to buy and sell equipment in the Fallout and Skyrim tables.  As your ball travels around the desolated and irradiated world of Fallout, you can explore various vaults to complete missions and collect Nuka Cola caps.  There are bobbleheads to be found too.
All of the tables have battle sequences and violent moments.  Since all of the damage is mostly done via pinball smacks, there's not any blood to worry about.  I didn't notice any bad language other than the Hell references in DOOM.
Fans of pinball and of the Bethesda games represented in this collection will find a lot to like in these tables.  While this DLC was the only one not on sale during the Steam Holiday Sale, it's worth adding to your wish list to be notified when it does.   The $10.99 price tag is steep, but it's also justified by the high quality and attention to detail that these tables offer.  I enjoyed revisiting these games in pinball format.
----------------------------------------------------------------------------------Update---------------------------------------------------------------------------------
The Switch version of Pinball FX3: Bethesda Pinball looks and runs great.  The rumble effects are more noticeable than the Xbox One Controller I was using on my PC.  There were some loading screens, but they were not that long.  The ability to have the pinball table vertical instead of horizontal is a nice feature but it's not as comfortable as the horizontal mode.  The biggest advantage of the vertical positioning is that you can see more of the pinball table.  One big tradeoff is that the controls are a little more confusing and less responsive  in the vertical orientation. The triggers seem to be more accurate than the joycon buttons.  The tables are incredibly detailed, though you won't see most of it in the portable mode due to the small screen.  The font will take some more effort to read for aging gamers as well.  Both of these issues can be remedied by playing docked and on a big screen though.  If you like playing games on the go and pinball, the Switch version of Pinball FX3: Bethesda Pinball has you covered.