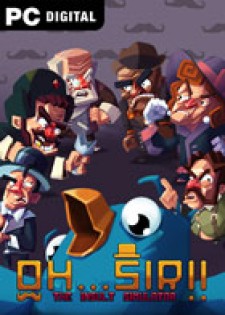 Game Info:
Oh Sir! The Insult Simulator
Developed by: Vile Monarch
Published by: Gambitious Digital Entertainment
Release date: October 25, 2016
Available on: Windows, Mac, Linux
Number of players: Up to two
Genre: Simulation
ESRB Rating: Not rated
Price: $1.99
(Humble Store Link)
Thank you Vile Monarch for providing us with a review code!
While it's not to everyone's liking, many people do enjoy British humor.  One shining example is the classic film, Monty Python and the Holy Grail.   That movie is a cult classic that has been quoted for decades. Not surprisingly, many of the popular phrases from that film made it into this $1.99 game. 
In Oh Sir! The Insult Simulator your goal is to win an argument by piecing together insults from a common pool of words and phrases.  You can only pick one word/phrase at a time and have fifteen seconds to do so.  Besides the common pool of words, you have two unique ones that you can swap out once per round by taking a sip of tea.   When your insult is as good as you can get it you'll have to press the "!" button to finish.  Once both combatants are done they'll say their insults and points will be deducted from their health accordingly.  The first to lose all of their health, loses.
Highlights:
Strong Points: A silly game that lets you insult your computer, friends and complete strangers
Weak Points: You can get trapped with no valid phrases to select
Moral Warnings: References to sex, farts, inbreeding, and the words b*stard and  arse are used; you can insult "God" who looks and sounds like Morgan Freeman
There have been times where both health bars have been depleted in the same round.  In the case of an impasse, the game turns into a sudden death mode where the next insult will settle it.  To get the most points per insult there are several factors to take into consideration.  Each of the six characters has a sensitive subject; be sure to talk about it every chance you get.  For example, some characters may be sensitive to their appearance/sense of style, their age/death, family, or technology. 
Each argument has a silly scenario and environment to go along with it and if you use that in your argument, you'll be awarded more points.  Last but not least are combos.  If you insult their mother, father, son, or auntie, keep doing it in the next round for a combo bonus.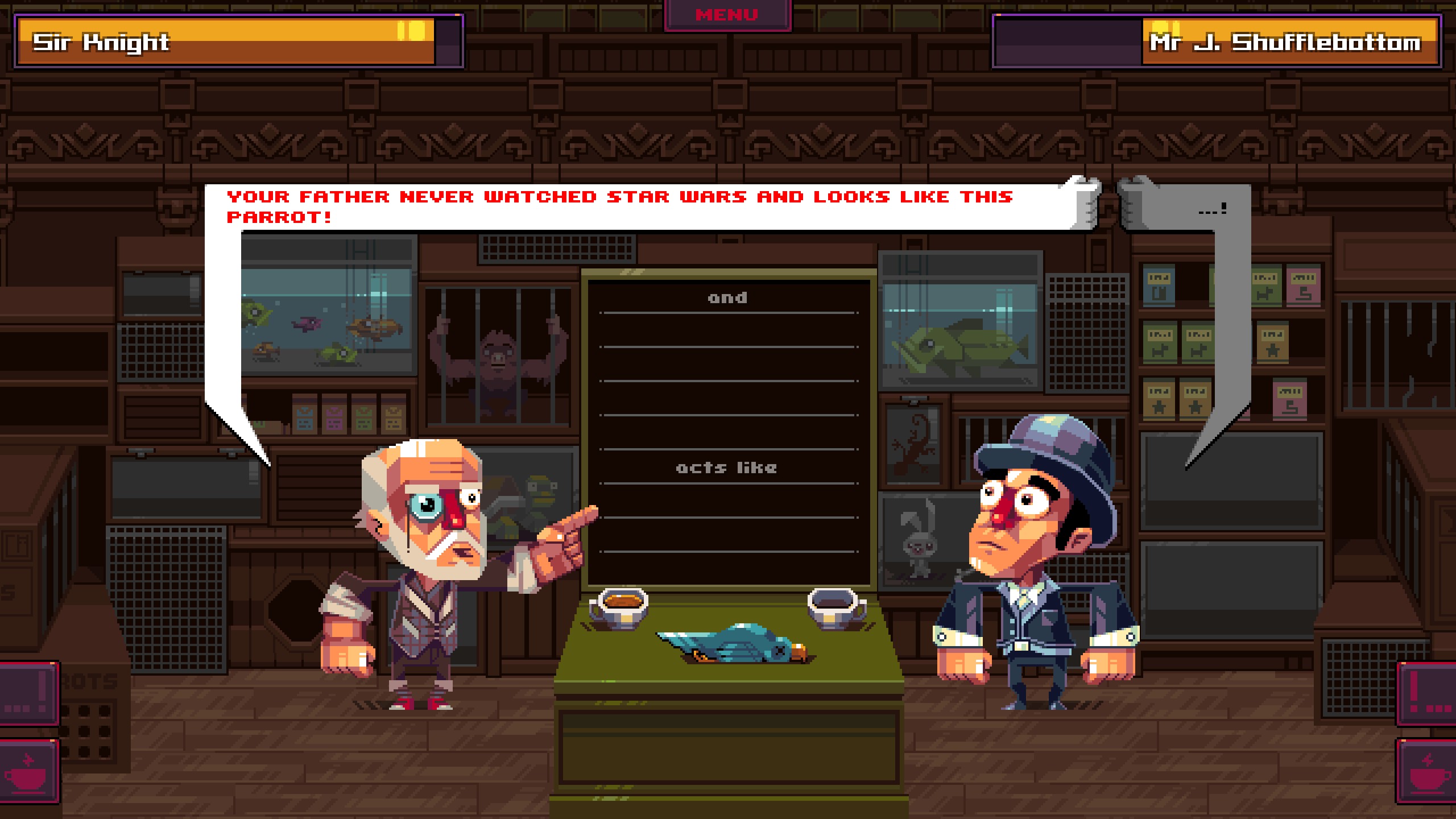 Score Breakdown:
Higher is better
(10/10 is perfect)
Game Score - 84%
Gameplay - 18/20
Graphics - 7/10
Sound - 7/10
Stability - 5/5
Controls - 5/5

Morality Score - 72%
Violence - 8/10
Language - 6.5/10
Sexual Content - 5/10
Occult/Supernatural - 10/10
Cultural/Moral/Ethical - 6.5/10
More scenarios and characters are available if you play through the offline tournament mode.  The last challenge lets you insult God (who looks and sounds like Morgan Freeman), and if you win you'll get to find out the meaning of life.  While it's fun to throw insults at your computer, the real fun is insulting your friends or complete strangers online or via couch co-op.  Who wouldn't want to tell someone "Your mother farted on your cousin's car and I have proof!" I have found plenty of people to hurl insults at online and this game keeps track of the number of times you win, lose, or run away from a battle.  Your performance will be ranked accordingly.
While insulting your computer and people is fun, there are some moral issues to mention.  Many of the insults revolve around alcohol, inbreeding, steaming romps, and insulting people's intelligence.  You can insult your opponent, their clothes, spouse, children, auntie, and even their math teacher.  Monty Python fans will appreciate the hamster, elderberries, and farting in general direction options.  Of course throwing in communists, Nazis, the pope, and the royal family guarantees some chuckles too.  Unfortunately, some words like arse and b*stard are seen occasionally.
At the time of this review, finding players to spar against online didn't take very long.  Hopefully the attractive price and silly concept keep players interested for a while yet.  If nobody is available online, you can still play couch co-op or spar against the computer.  My kids enjoyed watching me play this game and got some good laughs out of it.  If it wasn't for the language and sexual references I'd highly recommend it.