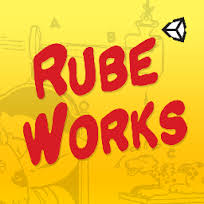 Game Info:
Rube Works
Developed by: Electric Eggplant, Kalani Games
Published by: Unity Games
Release Date: February 10, 2014 Android, April 19, 2014 on PC
Available on: Android, iOS, PC
Genre: Puzzle
Number of Players: Single-Player
ESRB Rating: Not rated
Price: $1.99 Android, $4.99 PC
Thank you Unity Games for sending us this game to review!
Rube Goldberg was a famous Pulitzer prize winning cartoonist and inventor.  He is known for his complicated machinery constructed to perform menial tasks.  In fact, he is the inspiration of international contests to create such machines.  In addition to those contests is the game Rube Works where creative minds can recreate many of these gadgets.
Rube Works provides eighteen levels/scenarios where you have a task to complete and numerous gadgets and animals to make it happen.  Each gadget has several hints to help you place them in the proper order or location.  To earn all three prunes per level, you must use all of the objects provided.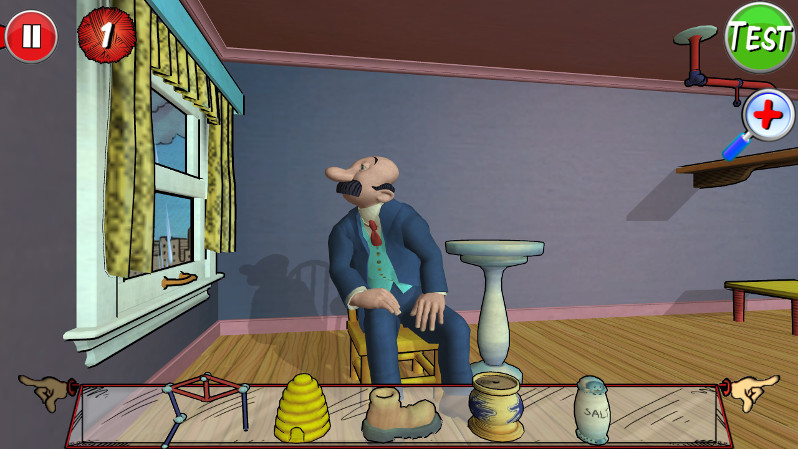 Highlights:
Strong Points: These silly contraptions are fun to make
Weak Points: Cannot deviate from the original design; if the item placement is slightly off, it won't work
Moral Warnings: Cartoon violence
One of the tasks to complete is to squeeze orange juice into a glass.  Pretty simple right?  Imagine doing it with the following items: a log, sword, guillotine, sickle, show, octopus, prune, prune hawk, jar of milk, a picture of a deep sea diver, a jug of milk, and some string.  Suddenly a simple task becomes complicated! 
There is no time limit and the level will be completed once the objective is cleared.  It's a shame that there isn't much leeway to deviate from the original design.  When I achieved the same goal using fewer items, my end score was penalized.  In order to get full credit all of the items must be used and in the proper sequence and placement.  If an item is a 1/4" off the mark, it will not work!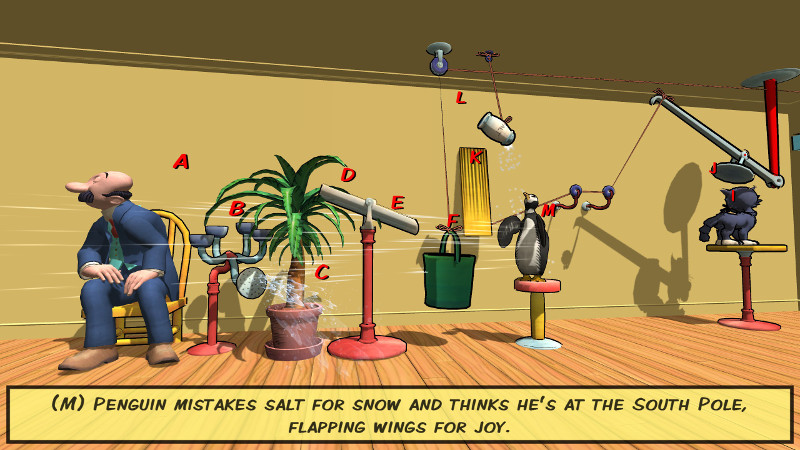 Score Breakdown:
Higher is better
(10/10 is perfect)
Game Score - 78%
Gameplay - 15/20
Graphics - 7/10
Sound - 8/10
Stability - 5/5
Controls - 4/5

Morality Score - 96%
Violence - 8/10
Language - 10/10
Sexual Content - 10/10
Occult/Supernatural - 10/10
Cultural/Moral/Ethical - 10/10
Even with the lack of freedom, these contraptions are still fun to build.  The hints are helpful, but you can earn Steam achievements for completing the levels without using them.   You can test your progress at any time to see if you're on the right track.  The results both good and bad are often humorous to watch.  Completing a level feels great, but if you get stuck, all of the solutions can be found on youtube.  I often found myself on the right track, but had an item off a little bit and costing me the third prune of perfection.  
Rube Works is family friendly and piqued the interest of my kids.  There is some cartoon violence as both humans and animals are smacked with a shoe, bit by a flea, or rudely woken up occasionally.  
The 3D graphics are colorful and the animations are great.  The background music style is from the early 1900s and adds nicely to the old fashioned feel of the game.  
The price is a reasonable $4.99 on Steam.  Android and iOS users can get it for two dollars.    It only took me a couple of hours to complete with the occasional glance at youtube.  If you don't look for help, or want to earn all of the possible achievements there is some re-playability but not too much.  Rube Works is a great game for creative and inventive people of all ages.