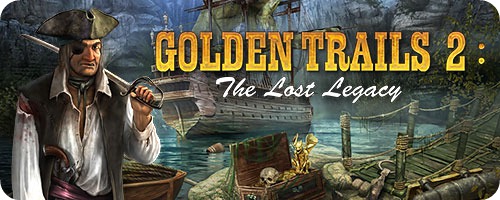 Game Info:
Golden Trails 2: The Lost Legacy
Publisher: Awem Studios
Developer: Awem Studios
Released: March 2011
ESRB Rating:N/A
Available on: PC, Mac
Genre: Hidden Object Game
MRSP: $6.99 or $19.95 for a collector's edition
Thank you Awem Studio for sending us this game to review!
I had never played a Hidden Object Game before, and to be honest, Golden Trails 2: The Lost Legacy didn't sound very exciting. Clicking on a world of "where's waldo" knick-knacks and kitchen utensils? I just didn't think it was for me.
But, like Marge Simpson picking up that quarter at the casino, it's easy to start clicking and quickly become addicted, looking for that last illusive spoon so ingeniously hidden alongside a curtain rod that your eye blends the two together. It's not so bad when the room is full of hidden objects, some in plain sight, but when you get down to those last objects it can become quite challenging and that hint button starts looking very good.
 The story surrounding all the "object spotting" is an interesting tale filled with pirates and legends of forgotten treasure. It didn't take long before I found myself drawn into the world of a Henry, a young man on the trail to uncover the true identity of his grandfather who has been accused of piracy and condemned to death.
While the narrative can become a bit predictable, you won't mind as the game takes you on a globe-trotting journey through England, Spain and the Caribbean sea with more than 40 beautiful and intricately drawn scenes.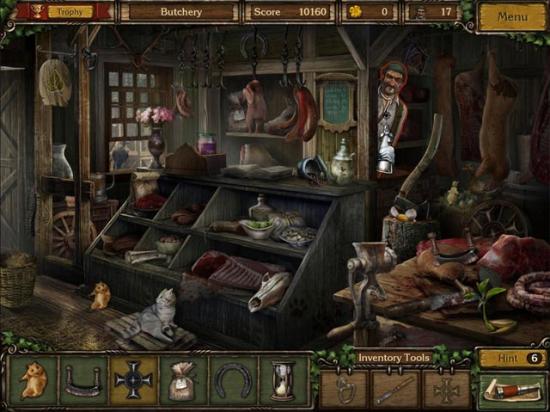 Highlights:
Strong Points: Beautifully hand-drawn artwork; cleverly hidden objects.
Weak Points: Stiff cutscenes; cheesy dialogue.
Moral Warnings: Cleavage; objects include skulls; one character is a voodoo witch.
Unfortunately, the cutscenes are only animated in the barest form, and while the story can be fun, cringe worthy dialogue and voice acting can be downright cheesy. 
Thankfully, the gameplay itself is simple and fun, helping you forget any whiny cockney accents you encounter along the way. Staring at a screen for a broken bottle doesn't sound exciting, but I was more than content to admire the beautifully drawn scenes of 18th century manors and European cityscapes for hours while hunting down the latest objects on my list.
While some objects seem a little random, (how does spotting an old wooden spoon help my quest?) other objects are crucial to the story and won't be revealed until you've found a certain tool, like a key or hammer, to open a locked door or smash a vase.
Bonus points for consecutive accurate clicks are awarded to discourage random spamming of the mouse and too many misses will lose you a ton of points and even freeze the screen for a few seconds. There were also a few frustrating instances where my pointer was mere millimetres from my intended target and caused an unintentional miss, but for the most part this wasn't an issue.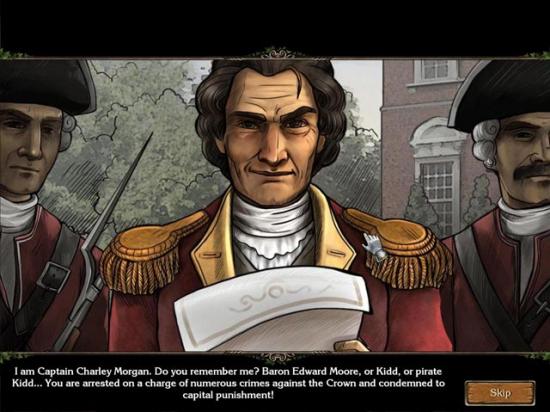 Score Breakdown:
Higher is better
(10/10 is perfect)
Game Score - 78%
Gameplay - 15/20
Graphics - 8/10
Sound - 7/10
Stability - 5/5
Controls 4/5

Morality Score - 80%
Violence - 8/10
Language - 10/10
Sexual Content - 8/10
Occult/Supernatural - 5/10
Cultural/Moral/Ethical - 9/10
To break up the slow, methodical pace of the gameplay, Golden Trails 2 also throws in puzzles and bonus mini-games between stages. The occasional bandit will even pop their head into a scene which can be shot for extra hints. The bandits are lifeless cardboard cutouts and there is no death animation, making the violence kid friendly. However, macabre themes like skulls and your grandfather's imminent execution should make parents think twice before letting their young children play without supervision. At one point you also meet a voodoo witch and even scour her hut for items and, as a Christian, I found the witch character disturbing, especially considering the Bible is very clear on the danger of witchcraft. That is reason enough to steer clear of this game, though the section only represents a small portion of the game. Romans 14:21 says it's better not to drink wine or anything else if it causes someone else to stumble, so even if I would continue to play the game, I wouldn't play it around someone who would avoid the game for that reason. These elements and women with a healthy amount of cleavage also make the game less wholesome for younger players.
The bandit shooting returns between missions as a mini-game that rewards you with golden clovers that eventually unlock extra missions. Puzzles are also fun diversions that require basic logic instead of a sharp eye. It's just too bad the puzzles are generic and can quickly become repetitive, though they are skippable at any time.
A special Collector's Edition is also available and includes one bonus episode with six additional levels, as well as more shooting galleries and puzzle games, an integrated strategy guide, a making-of documentary, original sound track, and wallpapers. Although, I haven't played the collectors edition, I can't imagine the extra content would justify the price.
Overall, Golden Trails 2: The Lost Legacy is a great Hidden Object Game in the two ways that matter most: beautiful scenes, and, you guessed it, hidden objects.
And while the story is a fun swashbuckling adventure, you'll spend most of the time trying not to laugh at the ridiculous voice acting. Maybe I just got lucky, but my first H.O.G was surprisingly enjoyable and may prove to be a whole new gaming genre to add to my already growing library of games waiting to be played.