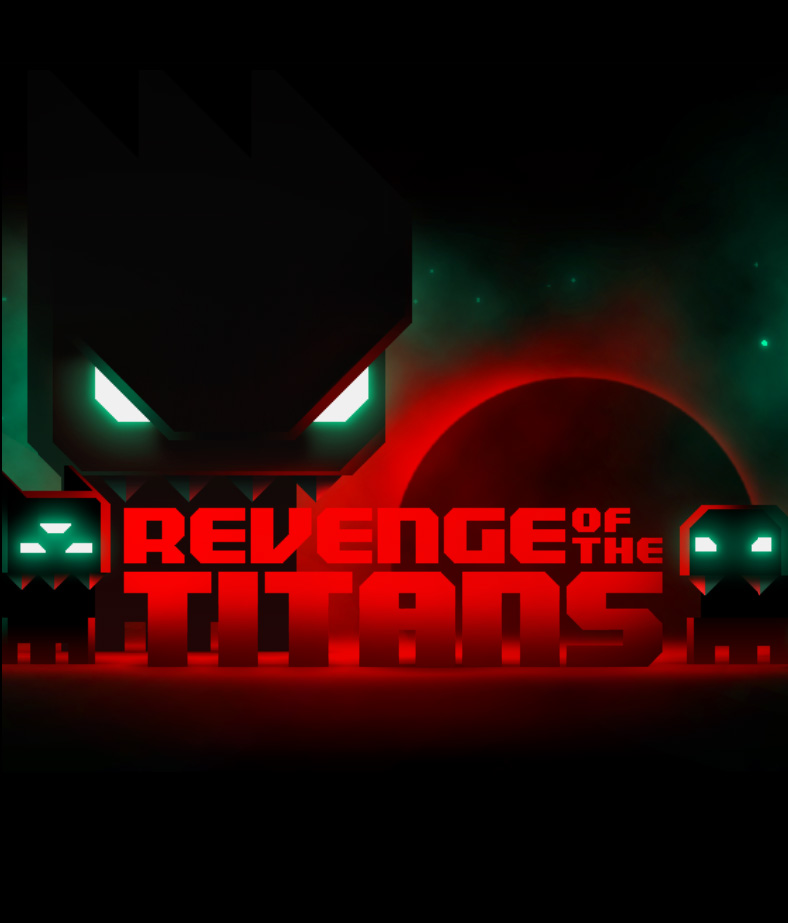 Game Info:
Revenge of the Titans
Developed by: Puppygames
Published By: Shaven Puppy Ltd
Release Date: March 16, 2011
ESRB Rating: N/A
Genre: Real Time Strategy/Tower Defense
Single
Price New: $14.99 (Steam)
Revenge of the Titans is an ambitious Tower Defense game that aims to deliver a deeper, more tactical experience than most in this popular sub-genre. The basics of the game are much the same as any other Tower Defense; you have a headquarters that you must protect from waves of enemies by placing defenses to slow and destroy them. But to make things more interesting, the developers have taken cues from Real Time Strategy games to build on this simple concept, and deliver a more open ended game.
The first - and probably most important - difference is the ability to build virtually anywhere on the battlefield. Your headquarters is located at the approximate center of each map, with various bits of terrain that is inaccessible. But most of the map is flat and open, allowing you to place buildings wherever you desire. A red icon will show you where the "titans" will be coming from (usually the very edges of the map), allowing you to plan where to place your defenses. Most enemies will take a fairly direct route to your HQ, using roads where they can move faster. But unlike most Tower Defense enemies, they won't simply ignore your turrets and other buildings. If something is in the way of a titan, they will try and destroy it. This means that wise placement of your defenses is key. Some titans will even seek out any structures near them.
There are many different types of defenses you can build to hold off the hordes of titans. The most straightforward way is to obliterate them with blaster turrets. There is your standard blaster, a heavy blaster and an even heavier blaster cannon. There are also rapid fire blasters, spread shooting "assault cannons," lasers, missile launchers and a point-blank, area of effect "disruptor." There are also a number of buildings that don't directly deal damage, but increase the effectiveness of the turrets around them. You can also construct mines and barricades to block off a section, protect key buildings or create a choke point. There's even a factory that produces autonomous battle droids.
But this all takes money, and another key difference of Revenge of the Titans is how you obtain the necessary cash to buy all of this hardware. Instead of getting money from killing enemies, there are green crystals scattered around the battlefield that you can construct automated refineries near to reap a harvest of cash over time. You can also build special structures that will increase the rate at which a refinery harvests resources.
Highlights:
Strong points:
Diverse factions; amphibious units and structures; colorful graphics; great water effects;  co-op campaign is a nice idea (in theory).
Weak points:
Not all unit specials are useful; cheesy cutscenes may turn some people off; can be difficult micro managing large numbers of units; new resource system may not appeal to fans; lack of game modes for multi-player.
Moral warnings:
War violence; some blood; immodest dress in cut scenes; sexual innuendos; some language; leaders are portrayed in a negative light.
Researching of new technologies is required before you can build most structures. You can research one new research item between each mission, at no cost. Generally, these technologies will lead to new turret and support structure designs. For most items, there is a chain of technology that you will have to complete before you can actually build your desired building. If you want to know what research is needed for a specific item, you can simply mouse over it and see the icons for all the prerequisite tech.
There are also a few research items that are not directly tied to a structure. Some will give you more money, improve your turrets or give you "power-ups" to use in the next mission. Power-ups are special abilities that you can use to gain the upper hand during a mission. There are twelve power-ups in total, half of them are longer lasting effects that add a small boost to your defenses (like +1 extra ammo for turrets) for the duration of the mission. The other six are more active, shorter lasting powers that have a more dramatic effect (such as a "Smart Bomb" for instantly clearing an area of enemies). Most power-ups will appear randomly on the map, though sometimes larger titans will drop them when they die. When a power-up does appear you only have a few seconds to click on it before it disappears. Once you have acquired a power-up you can use it any time, either in the current mission or a future one.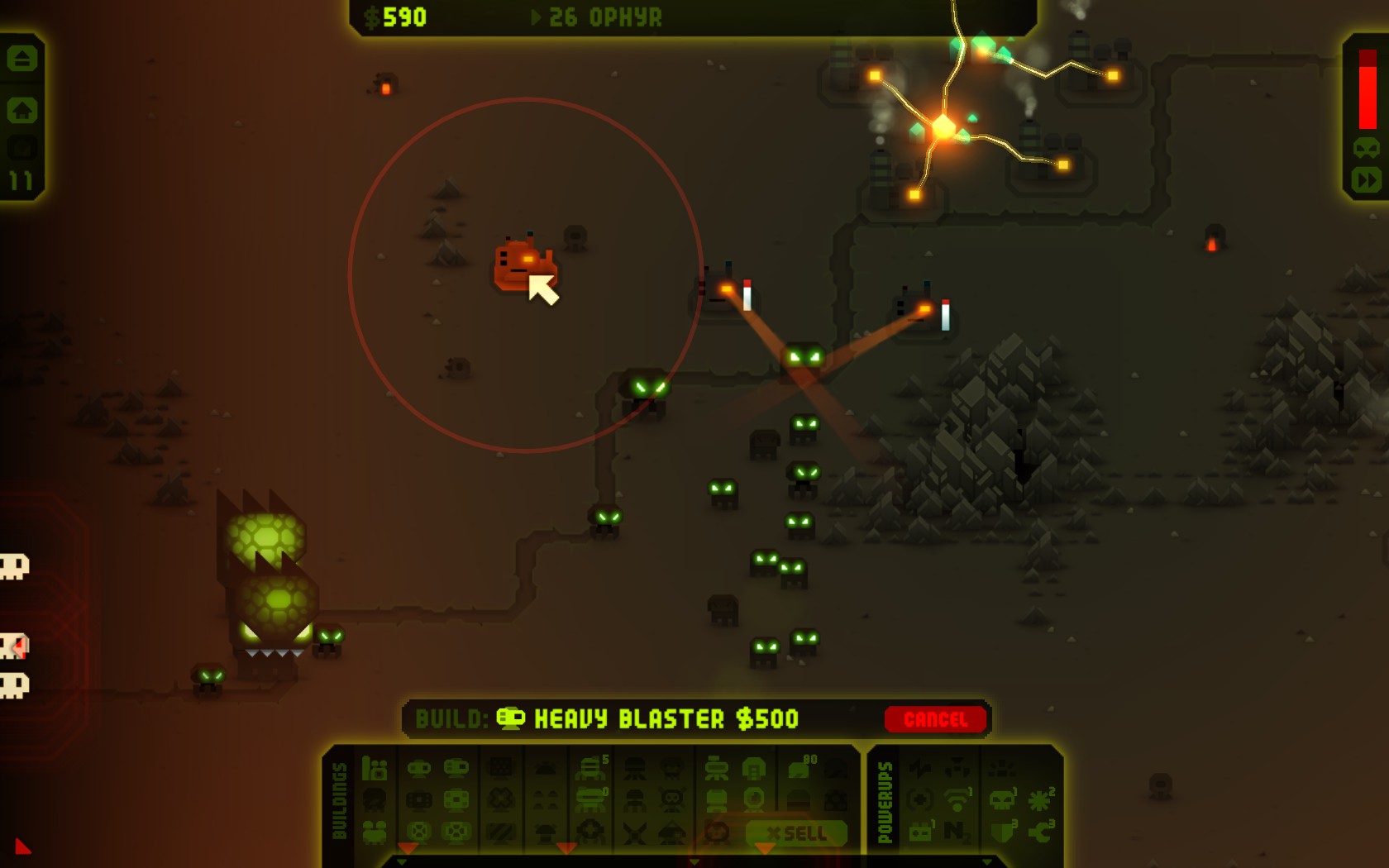 While the title, "Revenge of the Titans" implies some history, there really isn't that much story at all. While not a true sequel, it does take place after the game "Titan Attack," a Space Invaders-like Shoot-em-Up made by the same developers. In that game you fended off an invasion of titans and now they're back for revenge. That's really as far as the story goes. It doesn't even try to explain who these titans are, or why they attacked in the first place.
Score Breakdown:
Higher is better
(10/10 is perfect)
Game Score - 72%
Game Play:17/20
Graphics:6/10
Sound: 5/10
Stability: 4/5
Controls/Interface: 4/5

Morality Score - 88%
Violence: 8/10
Language: 8/10
Sexual Content: 10/10
Occult/Supernatural: 8/10
Cultural/Moral/Ethical: 10/10
What little story is there unfolds through the campaign mode. You start off on Earth, then move to the Moon, followed by a trip to Mars. You then hop around the moons of Saturn until you finally end up on Titan itself. There are two characters that will help you throughout the campaign: a gruff, old general and an egg-headed scientist. These characters will give you information about the enemies you face, and about new technological advancements, but not much more. There is at least an attempt at humor, mostly involving the lab technicians blowing themselves up or not having enough coffee. Unfortunately, it doesn't help the story feel any less hollow or keep it from dragging.
The main campaign contains 50 missions, ten for each location. I found that there was something of a lack of decent instruction as to the tactics needed to win a mission. This can be a problem, as the game can get rather hard very quickly, though the difficulty isn't consistent (you may struggle through one mission and have the next one be a breeze). If you're really stuck on a level, there is an option to have the game regenerate the level at a lower difficulty. This helps, but it would be nice to be able to set the difficulty for the whole campaign at the start.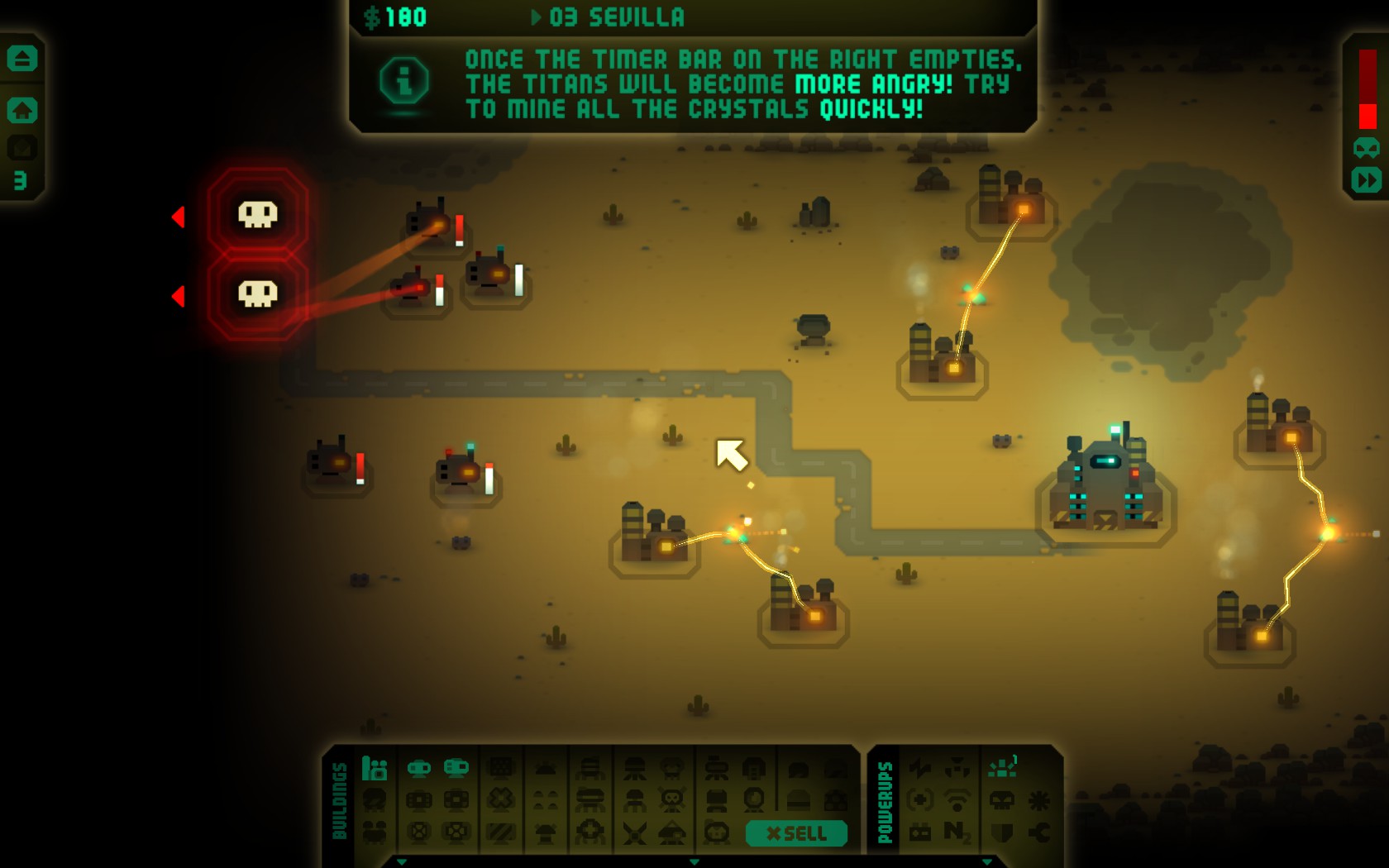 Once you've finished the Moon missions, you will unlock the "Endless" mode. While not literally endless, it does give you 250 missions back-to-back, with upgrades and cash carrying over from one to the other, much like the campaign. After you've finished the Mars missions in the campaign you will have access to the third and final game mode: "Survivor." This mode lets you choose a map, and pits you against a never ending hoard of Titans. The goal is to see how long you can survive before being overwhelmed. There is an online leader-board to show your longest time to the world. There are also a number of achievements for you to hunt down, if you are so inclined. But I found that the game got repetitive well before the campaign ended. And since there's nothing really new in the Endless or Survivor modes, it feels like there's more content than is really necessary.
Gameplay isn't the only thing that gets old after a while. While production values for Revenge of the Titans are a little higher than your average browser game, they still leave something to be desired. While each location has its own look, there isn't much to vary them from map to map. Most of the time it's just barren plains, with mountains and a few random odds and ends to break things up a little. Overall the graphics look like high resolution pixel art that, while kind of cute, is a little bland and flat. Sound doesn't fare much better. Effects have a distinctively "retro" feel, like something off of an 8-bit era console. There is no voice work, aside from a loop of gibberish while characters talk. Music consists of electronic renditions of pieces ranging from classical to rock, with one theme for each location from the campaign. While you could consider it a stylistic choice, I found the tinniness of many of the sounds to be a bit annoying after a while. The roar of the titan bosses is quite nice, but nothing else really stands out.
As with any game of this type, many hundreds of monsters will meet their doom at the end of your turrets' barrels. But titans generally vanish from sight, with little more than some sparks. Some of the larger titans do stay on screen once dead, and a few snap shots after the battle show dead titans. We see one being "questioned" with electrodes attached to its brain (a dark blob with no detail), and green ooze coming from an open wound. There is also some minor swearing from the general character during the campaign (mostly d***), and some of the enemies are ghosts. While there's no official rating for this game, I'd say that it would be suitable for children 9 and up, the swearing general being the only real point of concern.
Revenge of the Titans does provide a solid Tower Defense experience that gives you plenty of tactical options, while still maintaining a fast pace through most of the game. It offers some options that you won't find in other games in the genre, and implements them quite well. But nothing that really helps to change the repetitious nature of this type of game. You are still fundamentally just building up a line of defenses and waiting for the enemy to run into them. Add to this the fact that most maps look and feel very similar, and you get a game that grows old after a while, but is fun in short bursts.