Hardware Info:
Stealth Core Trainer
Manufactured by: Stealth Fitness
Release date: October 15, 2018
MSRP: $99.99
(Amazon Affiliate Link)
Thank you Stealth Fitness for sending us a review unit!
Before I tried out the Stealth Core Trainer, I hated doing planks. I tried to avoid them as much as possible in Ring Fit Adventure. Even when wrapped in a video game, they are not fun to do. With that said, I have to give Stealth Fitness props for attempting to make them more enjoyable.
Stealth Fitness' slogan is "Game Your Core" and they offer many different takes on arcade classics to assist in tightening your stomach muscles. For just minutes a day you can work towards a leaner abdomen. Your phone will remind you to work out if you put it off to long.
Upon downloading the phone app, you'll be encouraged to join the 70,000 strong Facebook community where you can share your game scores and advice with others. I noticed that the majority of the high scores are submitted from the four free-to-play games. Premium membership is available for $5 a month or $40 annually. The Stealth unit itself is available online for $99.
Highlights:
Strong Points: Free plan available; impressive online community
Weak Points: Planks are not pleasant even when wrapped in a video game; sound issues required me to reboot my phone before playing
Moral Warnings: None
The Stealth Core Trainer has a crisscross shape for holding your phone horizontally or vertically. My (discontinued) LG V60 fit snugly into the slots. The games have different orientations and it's best to keep them consistent. The GameMix mode won't allow you to have different game orientations in your title selection.
The unit itself is well designed and I like that it has padded areas for you to rest your forearms. The device rests on a swivel and your movements are detected by the phone's motion sensors. It's similar to a giant thumbstick/joystick with no buttons. I found the controls to be pretty accurate and never felt like the mistakes were not my fault.
Each game has two modes, Endurance, or Countdown. Countdown lets you specify the time limit while Endurance keeps on going until you've had enough. By default, a break time mode will dim your screen after a minute of exercising. You can increase the timer or disable that feature entirely. Another annoyance is that the sound is often distorted upon launching the game and a phone reboot is necessary to prevent that from happening.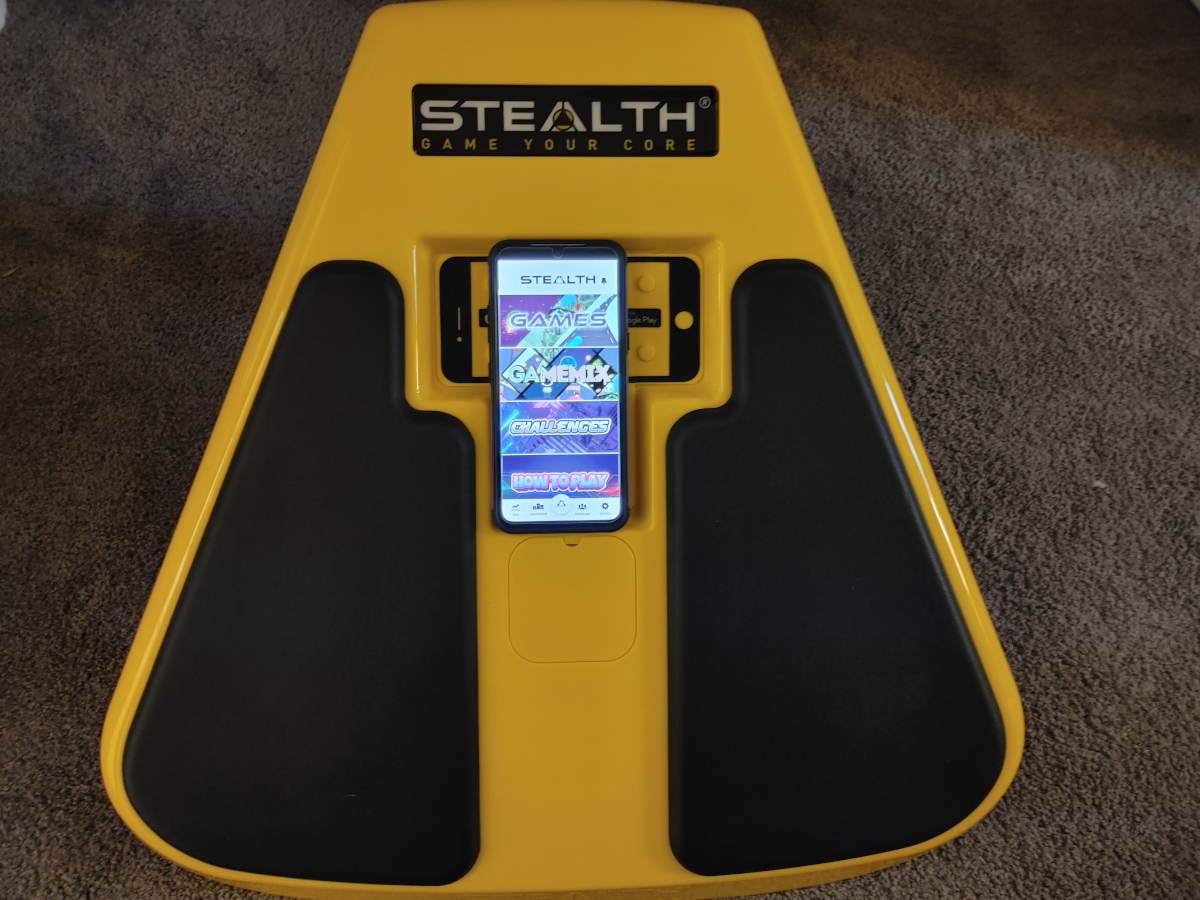 Score Breakdown:
Higher is better
(10/10 is perfect)
Game Score - 70%
Gameplay - 14/20
Graphics - 7/10
Sound - 7/10
Stability - 2/5
Controls - 5/5

Morality Score - 100%
Violence - 10/10
Language - 10/10
Sexual Content - 10/10
Occult/Supernatural - 10/10
Cultural/Moral/Ethical - 10/10
Since I dislike plank exercises with a passion, I stuck with the free games which include:
Color Chase: Control your color-coded ball and have it collide with similarly colored balls and navigate through narrow barriers along the way.
Galaxy Adventure: Take aim and shoot down asteroids and planets that have the glowing indicator on them. Some of the planets can be destroyed whack-a-mole style while others need to have the targeting reticle on them for several seconds to destroy them.
Space Escape: Bounce off the platforms to launch yourself higher and higher without falling back down. Watch out for the crumbling platforms!
Speed Gliding: Tilt your glider in the air to accumulate speed boosts and avoid obstacles like trees, birds, and hot air balloons.
There are some intriguing premium games that are based off of popular titles like Break-Out, Fruit Ninja and Space Invaders. Other promising titles are based off of fun activities like air hockey, kart racing, motorcycle racing, mini golf and more. I wish you could demo or try the paid games before purchasing the premium membership.
If you are looking for a slightly entertaining way to tighten up your core, the Stealth system may be worth looking into if you don't mind parting with $99. The free games have enough variety to get your exercise routines fresh, but the premium games look good too if you're open to a $40 annual commitment.