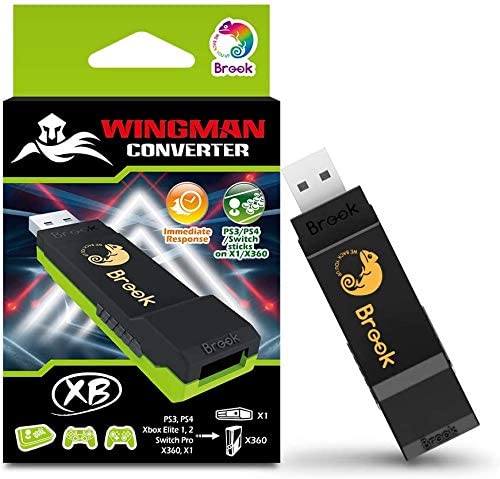 Hardware Info:
Brook Gaming Wingman XB Controller Converter

Specifications:

USB-A in and USB-A out
LED Button for pairing and status

Converts PS3/PS4/PS5/Xbox (all kinds), Switch Pro controllers to Xbox (all kinds) and PC (Xinput)

Works with gamepads, fight sticks, Xbox Adaptive Controllers, and SEGA Astro City mini controllers
Also works with Switch and PS4 Taiko Drum Kits for use on Xbox
Supports select Flight sticks for use on Xbox

MSRP: $45.00
(Amazon Affiliate Link)
Thank you Brook Gaming for sending us this controller adapter to review!

I'm a huge controller nut – of all kinds. Console, racing, flight – if some games work better with a different kind of controller, I'm probably going to get one. I will sometimes literally switch controllers between games, or even switch just to relieve pain points in my aging hands just so I can keep playing. So being able to keep using my favorite controllers is really important to me. I'm also one of those who prefers using controllers on PC games that support them, if it suits the game. I will not use a gamepad for a first-person shooter – period. But a JPRG that originated on console? I'll almost certainly use a controller in that case. And I know I'm not alone – console ports to PC have been more popular than ever, and the Xbox has really been doing very well this generation.

While I tended to favor PlayStation over Xbox previously, the Xbox Series line has really spun that on its head. More games are coming to Xbox, and Microsoft has done a great job of encouraging developers to bring more there. I found myself in this predicament: What if your fight sticks are designed for PlayStation, but that fancy new fighting game with 4K@120Hz support is only on Xbox? Enter the Wingman XB controller converter.

While the vast majority of my fighting games are on PC, I do have a few that are locked to Xbox. These include the hinted at 4K@120Hz version of Samurai Shodown, and I also have the older Killer Instinct bundle, that includes not only the 2013 KI remake, but ports of the two older arcade releases of Killer Instinct 1 and 2. My friends and I used to love them (well, I got slaughtered so I mostly watched), and I know they would appreciate being able to play these again. But only one of my fight sticks supports Xbox – the MayFlash F500. My other stick, the Hori RAP4 Real Arcade Pro, does not. It works great on PC and PS3/4, but not Xbox. Now, with the help of this Wingman XB, I can now play two-player fighting games with both of my fight sticks!
Highlights:
Strong Points: Converts most controllers to work on all generations of Xbox, which many competitors cannot do; converts Xbox 360 wireless controllers via PC adapter to work on Xbox (all generations) which is not otherwise possible; also works on PC; rumble is supported; very low latency
Weak Points: Not all 3rd party controllers tested worked; costs about twice what some competitors cost (if using on PC only), but is the only (best?) game in town for Xbox; adaptive trigger rumble is not simulated on DS5 controllers

I tested this out with my Hori RAP4, a Switch Pro Controller, a DualShock 4, and a DualSense 5, and all worked flawlessly on both PC and Xbox. I tested a PS3 controller that I was able to find, an original Sixaxis, and it worked as well. I can't find my DualShock 3 controller right now to verify rumble works, but it did on my DS4 and DS5 controllers, so I suspect it will. (My house is kind of torn apart as we remodel our basement, so some things are difficult to find right now.) One thing I noticed is that rumble translates well to the DS4 and DS5 controllers, but the fancy trigger rumble that the Xbox Series controllers support is not translated over to the DualSense 5 controller. Considering the DS4 is known for advanced trigger pulsing effects, it would be really neat to see this work in a future update!

I also tested this with a few third-party Switch controllers, with mixed results. The PDP Afterglow Deluxe Wireless Controller worked well, but the wired version that we also reviewed did not. The Ematic controllers we were sent to review also did not work. I compared this with a MayFlash Magic-NS I previously purchased on my own (which converts controllers to work on PC, Switch, and some other mini systems like the PlayStation and NeoGeo Mini) and it could handle those, so I have to give the nod to MayFlash there.

Speaking of the MayFlash, it's a great little device at around half the price, but they do not offer a product that converts controllers to work on Xbox – only PC, Switch, PS4, and old or less well-known things. Brook seems to have the Xbox market nailed down.

Brook claims that their products offer the lowest latency – or at the very least as close to instantaneous as possible. At first I thought the claim might be a bit exaggerated, but then I did some research, and apparently Brook has been working closely with the fighting game community and actually produces boards for custom fight stick makers that have the lowest latency of any USB fight sticks on the market. So Brook does indeed have the engineering chops to pull this off. In order to actually test this, I would need hardware that I don't have, but I did record both this and my MayFlash adapter at 240Hz on my phone's camera, and played it back looking at both while pressing buttons, and all I can say is that the Brook is at least as fast if not faster than the MayFlash Magic-NS. I cannot prove that it's faster, but it didn't seem any slower. I tested this while using DualShock 4 controllers connected to the same PC with a 240Hz screen.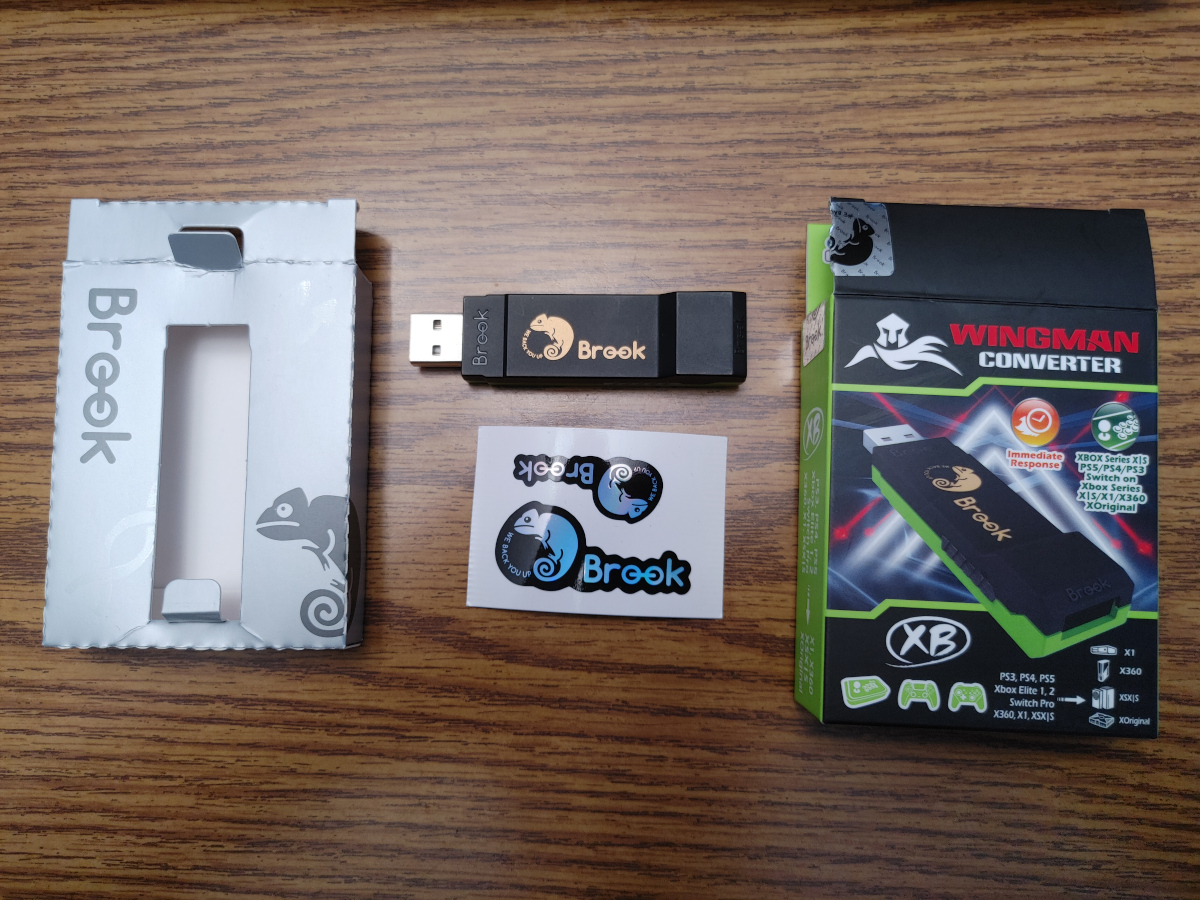 The Brook Wingman XB also supports converting certain flight sticks to be usable on MS Flight Simulator on Xbox. It requires a custom firmware for this, that can't be used at the same time as its other common functions, so you have to reflash the firmware to switch between those modes. I don't have one of the supported flight sticks, so I couldn't test this feature. It also supports converting the Switch and PS4 Taiko Drum Kits for use on Xbox, but again, I lack said drum kits to verify it.

I had hoped that it would work to convert my older Logitech G27 racing wheel to be usable on Xbox, but no such luck. Brook does sell a different converter to do this, though it is a lot more expensive than the Wingman XB.

Every expected feature that they said should work worked well, and the DS4 touchpad doubles as an extra Xbox Guide button (aka home button). Latency was low in everything I tested, and I never could blame the adapter for my mistakes while playing. One thing to note: My Hori fight stick had to be in PS4 mode in order to work properly with Xbox while connected to the Wingman XB.

The Brook Gaming Wingman XB Controller Converter is a simple but excellent device. It fills a niche that their main competitor, MayFlash, does not – it works perfectly with Xbox. And if it wasn't obvious, it is supposed to work with not just Xbox Series X like I tested it with, but also Xbox One, Xbox 360, and even the original Xbox if you have the USB adapter cable. Being able to use a Series X controller on the original Xbox is quite a feat! The other remarkable feature that sets it apart is being able to use the Xbox 360 controllers on newer consoles. Considering that they are physically very similar, this is quite a benefit. If you think being able to do these things would help you up your game, then give the Wingman XB a closer look – it works wonderfully!