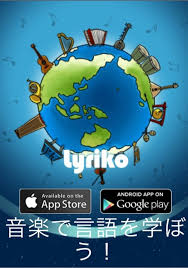 Game Info:
Lyriko
Developed by: Skylight Games
Published by: Skylight Games
Release Date: November 23, 2015
Available on: Android, iOS
Genre: Edutainment
Number of Players: Single-player
ESRB Rating: Not rated
Price: Free with in app purchases
Thank you Skylight Games for providing us with plenty of credits to unlock all of the songs!
It's been nearly twenty years since I have graduated high school.  I haven't used my three years' worth of Spanish since.  Like many things, if you don't use it, you'll lose it.  Lyriko is a great tool to remind me of just how little of Spanish I truly understand.  While it's great for refreshing my memory, I can't vouch for how effective it is for learning a language for the first time.  Fortunately, it's free to try so if it doesn't work out for you, you can uninstall it and lose nothing.  If you do like the software, more songs can be added to it by purchasing credits.
The base installation comes with four songs (2 beginner, 1 intermediate, 1 advanced).  As of this review Spanish is the only language available to learn for English speakers.  Spanish, Japanese, and Portuguese speakers can learn English at the present time.  Support for more languages is in the works.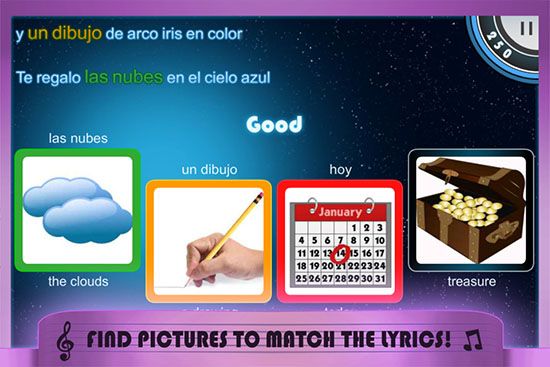 Highlights:
Strong Points: A fun way to learn a new language
Weak Points: Some of the pictures are too vague, re-used, or poor quality
Moral Warnings: A vampire is shown wearing a pentagram necklace
There are four learning modes available.  Picture It has you guessing the meaning of randomly selected words by clicking on the correct picture from the four provided.  If you guess incorrectly, the definition will be displayed by the picture.  I like how the words selected are random so you can play the same song different times and learn new words each time.
In the Imposter mode you have to guess which words in the lyrics do not belong.  This is quite a bit harder than the Picture It mode.  The Interlude mode is just as tricky by having you fill in the missing words with the multiple choices provided.  The final mode, Reference, is for simply listening to the music and reading the lyrics without being scored or asked to do anything.
All of the modes have up to three stars that can be earned depending on your performance.  If you get all of the prompts correct, you'll get three stars.  There are two speeds available per song, slow and normal.  There are two difficulties as well, easy and hard.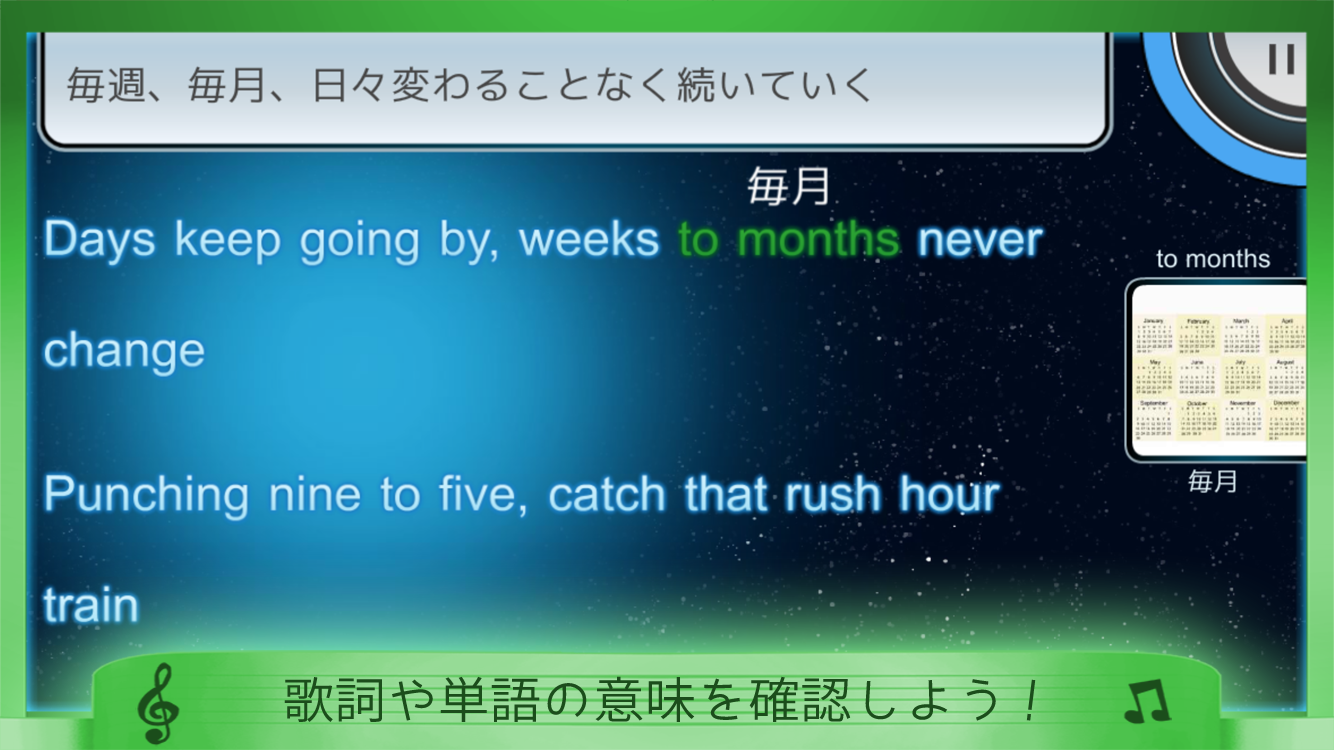 Score Breakdown:
Higher is better
(10/10 is perfect)
Game Score - 76%
Gameplay - 15/20
Graphics - 6/10
Sound - 8/10
Stability - 4/5
Controls - 5/5

Morality Score - 94%
Violence - 10/10
Language - 10/10
Sexual Content - 10/10
Occult/Supernatural - 7/10
Cultural/Moral/Ethical - 10/10
While the songs are not popular hits, they are well done and in good taste and quality.  Many of them are educational with songs about math tables and classic tales like the story of the tortoise and the hare.  Completing songs leads to unlocking achievements which earns credits.  Credits can also be attained by by purchasing them or receiving them as gifts from friends.  Songs can be unlocked for twenty credits which sells for $0.99.  
The interface is easy to use; however there is some room for improvement.  The Picture It mode uses four pictures at a time and many times two of the pictures are the same and you need to select both.  I was once penalized for selecting the wrong identical picture.  To make things a little more confusing, the same picture is used for multiple themes.  Most of the pictures are "clip art" quality and one of them looked like a child (or my non-artistic husband) drew it.
Given that I didn't comprehend most of the lyrics, from what little I could translate, they seemed family friendly.  The only issue worth noting is that a picture of a vampire showed him wearing a pentagram pendant. 
If you're looking for a fun way to learn Spanish, Lyriko is worth checking out.  If you like what you see in the free version, the rest of the songs can be purchased at a reasonable price.  The credits get cheaper as you purchase more of them.  I was given 1,000 credits for writing this review and I still have over 700 left after unlocking all of the currently available songs.  I have also earned back some credits through playing the game.  My kids took an interest in this game and if you want them to be bilingual, this is a great tool to look into!