Game Info:
FaceMash: Celebrity Edition
Developed by: Flaming Mitten
Release date: May 7, 2013
Available on: Android, iOS
Genre: Puzzle
ESRB Rating: Not rated
Price: 0.99
Thank you Flaming Mitten for sending us this game to review!
FaceMash: Celebrity Edition combines the faces of two high profile figures and it's your job to figure out who the two individuals are.  There are two hundred and forty mashups divided into five levels.  As you unravel the celebrities, you'll unlock new levels.  The pictures include actors, athletes, musicians, political figures and miscellaneous people or objects (the Statue of Liberty makes an appearance in this game).
I'll be the first to admit that I am not current on who the trending actors and musicians are.  I only figured out sixty-seven out of the two hundred and forty celebrities.  Out of that sixty-seven, Google helped me solve roughly half of them with hints.  There is a two-tier help system that can reveal or offer hints in exchange for points.  It shouldn't be a surprise that reveals cost more points.  The hints typically include their birth name or date and town they were born in.  Points can be earned back by unmashing more faces.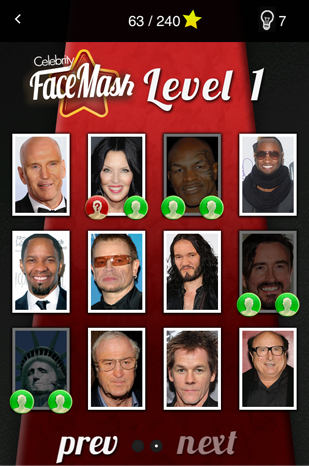 Highlights:
Strong Points: Fun pick up and play game; reasonable price.
Weak Points: Never enough hints.
Moral Warnings: None!
The celebrity couplings are rather interesting and in several cases have something in common.  For example I have unmashed father/son or ex-wives of an actor pairings.  Some mashups have former couples so there are some male/female combinations.  I wonder if Oprah and Barack Obama take offense to their mashup together?  It's pretty safe to say that some of the "photoshop" jobs are more obvious than others.  
The sound effects are decent and there is no background music.  I have often heard the buzzer letting me know I guessed wrong.  Thankfully there are no penalties for incorrect guesses.  I have noticed that if my guess is wrong there is a delay in telling me so in contrast to correct answers.  Other than that hiccup, this game ran on my HP  tablet just fine.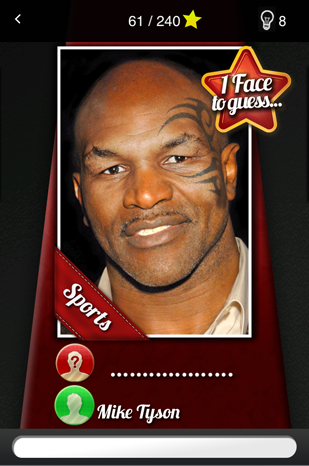 Score Breakdown:
Higher is better
(10/10 is perfect)
Game Score - 76%
Gameplay - 15/20
Graphics - 8/10
Sound - 6/10
Stability - 5/5
Controls - 4/5

Morality Score - 100%
Violence - 10/10
Language - 10/10
Sexual Content - 10/10
Occult/Supernatural - 10/10
Cultural/Moral/Ethical - --/10
Sadly I'm stuck and have used all of my available hint points.  I did too many reveals (oops!).  So I went to the Internet to look for hints or traces of a community.  I saw Twitter and Facebook pages, but they weren't super active or helpful.  In their defense, this is a recently released game.  The reviews have been positive with five out of five star reviews on Google Play and the Apple App Store.     
 If you're into movies and actively follow sites like TMZ, this app will be right up your alley.  Morally, it's cleaner than TMZ since it only shows the faces of the celebrities and nothing else.   It's a good pick up and play game that can be addictive when you're on a roll.   If you're clueless like me, you may want to save your buck and 162MB of space.