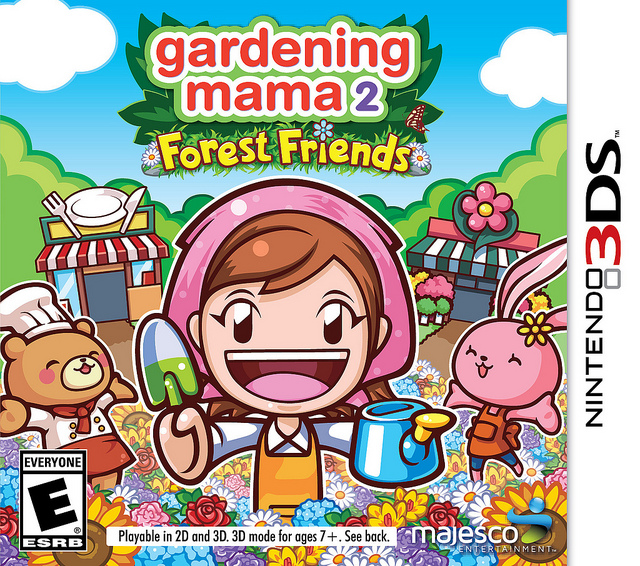 Game Info:
Gardening Mama 2: Forest Friends
Developed by: Cooking Mama Limited
Published  by: Majesco Entertainment
Release Date: April 29, 2014
Available on: 3DS
Genre: Simulation
Number of Players: Single-Player
ESRB Rating: Everyone
Price: $29.99
(Amazon affiliate link)
Thank you Majesco for sending us this game to review!
My daughters are fans of the Cooking Mama games and this is my first time playing the Gardening Mama spin off.  In Gardening Mama 2: Forest Friends, mama and her daughter live by a forest that has some shops opening up that desperately need fresh fruits, flowers, and vegetables.  The plants are relatively easy to grow, as long as you remember to water them daily and don't over-water them. The challenging part is completing the various requests (mini-games) to earn seeds to plant new produce.  There are over fifty varieties of fruits, vegetables, and flowers to grow.
At the start of each day Mama will wake up to find a forest friend making a request for their shop and a letter in the mail box looking for help in completing a task that pays in seeds or spending money.  Since you get seeds for free, what do you need the money for?  The spending money is for buying various garden decorations.  As you successfully grow things your garden will level up and expand allowing you to grow more plants and decorate it further.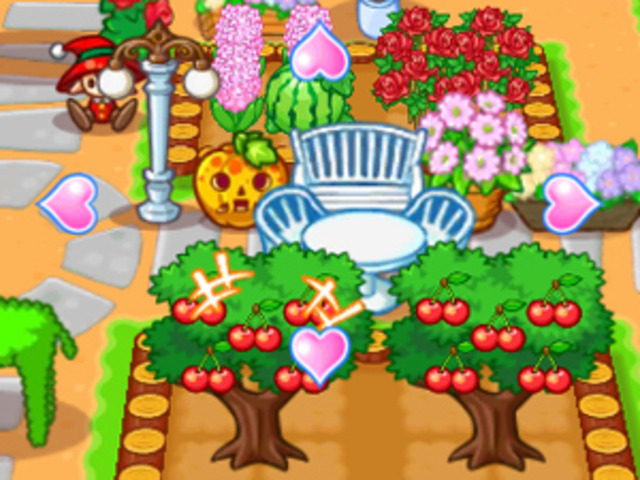 Highlights:
Strong Points: A wide variety of plants to grow and sell to customers
Weak Points: Some of the mini-games are out right frustrating and a few of them lack common sense
Moral Warnings: You can decorate your garden with statues of Buddha
Since most packets of seeds are less than a couple of dollars I doubt it's worth the cost of driving, flying, or taking a train to do the following tasks:
-Securing and preventing the flowers from flying away in a tornado like wind storm.  (Forget safety, but remember the flowers!)
-Carrying boxes of heavy produce across the yard without getting bitten by an annoying dog (How about a mini-game to tase the dog first?)
-Light five Jack-O-Lanterns  in less than a minute by striking a match in heavy winds (Lighting a match is not fun in real life, especially in windy weather, whose idea was it to make a mini-game out of this?)
The rest of the mini-games were fine and most of them were gardening related with some random house chore ones thrown in.  If I wanted to vacuum, iron, or hang clothes out to dry I wouldn't be playing video games.  Then again this game is geared more for young girls rather than their mothers.  Fans of the Cooking Mama series may appreciate the cooking based mini game.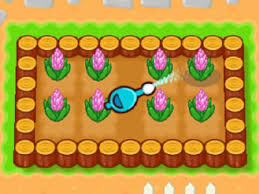 Score Breakdown:
Higher is better
(10/10 is perfect)
Game Score - 78%
Gameplay - 15/20
Graphics - 8/10
Sound - 7/10
Stability - 5/5
Controls - 4/5

Morality Score - 94%
Violence - 10/10
Language - 10/10
Sexual Content - 10/10
Occult/Supernatural - 7/10
Cultural/Moral/Ethical - 10/10
The graphics are on par with the other mama games I have seen and played.  The game's atmosphere is colorful and I like how you can change the garden themes to the different seasons.  Each plant is unique and there is plenty of detail after the initial sprout stage.  The characters are anime like in their appearance and expressions.  
I was a little confused by how this game classified certain plants.  For example, strawberries, watermelons, and peanuts are in the vegetable category while chestnuts are included in the fruit section.  
The audio department is a little spotty as well.  Mama's voice is still heavily accented, but other characters in the game speak perfect English.  The sound effects are fitting; however the background music is forgettable.  
My kids were fascinated by this game and I'm curious what they will think of the mini-games I found frustrating.  Fortunately you can get partial credit and retry as often as needed to accumulate 100 points to earn seeds or spending money.  The rest of the game is fun and family friendly.    If you have any aspiring green thumbs, this game is worth looking into.