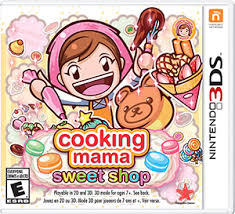 Game Info:
Cooking Mama Sweet Shop
Developed by: Office Create
Published by: Rising Star Games
Release Date: May 18, 2017
Available on: 3DS
Genre: Simulation
Number of players: Up to four players
ESRB Rating: Everyone, Alcohol reference
Price: $29.99
(Amazon Affiliate Link)
Thank you Rising Star Games for sending us this game to review!
Cooking Mama is back and this time she's specializing in sweets! If she keeps her customers happy, especially a particularly wealthy lady, Mama can open up several stores worldwide. At first, there are only a handful of recipes, but for each completed one, another becomes available until all sixty of them are unlocked. Each recipe has several steps/mini-games to complete and they all require different skills and techniques to master. Depending on how well you do, your creations will get either a gold, silver, or a bronze medal. Even one mistake will bring you down to a silver. Thankfully, you can redo your recipes or practice them to hone your baking skills.
With over one-hundred and sixty mini-games there is plenty of variety in the recipes. While I didn't mind most of the mini-games, there are some really annoying ones. In real life, I don't like playing refrigerator Tetris to fit everything into it; is there anyone out there that does? At least in real life, I have more than a minute or so to get everything sorted. And yes, I have had an otherwise perfect recipe dropped down to a silver because Mama's fridge was disorganized. Another annoying set of mini-games are the ones where Mama is carrying a tray over to the oven or the fridge. This sounds simple enough but Mama must have been sneaking some swigs of cooking wine when I wasn't looking because she is pretty unsteady and keeping the tray level takes a lot of effort. Many of the mini-games are carried over from previous titles and I was surprised to see that Mama still has the blender that requires you to tap the lid back into place every few seconds. Why hasn't she replaced it? Surely if she can open up several stores worldwide, she should be able to splurge and buy herself a new blender, right?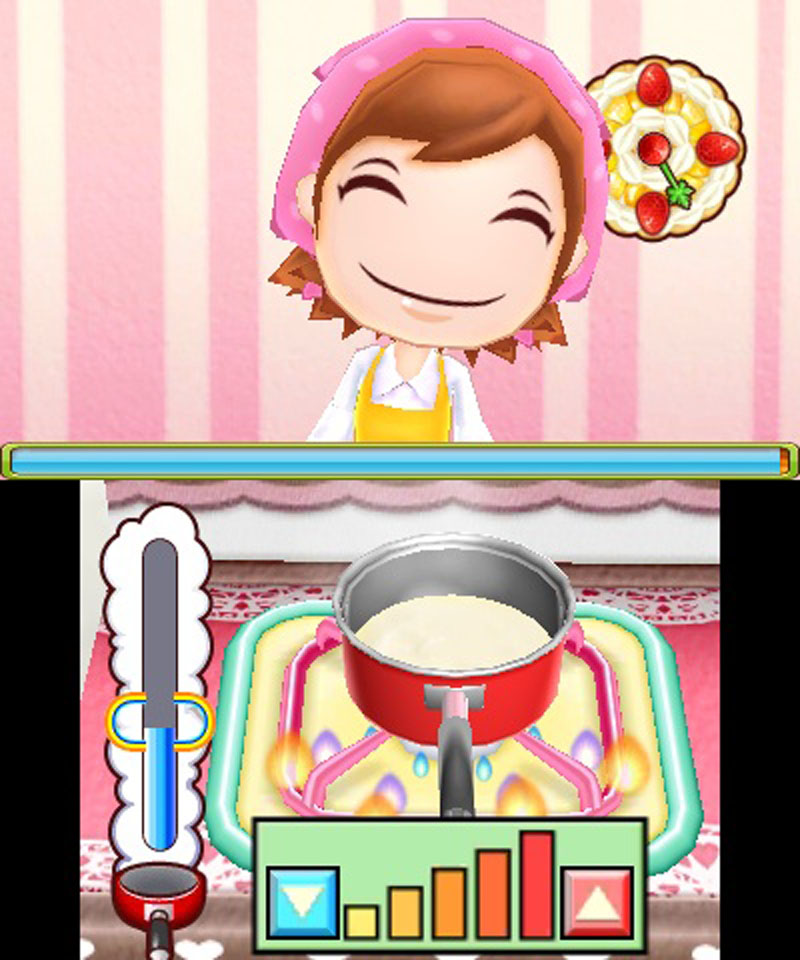 Highlights:
Strong Points: Classic gameplay that gets kids interested in cooking/baking
Weak Points: Other than the sugary recipes, not much has changed in this title; some confusing/annoying mini-games; multiplayer requires everyone to own the game (no download play); cannot rearrange store shelves
Moral Warnings: Alcohol is used in some recipes
There are lots of mouth watering recipes and you'll get to help Mama make lots of goodies including caramel apples, churros, cream puffs, crepes, donuts, pancakes, macaroons, and plenty more. If you're hungry and have a sweet tooth, it's probably best to hold off on playing this game until you've eaten. I do like how this series gets my kids interested in baking/cooking though.
Despite getting flour and batter on Mama's face, she doesn't lose her cool. Some of the recipes are generous with mistakes and let you correct them without penalty as long as the task is completed in time. Other mini-games grant you a couple of mistakes, or none at all. The interface can be a little confusing at times and I had to show my kids how to apply decorations. There are some recipes that I didn't understand a task or two on and was dropped down to a silver as a result.
If you own multiple copies of the game, up to four players can compete against each other in a cook-off. Since I only had one copy of this game and there's no download play option, I couldn't test out this feature. My kids all enjoyed playing this game in single-player mode though. Even my son completed a few recipes despite that game being "girly".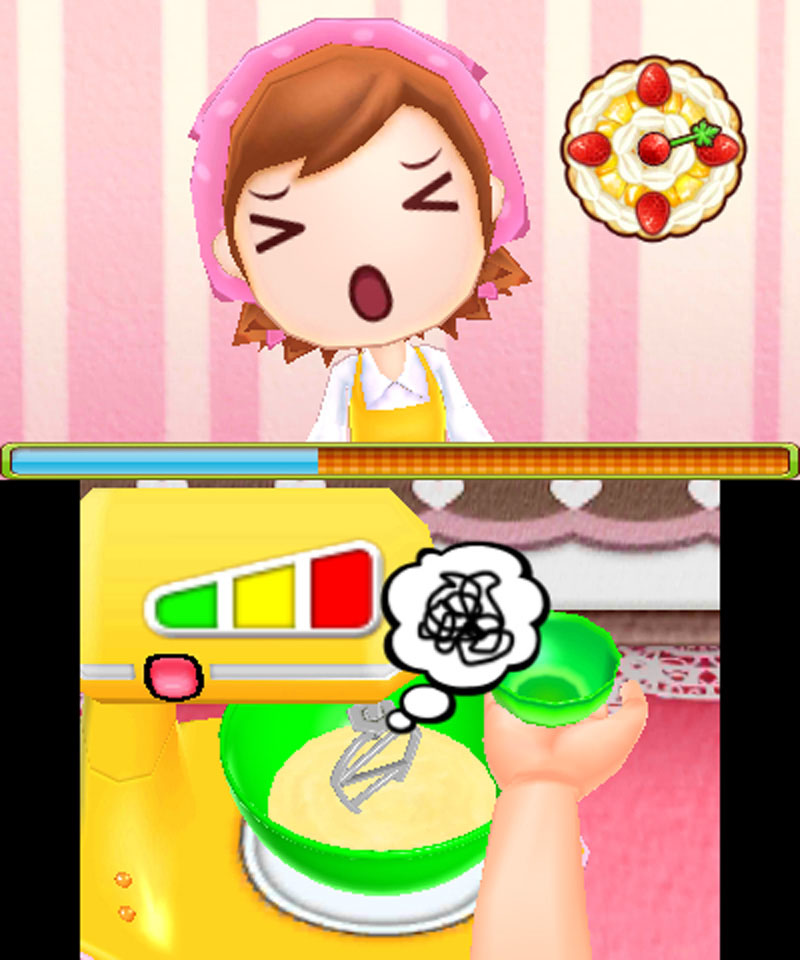 Score Breakdown:
Higher is better
(10/10 is perfect)
Game Score - 76%
Gameplay - 16/20
Graphics - 7/10
Sound - 7/10
Stability - 5/5
Controls - 3/5

Morality Score - 100%
Violence - 10/10
Language - 10/10
Sexual Content - 10/10
Occult/Supernatural - 10/10
Cultural/Moral/Ethical - 10/10
Once recipes are completed, you can place them in your storefront and sell them. Unfortunately, you cannot rearrange your store, but once you start to run out of space, your shop will automatically expand to accommodate more tables. Money earned from selling items can be spent on various customizations including new store décor, customized aprons and cooking utensils for Mama. The AI for the customers is pretty basic as they walk around awkwardly until they find a random item to purchase. It can be rather painful watching them fumble around and waiting for them to make up their mind. I think they've been drinking some of Mama's cooking wine too!
When Mama has stores opening up around the world, she can partake in various challenges which typically include assembly line tasks. Other challenges rely on your memory to place as many fast food orders as quickly and accurately as possible. If you manage to earn a medal, you'll be rewarded with an unlockable item to enhance your kitchen or storefront with.
There is plenty to do in Cooking Mama Sweet Shop. If you enjoyed the previous entries then you'll find much of the same content in this one. The same sound effects and Mama's heavy accent are still present in this game. If you're looking something different and exciting in this series, you'll have to search elsewhere. The asking price of $30 is reasonable and if you have friends to play against, it'll be fun to see who can make tastier treats.