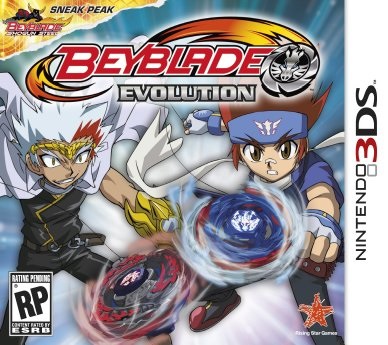 Game Info:
Beyblade Evolution
Developed by: Intergrow
Published by: Rising Star Games
Release Date: October 29, 2013
Available on: Nintendo 3DS
Genre: Simulation
Number of Players: Up to 2 players alternating
ESRB Rating: E for everyone
Price: $29.95
(Amazon affiliate link)
Thank you Rising Star Games for sending us this game to review!
Beyblade has been around for a while and has numerous DVD and accessories available for it. If you're like me and new to this craze, it's basically top battles where your top must out spin or knock its opponent out of the stadium.    The Beyblades are completely customizable and depending on the parts you use, you can increase its attack, defense and stamina.  
Beyblade Evolution introduces your character (whom you name) as a beginner Beyblader and the people in the first town will teach you how to launch your Beyblade and basic strategy techniques.  I like how this game uses the 3DS motion detection to launch your Beyblade.  As you talk to fellow Beybladers, you can challenge them to a battle or they may challenge you to a mini-game.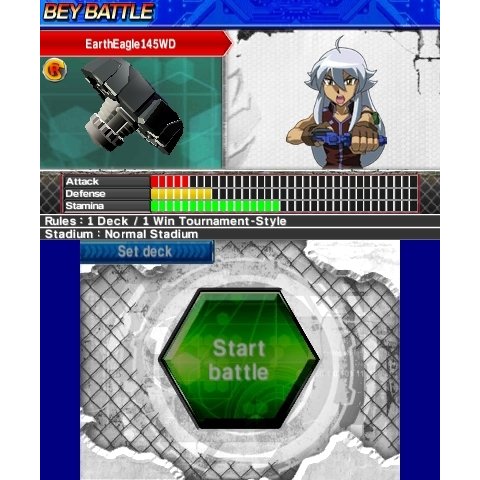 Highlights:
Strong Points: Fun gameplay that can be enjoyed by those not familiar with the toys or DVDs
Weak Points: Some of the mini-games require you to be familiar with Beyblade parts and models
Moral Warnings: None!
The mini-games are fun and can give you some money towards upgrading your Beyblade.  The better you do in the mini-games, the more money you earn.  The mini-games range from parts identification to a memory match game, shooting Beyblades at balloons or through hoops, or lastly a tilt maze/obstacle course.      
The best way to make money in this game is to win in tournaments.  The tournament styles seem to be random and some require you to register multiple Beyblades while others only require one.  The stadiums vary in type and can prevent or allow your Beyblade to be knocked out of it.   If the stadium is enclosed you'll want a Beyblade that has higher stamina to outlast your opponent.  Alternately, if the stadium is open you may want to opt for a Beyblade with a higher attack and/or defense to prevent from being knocked out.
As your character wins battles, they'll be introduced to other Beybladers and unlock new areas to visit and tournaments to battle in.  Apparently many of the characters in this game are from the anime series.  It should come in no surprise that the art style is anime like in this game.   The stadium looks great with the 3D mode enabled on the 3DS.  The collision physics seem believable however, I'm not sure how long the Beyblades spin in real life, but I'm guessing the spin length may be exaggerated.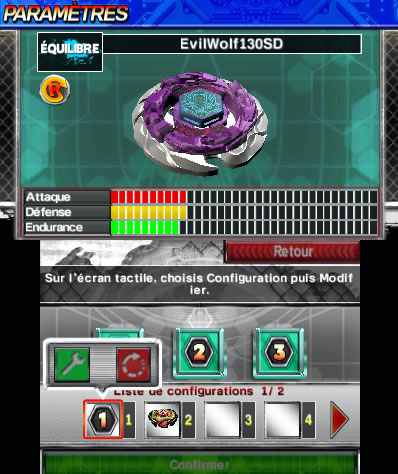 Score Breakdown:
Higher is better
(10/10 is perfect)
Game Score - 82%
Gameplay - 17/20
Graphics - 8/10
Sound - 7/10
Stability - 4/5
Controls - 5/5

Morality Score - 100%
Violence - 10/10
Language - 10/10
Sexual Content - 10/10
Occult/Supernatural - 10/10
Cultural/Moral/Ethical - 10/10
I like the guitar battle music that sets the mood and gets your adrenaline pumping.  The collision sound effects are spot on.  All of the dialogue is text based and there is no voice acting whatsoever.  
 Even if the 3DS audio isn't fully utilized, Beyblade Evolution takes advantage of numerous other features.  The motion sensors are used to launch the Beyblades into battle.  The camera is used for alignment so it's important to keep your 3DS still or it may get misaligned.  The cartridge version of the game comes with an AR card that can generate a stadium on your table or surrounding of your choice.  As cool as this is, it's very finicky and not fun to lose focus (and the stadium) every few seconds.  Those who buy the digital version are not left out of this experience since they can download and print their AR card from beybladethegame.com.  
Beyblade Evolution retails for $29.99 for the game alone, or you can buy the collector's edition that includes an exclusive Beyblade for $10 more.  I highly recommend this game for any Beyblade or fan or boy in general.  Even though I'm not familiar with the series, I still enjoyed playing this game.  Those who are not knowledgeable with the inner workings of Beyblades will score lower in some of the mini-games though.