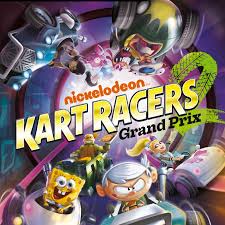 Game Info:
Nickelodeon Kart Racers 2: Grand Prix
Developed by: BamTang Games
Published by: GameMill Entertainment
Release date: October 6, 2020
Available on: PS4, Switch, Xbox One
Genre: Racing
Number of players: Up to four locally, eight online
ESRB Rating: Everyone with comic mischief and cartoon violence
Price: $39.99
(Amazon Affiliate Link)
Thank you GameMill Entertainment for sending us a review code!
We reviewed the first Nickelodeon Kart Racers game and were not blown away by it. There's tough competition when it comes to kart racing games. Nickelodeon Kart Racers 2: Grand Prix has increased their character roster to one hundred characters with thirty of them being playable and the rest can be assigned as part of your pit crew. Each crew member has unique abilities that can give you an edge in racing so be sure to check them all out! There are also twenty-eight tracks which is a few more than the original game. Lastly, this sequel offers eighty kart upgrades that you can purchase with slime coins you collect and earn on the better-designed tracks.
Since the last game, Nickelodeon has added some new shows on their network. As a result, you can race as various Avatar characters. Classic characters from Teenage Mutant Ninja Turtles, SpongeBob SquarePants, Ren and Stimpy, Invader Zim, Rugrats, Hey Arnold!, The Loud House, Danny Phantom, and more, are available too.
When you first launch the game, you'll have to complete the tutorial which will teach you the basic controls and moves.  Unfortunately, you cannot remap the buttons, which is a shame since the left button serves many purposes like drifting and the ability to do slime stunts. As a result, I wasn't able to successfully complete slime stunts as my kart would only drift.
Highlights:
Strong Points: More characters, tracks, and upgrades compared to the previous game
Weak Points: Online multiplayer is dead; confusing controls with no option to remap them
Moral Warnings: Vehicular cartoon violence; potty humor
Slime still plays a big role in this game. As you drive through it, your slime gauge will fill and when it's full you can unleash a powerful attack. The type of attack is determined by which crewmembers you have assigned. For example, Plankton gives you the ability to rain down pink slime that slows everyone else down.
Nickelodeon Kart Racers 2: Grand Prix offers three game modes: Single Player, Multiplayer, and Online Mode. In Single Player you can compete in multiple Slime Grand Prix's, Free Race, Challenges, Time Trials, and Arenas. In time trials, you'll be racing against the clock and will have to collect clocks scattered across the tracks to ensure that you have enough time left to make it to the finish line. In all of the other modes, you'll be racing or battling against CPU characters whose difficulty you can adjust. The arena battles pit you against other players to see who can knock the most out using various weapons like boomerangs and footballs found on the battlefield.
By completing Grand Prix races and challenges, you can unlock more drivers and pit crewmembers. Since I had some trouble clearing some of the challenges, it's nice that not all of them have to be completed to unlock the characters. If you're just looking for some pick up and play action, the Free Race mode will meet that need. You can customize the Free Race's speed, CPU difficulty, pit crew staffing, laps, and item availability.
The Multiplayer mode allows you to race and battle against up to four nearby family members or friends. The online mode supports eight players, but I wasn't able to find one online to race against. Hopefully, other platforms don't have this problem. Cross-platform support would be awesome, but it's difficult to implement.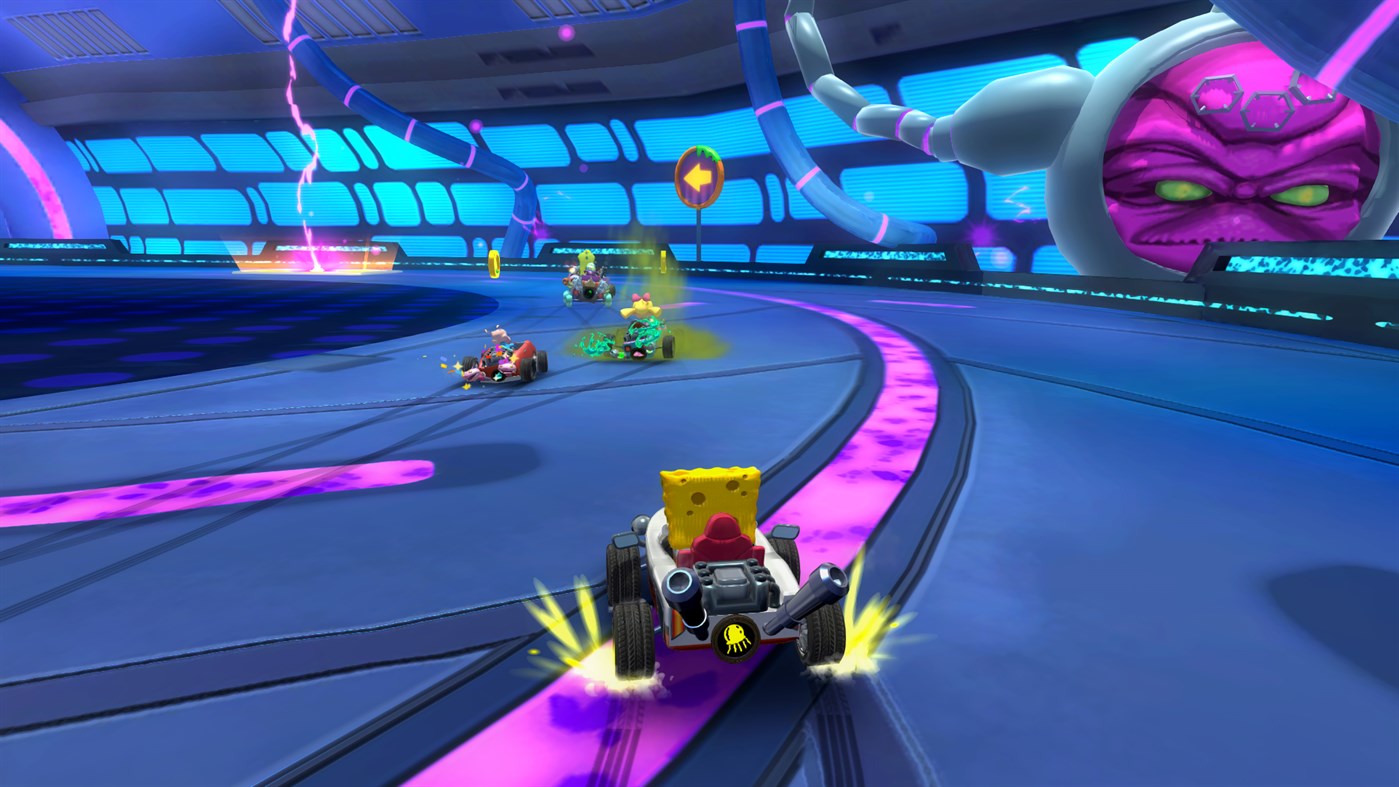 Score Breakdown:
Higher is better
(10/10 is perfect)
Game Score - 78%
Gameplay - 15/20
Graphics - 8/10
Sound - 7/10
Stability - 5/5
Controls - 4/5

Morality Score - 95%
Violence - 9/10
Language - 10/10
Sexual Content - 10/10
Occult/Supernatural - 10/10
Cultural/Moral/Ethical – 8.5/10
The garage menu option is where you go to select your driver and upgrade your kart. Each option impacts your overall top speed, turbo, steering, and drift capabilities. Slime tokens can be spent here to unlock better engines, wheels, exhaust pipes, and paint jobs.
The kart racing is solid in this entry. The standard features like speed boosting ramps and collectible weapons are present. The attack items are rather silly including exploding gnomes, stink bombs, an arm that blocks the screen, dirty diapers, and more.
I was impressed with the map design in this entry. There are often multiple routes to take and they are obviously themed to different cartoon franchises. The level design is well done and these tracks are fun to race on.
There's not much to report on when it comes to the audio. There is no voice acting for the characters so that's a missed opportunity. The sound effects are good and the background music is decent. I like how the music speeds up on the last lap.
This game is pretty family-friendly, but it's worth noting that there is some cartoon violence and potty humor.
Overall, Nickelodeon Kart Racers 2: Grand Prix is an improvement over the original game. The biggest downfall of this version is the lack of online players. If you don't mind playing solo or with nearby friends, it's worth looking into.