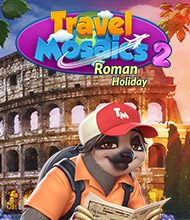 Game Info:
Travel Mosaics 2: Roman Holiday
Developed by: JetDogs
Published by: JetDogs
Release date: March 16, 2020
Available on: Android, iOS, macOS, Switch, Windows
Genre: Puzzle
Number of players: Single-player
ESRB Rating: Everyone
Price: $7.99
Thank you JetDogs for sending us a review code!
The Travel Mosaics series began in 2018 and as of this review, there are twelve of them! Travel Mosaics 2: Roman Holiday was initially released in February of 2018 on PC through Big Fish Games. The games are all themed with the majority of them based on popular tourist destinations. I don't have any immediate plans on visiting Rome, so this will be the closest I'll get for a while.
Travel Mosaics 2: Roman Holiday has 160 puzzles scattered through twenty locations. Each location has a historical blurb that's worth reading as you'll be asked a trivia question if you make too many mistakes. If you answer the trivia question wrong, you'll have to start the puzzle over!
Most of the puzzles are on a 20x15 grid. The first few puzzles gradually increase in difficulty going from 10x10 to 15x10 grids. On the X and Y-axis you'll see numbers indicating how many of the squares in each row and column are occupied. If you play on the easiest difficulty, you won't have to worry about switching colors as the game will do that automatically. On the normal difficulty, the numbers are crossed off when the requirements are met. The hardest difficulty does not do that. You can change the difficulty at any time in the game's menu. You can also customize the appearance of the tiles as well as the empty space markers.
Highlights:
Strong Points: 160 puzzles to solve at three difficulty levels
Weak Points: Puzzles vary in difficulty
Moral Warnings: One puzzle featured a witch and another had a ghost

To assist in the puzzle solving, there are a few abilities you can use. How effective they are depends on how much you level them up. With each solved puzzle, you'll be given money to spend on power-ups or knickknacks to clutter the Walker family's living room. I highly recommend investing in an additional life as soon as possible. The other power-ups are worth investing in as well. The more you upgrade an ability, the more expensive it will be to upgrade it again.
The sun ability will randomly fill in a square (or multiple if you level it up). My favorite ability is the hammer which will fill in a block of squares in an area of your choosing. The lightning power-up will fill in a few adjacent squares from the one you select. The bomb ability will scatter a crosshair of squares of matching colors across the level.
According to the game description, each of these puzzles can be solved with logic alone. Even with the abilities, I often took guesses and made mistakes. Each error costs a life and once you're out of lives you'll be prompted to answer a trivia question. Failure to answer the question correctly, or declining to do so will result in the level being reset. If you do answer the question correctly, you'll maintain your progress and be given a clean slate. I found it funny that I often got a three star rating for making no mistakes after answering a trivia question.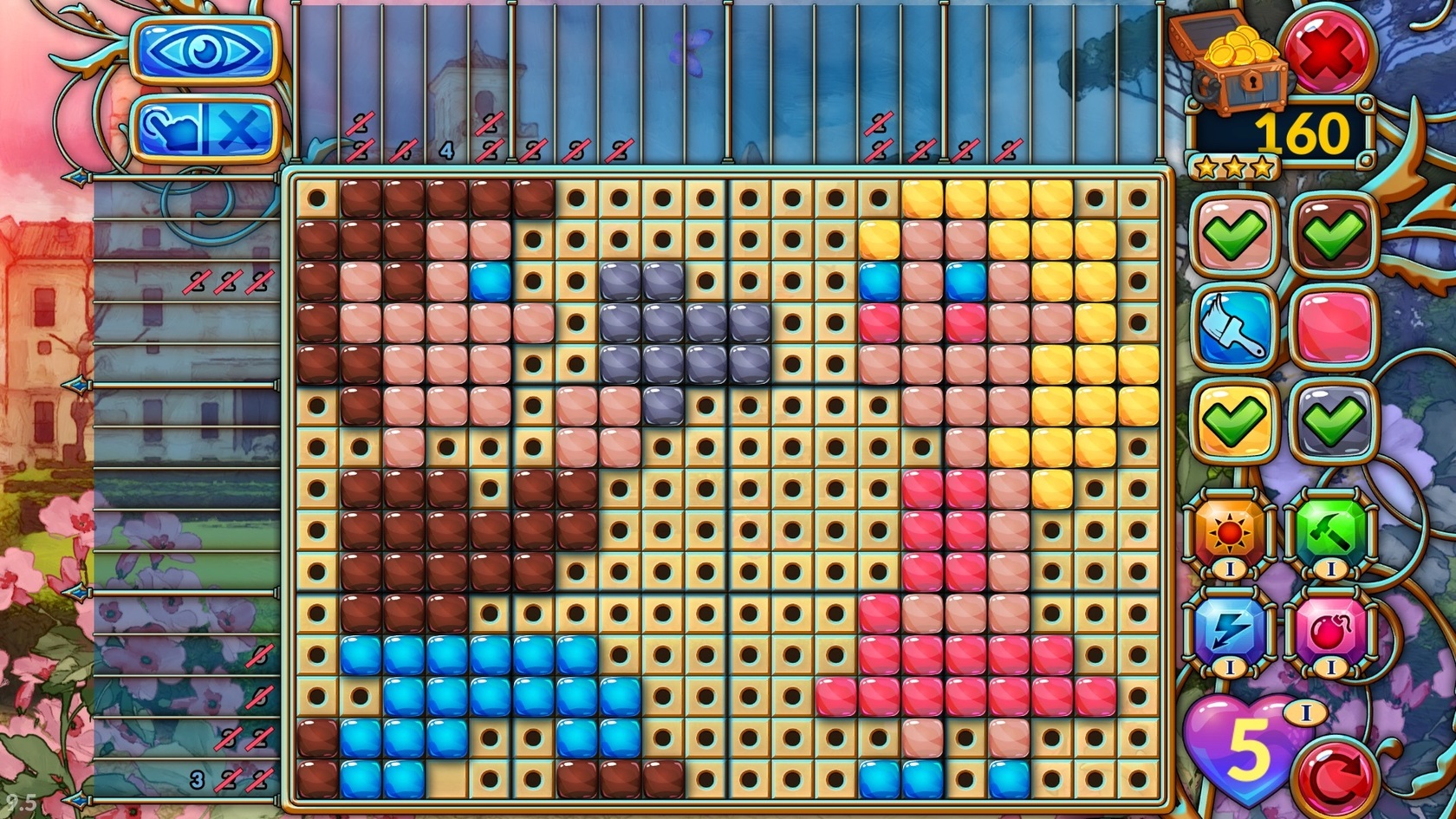 Score Breakdown:
Higher is better
(10/10 is perfect)
Game Score - 82%
Gameplay: 16/20
Graphics: 8/10
Sound: 7/10
Stability: 5/5
Controls: 5/5

Morality Score - 94%
Violence; 10/10
Language: 10/10
Sexual Content: 10/10
Occult/Supernatural: 7/10
Cultural/Moral/Ethical: 10/10
Solving a puzzle no matter how many mistakes will give you one star. Making only one mistake (or solving the trivia puzzle and messing up once more) will give you two stars. Zero mistakes (before of after the trivia question) will give you three stars. You get more spending money with more stars. You can always replay a level to increase your star count. Each section has two bonus puzzles that have star requirements in order to unlock them.
The visuals are colorful and I appreciated the Roman backdrops. The pixel art puzzles are mostly recognizable when finished though there are a few that I'm not 100% sure of what they are. The background music is relaxing and pleasant to listen to.
There's little to complain about morally; one puzzle had a witch on it and another had a ghost.
If you enjoy Nonogram/Picross style puzzles, Travel Mosaics 2: Roman Holiday is worth looking into. I look forward to the rest of the series coming to the Switch. The first game, Travel Mosaics: A Paris Tour, is available for only $4.99. I'm not sure why the sequel is more expensive despite having the same number of puzzles.