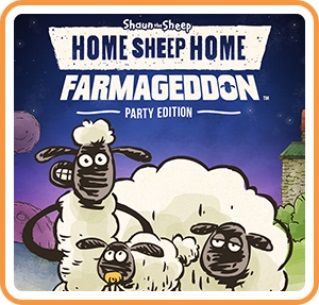 Game Info:
Home Sheep Home: Farmageddon Party Edition
Developed By: Aardman Animations
Published By: Aardman Animations
Released: Oct. 18, 2019
Available On: Nintendo Switch, Windows
Genre: Puzzle
ESRB Rating: E for Everyone- Mild Cartoon Violence
Number of Players: Up to 4 offline
Price: $9.99
I would like to thank Aardman Studios for sending us a copy of Home Sheep Home: Farmageddon Party Edition on the Nintendo Switch!
It is incredible to think that there are people out there who still enjoy the simplicity of Flash games. Yes, I'm talking about the games that perforated the internet with their simple game design and even more basic graphics, being designed on a nearly obsolete graphics engine displayed with an outdated plugin. We have lost some incredible games to the internet void as many of them slowly phased out of rotation and were lost forever. It's sad, but some were given a second chance, and Home Sheep Home: Farmageddon Party Edition is one of those titles.
As one who used to enjoy Flash games myself, I thought it quite refreshing to see a browser game popular in 2011 receive not only a facelift but an entirely new body. This title is more than a remaster, it is a complete re-rendering of the original Flash game, including such additions as multiplayer mechanics and a completely new party mode. The game itself is based around the beloved UK cartoon by Aardman Animations entitled Shaun the Sheep. Though it does a good job of offering fan service to those who enjoy the show, this game really does provide something for everyone.
The core feature of this game is the "campaign mode" where you are able to solve puzzles by switching between three separate, and rather unique sheep. The first is the small and compact Timmy, who is able to go through small areas and access places the other sheep would not be able to. There is also the lanky Shaun, who can jump higher and move faster than the rest. Finally, Shirly, the hulking brute of a sheep, can weigh down objects with her girth, and move large obstacles. Each one of these characters, when used together, are able to traverse multiple obstacles to get to their destination.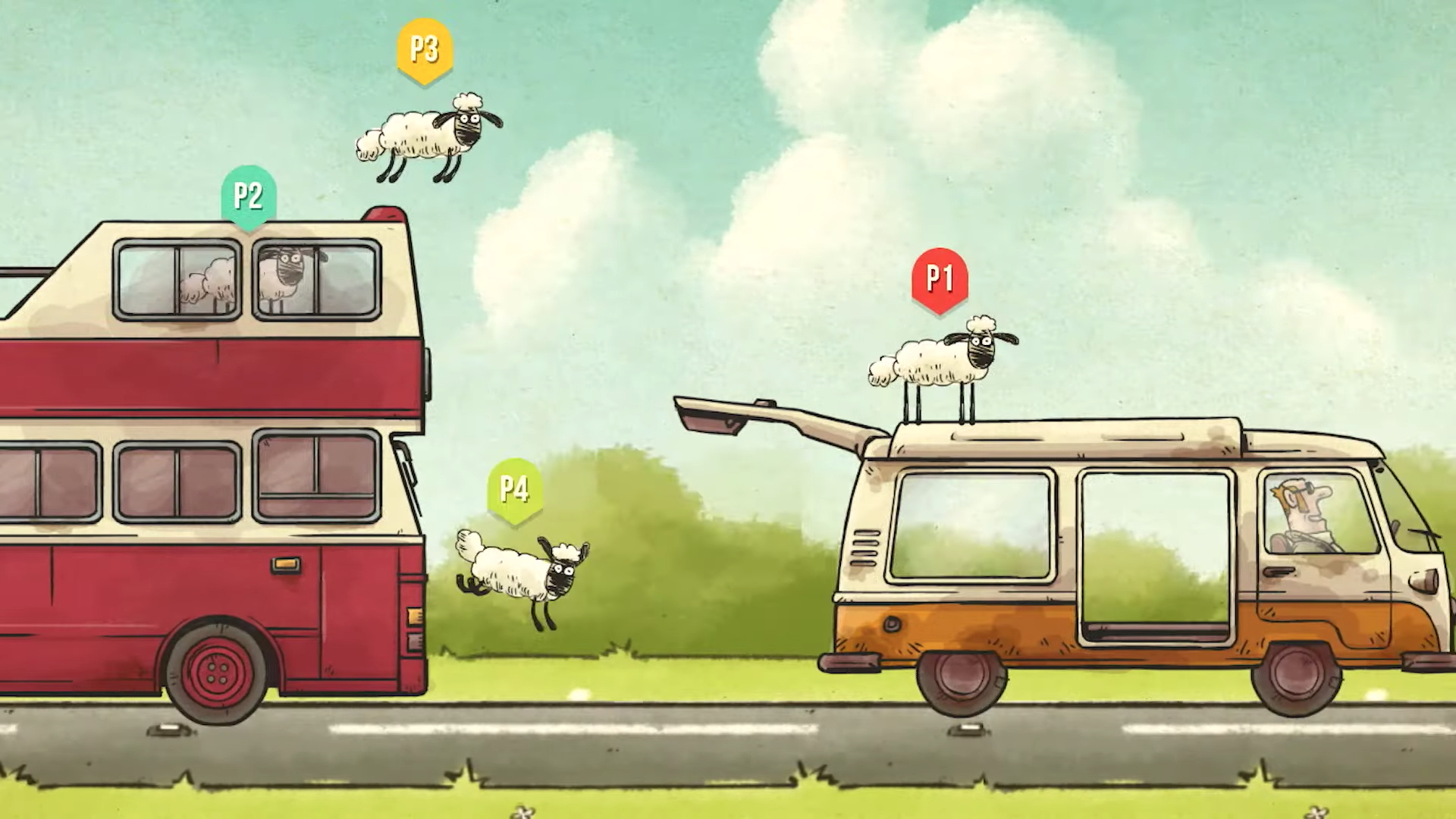 Highlights:
Strong Points: Plenty of puzzles with great mechanics; fantastic multiplayer experience; good music and audio
Weak Points: Low variation of gameplay; some puzzle may be too difficult for players to complete on their own
Moral Warnings: Light comic mischief with sheep wrecking things and bumping into each other
The dynamic between the three sheep is smooth and fluid, allowing for the alternating between each one with a press of the trigger. The problem comes when the puzzle becomes too complex for the player to navigate quickly. For example, in one level Timmy stands on a seesaw-type platform and Shirly jumps down to launch him into the air. It requires almost surgical precision to switch from Shirly to Timmy and jump as Shirly hits the seesaw; and that is one of the easier puzzles in the game! The solution to the problem often lies in the game's co-op multiplayer, which is surprisingly fun and easy to navigate. In the regular campaign, up to three players can control any one of the sheep independently, allowing for quick reactions to the obstacles in place. The result is an often fun, yet rather hectic gaming session with friends as they bark orders at each other to complete the game.

The campaign mode is not the only multiplayer experience for players to enjoy. There is also a "party mode" with eight separate minigames that allow for up to four players to compete against each other. Each of the party games is based around scenes from The Farmageddon movie, even placing the little alien as a host for the action. The games themselves are rather simple, ranging from running away from a falling haybale to attempting to survive collapsing platforms and a wide variety of obstacles. Though there isn't much depth to these games, they are often very hectic and provide a great deal of fun for the players.
One of the most endearing parts of this game is music and sound. Just like the show, Home Sheep Home is a non-verbal game, providing the players with the emotions of the action without actually using words at all. The sheep make little grunts and squeaks when they bump into objects or each other, and obstacles make loud thumps appropriate to their source. Everything sounds very crisp and clean, and coupling this with the charming animated style of the games makes Home Sheep Home a pleasant gaming experience. This title also retains the same familiar soundtrack of the show and movies.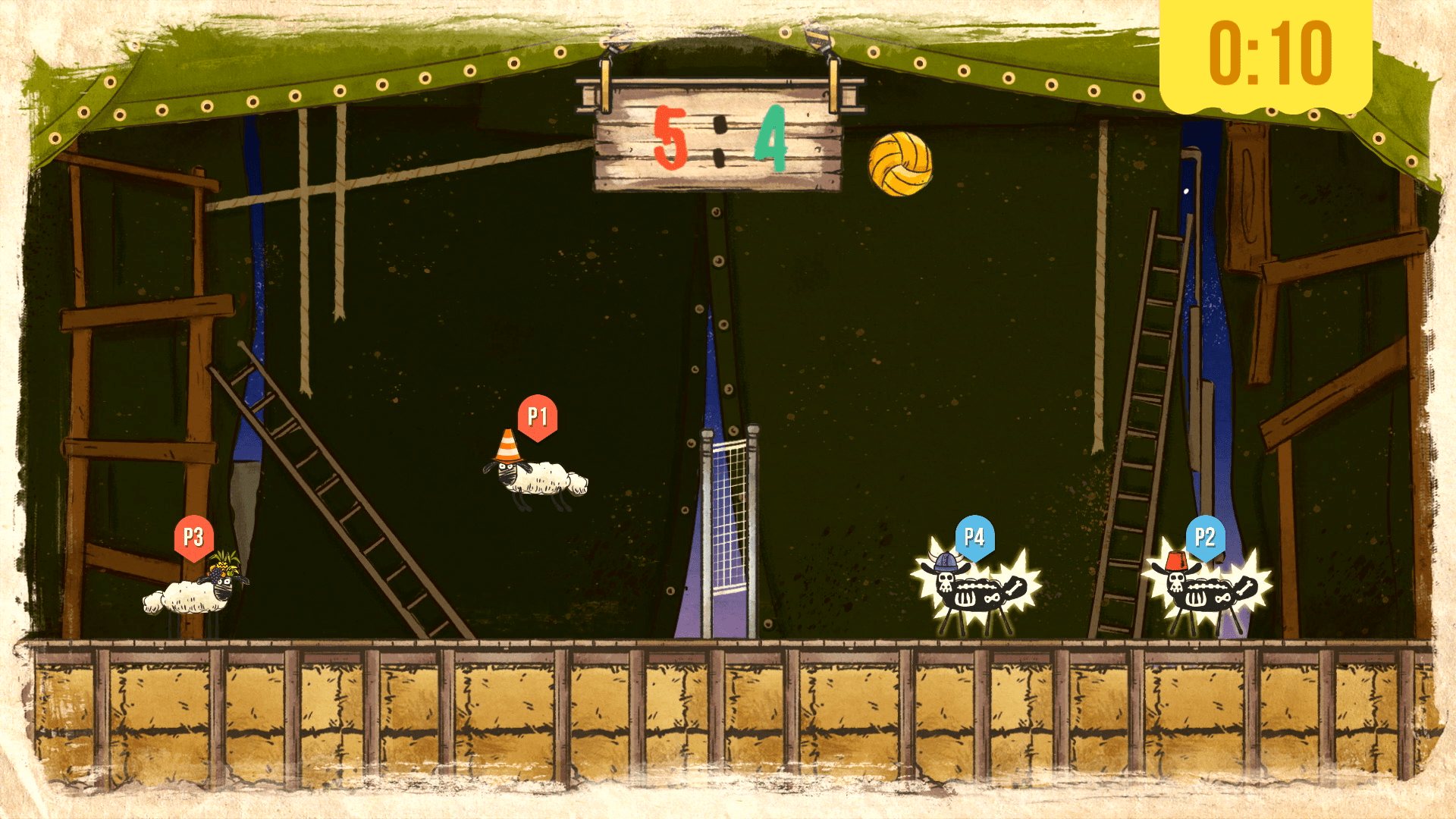 Score Breakdown:
Higher is better
(10/10 is perfect)
Game Score - 84%
Gameplay - 16/20
Graphics - 7.5/10
Sound - 10/10
Stability - 5/5
Controls - 3.5/5

Morality Score - 96%
Violence - 9/10
Language – 10/10
Sexual Content - 10/10
Occult/Supernatural – 10/10
Cultural/Moral/Ethical – 9/10
Unfortunately, nothing places this game too far apart from other puzzle games with similar mechanics. Every mechanic that this game employs has been used before, and the fact that many of these puzzles are very hard to navigate without the help of other players is hard to ignore. Though it does give the players an option to receive a hint that will help them navigate the puzzles, the quickness and skill required to do so may be beyond the ability of the young gamers in which this game is marketed to. Along with that, the level design and visuals do not offer much variation from each other aside from putting new puzzle mechanics in various places. With all of that said, it is easy to get bored with Home Sheep Home.
True to its franchise and animation studio, Home Sheep Home is a very wholesome game with very few moral issues. The sheep do engage in some comic mischief by tipping over farming implements and blowing up a crate of dynamite, but nothing visceral or gory happens within the content at all. The family can easily enjoy this game together without worrying about any inappropriate surprises.
Home Sheep Home: Farmageddon Party Edition is a fun puzzle game that will challenge everyone in the room, children and adults alike. The innocent aesthetic of this game is complemented by its calm gameplay and humorous mechanics. The charm of Home Sheep Home lies in its ability to bring players together for a fun time that no one will later regret. Just make sure to have a little patience with your fellow sheep; it's not easy getting the herd to the finish line!