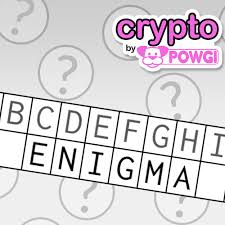 Game Info:
Crypto by POWGI
Developed by: Lightwood Games
Published by: Lightwood games
Release date: May 21, 2020
Available on: PS4, Switch, (Vita coming soon!)
Genre: Puzzle
Number of Players: Single-player
ESRB Rating: Everyone
Price: $7.99
Thank you Lightwood Games for sending us a review code!
In 2016 we reviewed the puzzle collection, Word Logic, on the Wii U. It also has a 3DS version. Crypto was included in the bundle with 120 puzzles. This standalone version offers an additional 60 along with many repeats from the previous entry. If this is your first time playing the series, you'll have a blast. However, if you've completed the previous puzzles, you might want to wait for a sale.
There are many reasons to decrypt messages. Before cellphones became commonplace, students would pass written notes along to fellow classmates. However, there was always the risk of a teacher intercepting the note and reading it aloud to the entire class. My friends and I would send notes to each other in code just in case. Various military branches would also encrypt sensitive information to make it difficult to read if it fell into enemy hands. The goal in Crypto is to decrypt quotes from various celebrities and historical figures. Instead of symbols or dashes, the letters of the alphabet are swapped out and you have to find the correct sequence to read the quote in its entirety.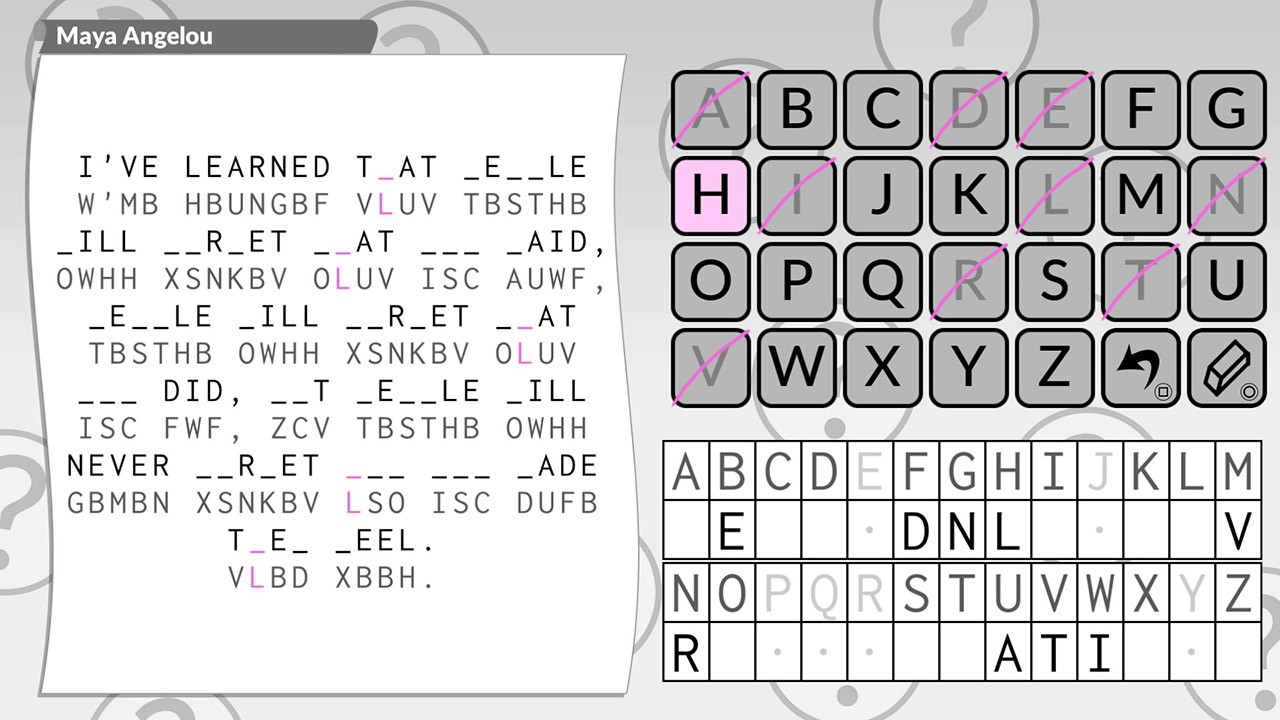 Highlights:
Strong Points: 180 quotes to descramble
Weak Points: Not as much content as other games at this price point 
Moral Warnings: Some rebellious quotes
There are pearls of wisdom from comedians like Conan O'Brien, David Letterman, Gilda Radner, Jerry Seinfeld, Steven Wright and Jack Benny. Sports players include Tiger Woods, Babe Ruth and Muhammed Ali. Singers like Nat King Cole, Frank Zappa, John Lennon, and Kurt Cobain. Politicians including Pol Pot, Joseph Stalin, Winston Churchill, Dick Cheney, John F. Kennedy, George W. Bush, and Barack Obama.
Deciphering the quotes takes both deduction and luck. If there are single-letter words, you can guess if it's an A or an I. By pressing the L & R buttons you can check for any errors in your reasoning. Apostrophes are also helpful since the two letters after one can either be 'll, 're, or 'nt. Guessing common two-letter words like "at", "as", "by", "if", or, "so", and "to" are helpful as well. The most common three-letter word to solve is "the". Once you have a couple vowels and some consonants figured out, everything else should fall into place. There is some replay-ability by trying to solve puzzles again faster. Of course, accidentally memorizing the quotes will skew those results.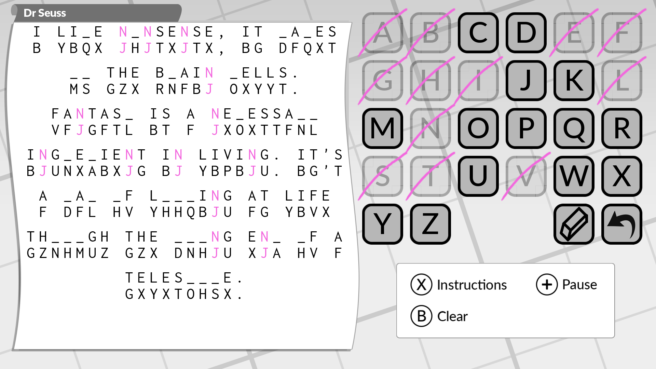 Score Breakdown:
Higher is better
(10/10 is perfect)
Game Score - 78%
Gameplay - 15/20
Graphics - 7/10
Sound - 7/10
Stability - 5/5
Controls - 5/5

Morality Score - 98%
Violence - 10/10
Language - 10/10
Sexual Content - 10/10
Occult/Supernatural - 10/10
Cultural/Moral/Ethical - 9/10
Though I didn't come across any inappropriate quotes, I did stumble upon silly or unbiblical advice from celebrities like Paris Hilton and Madonna. Paris Hilton says "The only rule is don't be boring and dress cute wherever you go. Life is too short to blend in." Madonna once said "I wouldn't have turned out the way I was if I didn't have all those old-fashioned values to rebel against."
The graphics are simple and the navigation system is easy to use. Unlike the Wii U version, you can see who the quote is from before trying to solve it. The background music is typical to other Powgi games we've reviewed. It can be disabled in the game options if you're not a fan of it.
If you enjoy solving riddles, this game is sure to entertain you for a while. This will be a fresh and fun experience if you haven't played the Wii U/3DS version. If you have played Word Logic, there will be a lot of repeats.