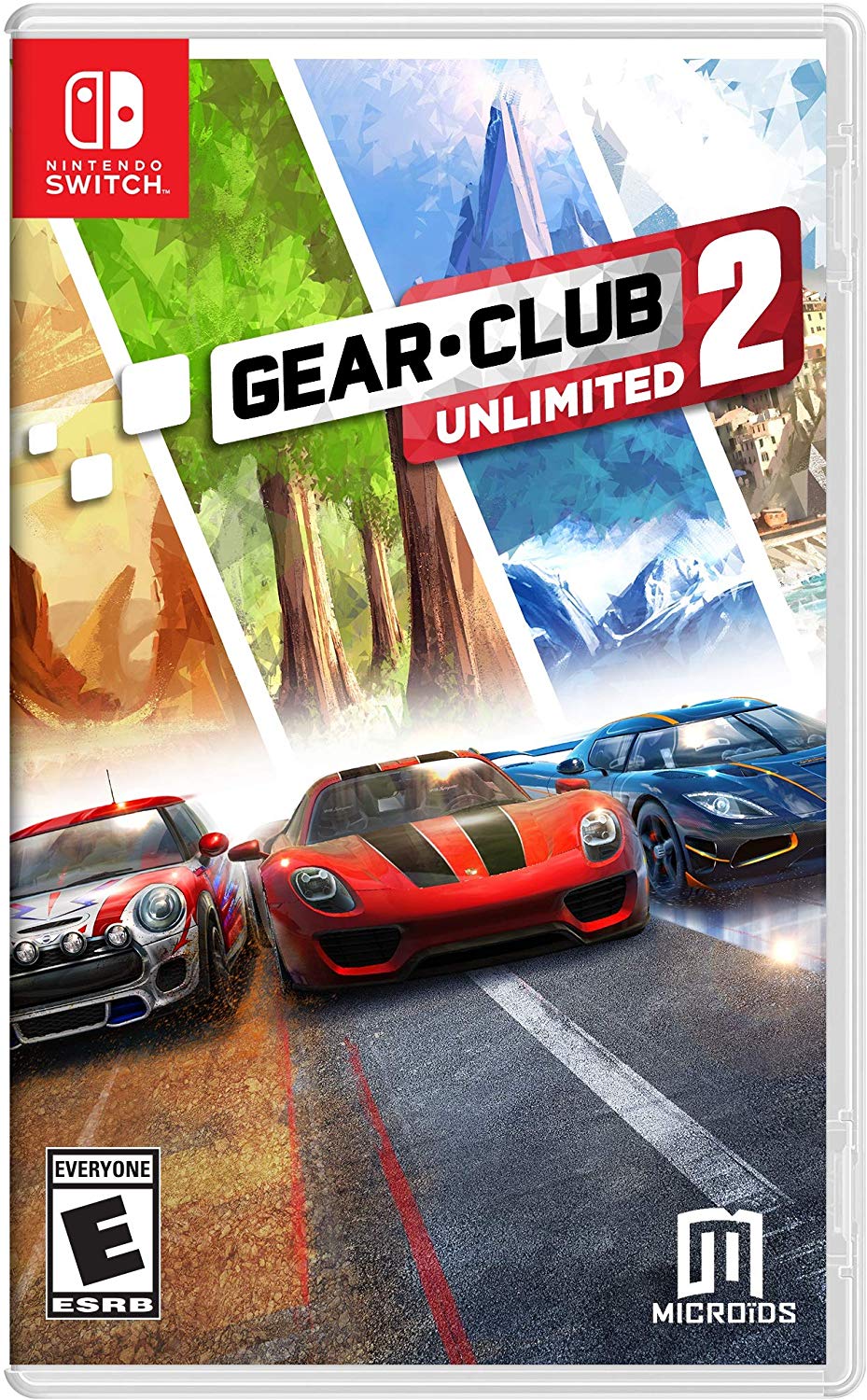 Game Info:
Gear.Club Unlimited 2
Developed by: Eden Games
Published by: Microïds
Release date: December 4, 2018
Available on: Switch
Genre: Racing
Number of players: Up to 2 locally, online not yet available
ESRB Rating: Everyone
Price: $59.99
(Amazon Affiliate Link)
Thank you Microïds for sending us this game to review!
Eden Games is behind the popular Gear.Club – True Racing mobile game that is free to play and has over one million Android installs. Like many mobile games, it has in-app purchases. In 2017 Gear.Club Unlimited was released on the Switch supporting wireless multiplayer for up to four consoles. Gear.Club Unlimited 2 was released in December of 2018 and it supports 2 player split-screen play, but the online portion is not available at the time of this review. Hopefully this game gets patched up soon because the current split-screen multiplayer mode is unplayable.
If you're new to the series as I was, these games specialize in collecting and tweaking race cars with the money earned from racing. You can swap out the engines, gearboxes and more as long as your workshop is leveled up enough to do it. Your starter car, the Mini Cooper, isn't a slouch and you can test drive any of the fifty licensed cars with no obligation to buy them.
My dream car, a Camaro, was rather affordable at $66K credits while some of the more luxurious Porche, Lotus, McLaren, and Mazarati models are over $700K credits. There are some cars that sell for over a million credits so there's plenty of reasons to save up your hard-earned money.
Money can be earned by completing the story/career races or through the well-paying exhibition races. No matter which route you take, the higher you place the more cash you earn. The story mode has you starting off as a test driver for a family-run racing team. You get your shot at racing when the scheduled driver doesn't show up and as luck would have it, you're a good replacement. The racing manager is your father and you're their last hope to avoid bankruptcy. Talk about pressure!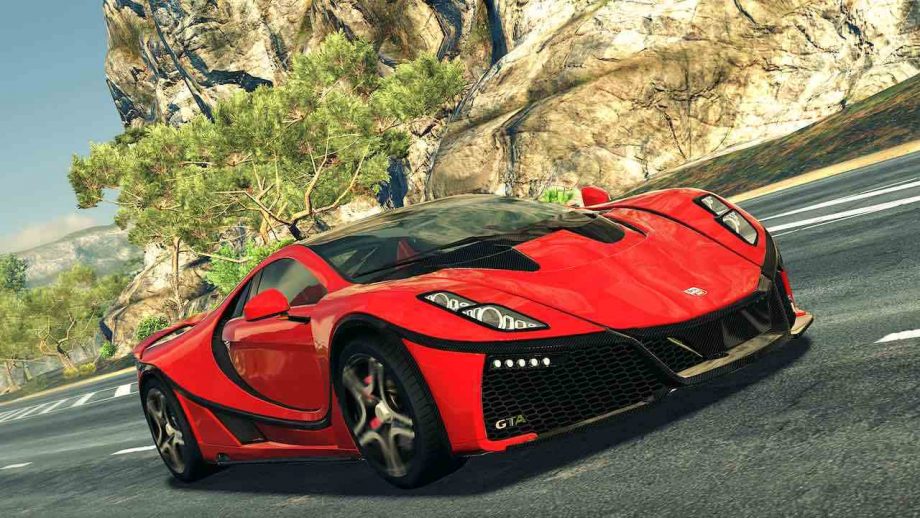 Highlights:
Strong Points: Wide variety of nice looking cars to test drive and purchase
Weak Points: Unconvincing physics; online multiplayer not yet available; local multiplayer is buggy, as almost every race I have played resulted in one or both cars floating; long loading screens
Moral Warnings: In the derby racing mode you can crash into other drivers
The controls are pretty straightforward with the ZR trigger accelerating and the ZL trigger applying the brakes. The X button rewinds time so you can undo some mistakes. I wish real life had a rewind button like that! You can enable different levels of assistance (amateur, semi-pro, professional) to make the game easier for you. Although there's a recommended trajectory path on the track to guide you, following it is optional. I like how it turns red to indicate that a sharp turn is coming up.
On the upper corners of the screen, you'll find your position out of twelve racers and the percentage of the race completed. The speed is calculated in kilometers instead of the mileage format that I'm used to. Maybe that's why the speed seemed a little slower to me in comparison to US-based racing games.
The physics were not that believable for me. The cars felt "floaty" and did not handle as expected. For some odd reason, the majority of my split-screen races resulted in one or both of the cars being un-drivable due to one or both of their axles being in the air or vertical. If the free-to-play multiplayer is this bad, I can't recommend having to pay Nintendo for the privilege of getting stuck in the air mid-race. Thankfully, the campaign and exhibition races didn't have those issues and they were more fun as a result.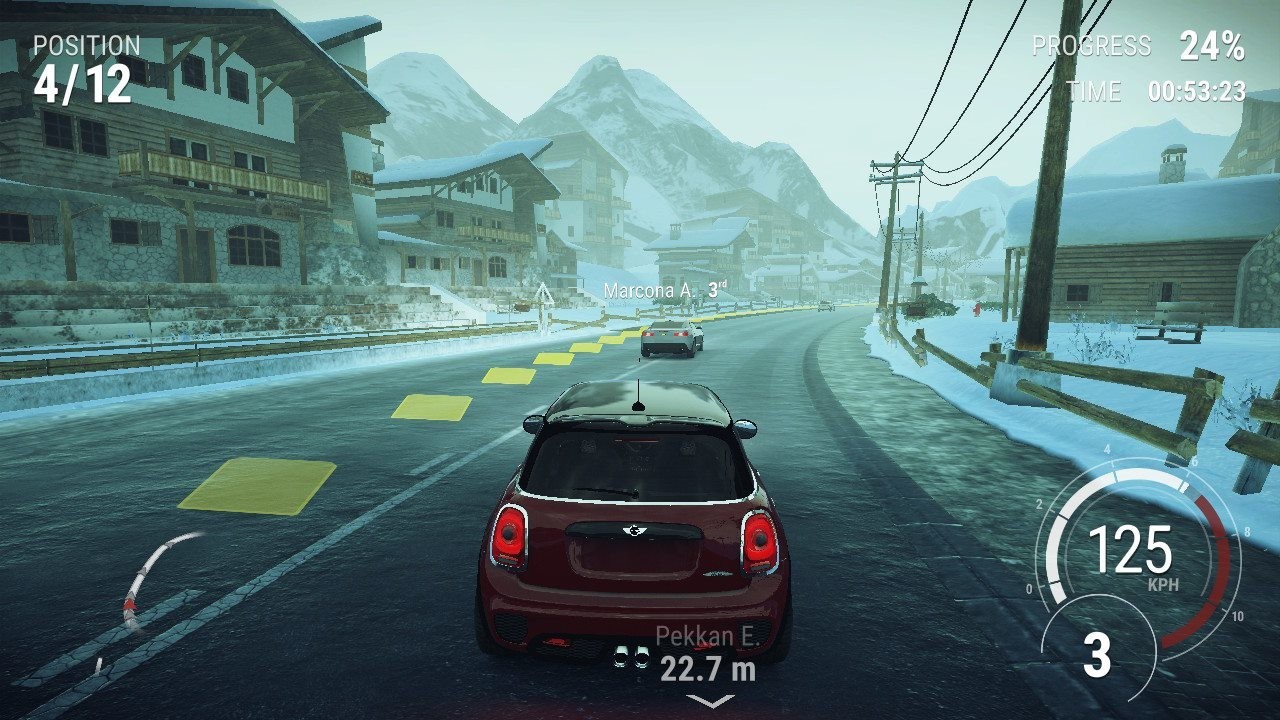 Score Breakdown:
Higher is better
(10/10 is perfect)
Game Score - 62%
Gameplay - 11/20
Graphics - 7/10
Sound - 6/10
Stability - 2/5
Controls - 5/5

Morality Score - 100%
Violence - 10/10
Language - 10/10
Sexual Content - 10/10
Occult/Supernatural - 10/10
Cultural/Moral/Ethical - 10/10

Graphically, this game looks pretty good on the Switch. The car models are shiny and extremely detailed. You can customize their appearance by changing the paint color, rims, and applying decals. Of course, many of the options require spending in-game currency to unlock them. The races take place in different environments and both at night and during the day. The maps look decent, but not as much detail or attention have been put into them as the cars. Even if that was the case, I doubt the Switch could handle it. Regardless, this game ran well on the Switch other than annoyingly long load screens.
The cars sound good, but their noises are often muffled out by the instrumental electronic background music. There isn't any voice acting to note.
Like many racing games, Gear.Club Unlimited 2 is pretty clean and has no moral issues worth mentioning other than breaking the speed limit and the ability to crash into other cars on purpose in the derby racing mode. In the time trial races you can drive through the other racers as if they were ghosts.
Though Gear.Club Unlimited 2 can be fun, I can't recommend buying at its full asking price of $59.99. Hopefully the multiplayer glitches are addressed along with unlocking the promised online mode. If you're curious about how this game plays, I recommend checking out the free mobile version beforehand.