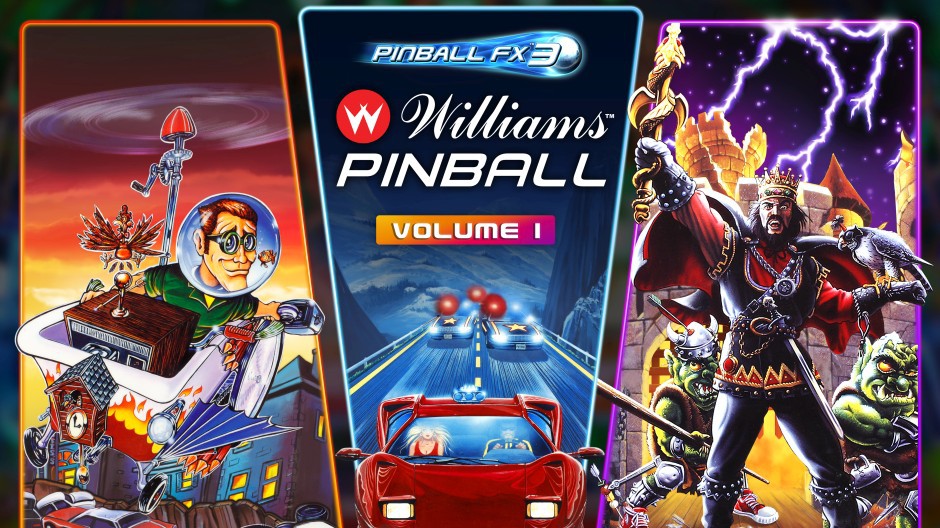 Game Info:
Pinball FX3 - Williams™ Pinball: Volume 1
Developed by: Zen Studios
Published by: Zen Studios
Release date: October 9, 2018
Available on: PS4, Switch, Windows, Xbox One
Genre: Pinball
Number of players: Single-player
ESRB Rating: E10+ for fantasy violence, mild language
Price: $9.99
(Amazon Affiliate Link)
Thank you Zen Studios for sending us this DLC pack to review!
The WMS/Williams company has been making pinball machines since the 70s. Their machines are well known and loved by many pinball enthusiasts. Not surprisingly, Zen Studios is not the first company to digitize their classic tables. The Pinball Arcade lost their license to these iconic tables earlier this year. Since Williams has many pinball creations and this DLC pack ends with "Volume 1", there will probably be many more masterful recreations coming from Zen Studios soon!
Williams™ Pinball: Volume 1 is giving every Pinball FX3 owner a free table, Fish Tales. Your goal in this game is to catch the biggest fish you can. If your catch comes up short, you can stretch it or lie a little bit. The more fish you catch, the more points you score. This table is pretty generous with the scoring and I was able to get over 20 million on my first playthrough.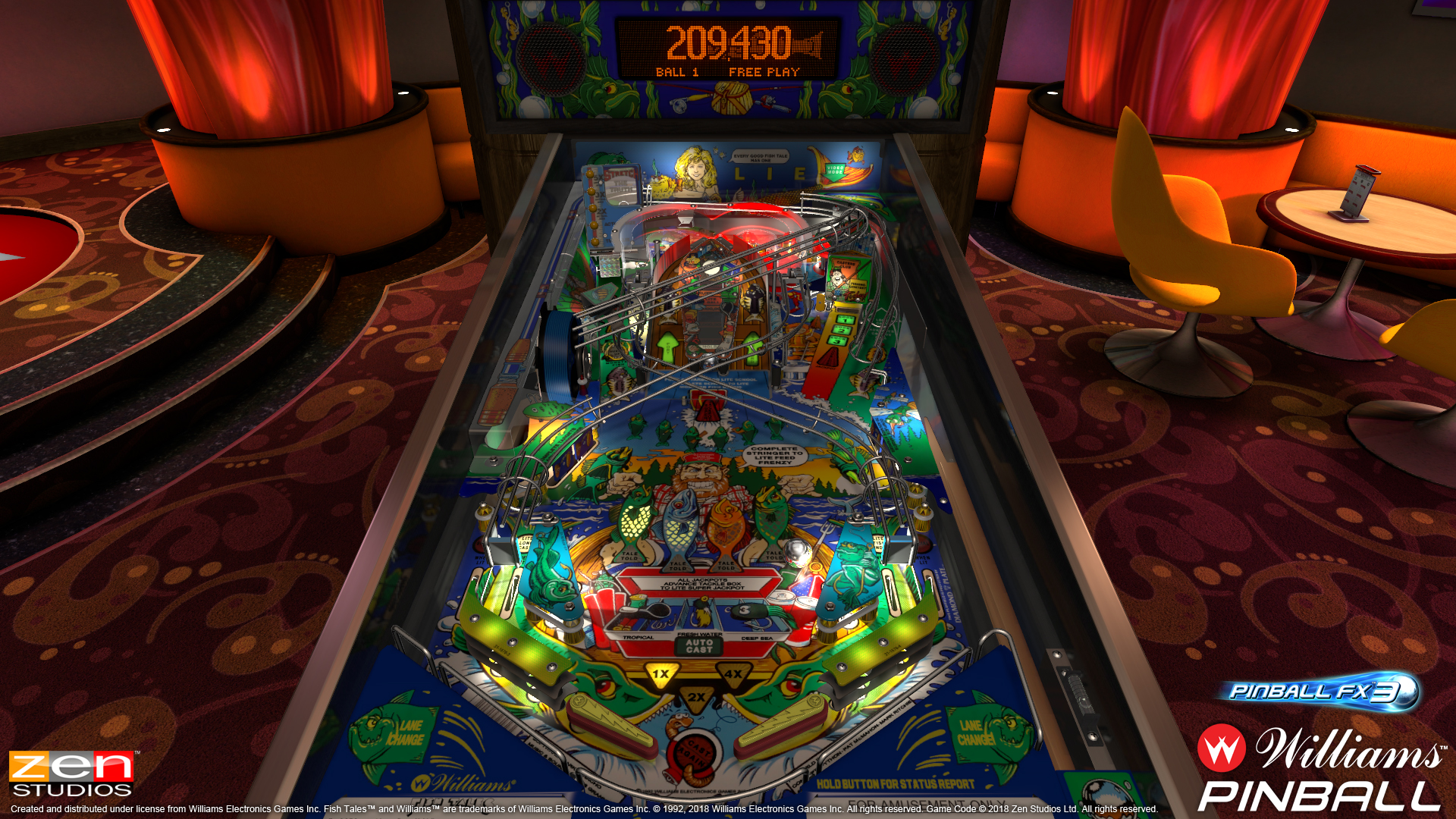 Highlights:
Strong Points: A free table for everyone; excellent recreations and can be toggled between remastered and classic designs
Weak Points: Pinball purists will not like some of the art changes and cussing removal 
Moral Warnings: An F-bomb can be heard in the Steam version if the family friendly setting is disabled; console versions are stuck in the family friendly configuration
In The Getaway: High Speed II you must keep the ball (your car) in play as long as possible to outrun the cops chasing you. When you lose all of your balls, you'll be asked to pull over and most likely get arrested for reckless driving. Unlike the other tables in this DLC pack, this one has three flippers and the ball turns red at times.
In Junk Yard you must escape Crazy Bob's Cosmic Salvage by collecting junk and building a flying jalopy. In my playthroughs I managed to collect cuckoo clocks, toasters, fans, bike tires, and fireworks. I never was able to find the hair dryer the lady keeps asking for though. I did locate a mean bulldog that I had to outrun.
Medieval Madness requires you to defeat the king and his army in order to restore peace into the land. You'll also have to battle trolls and a flying dragon. The catapult that actually launches cats is pretty funny. I've managed to trigger the multiball mode a few times and enjoy this table. With the art and language tweaks made by Zen Studios, my kids can play it now too!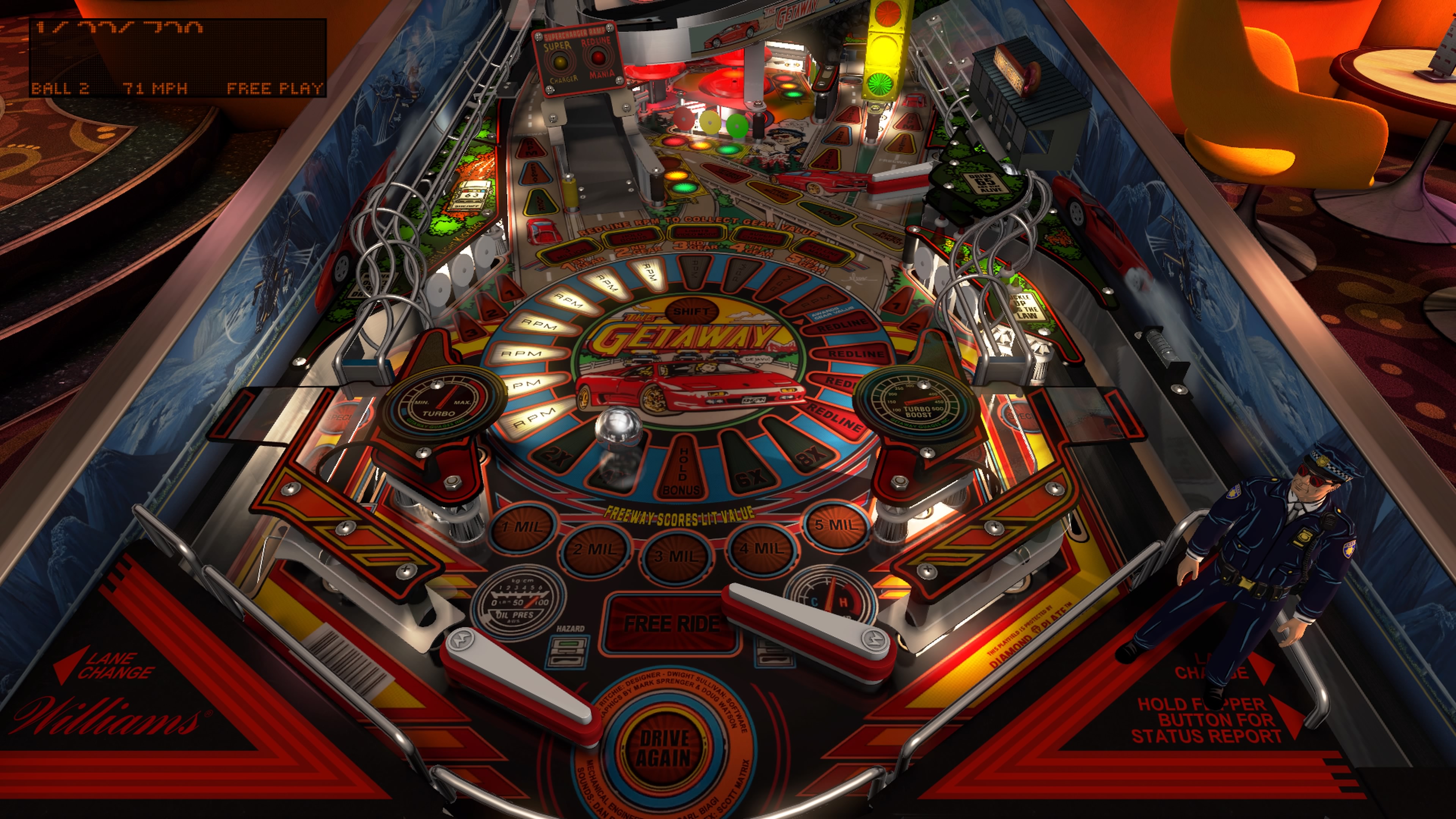 Score Breakdown:
Higher is better
(10/10 is perfect)
Game Score - 88%
Gameplay - 18/20
Graphics - 8/10
Sound - 8/10
Stability - 5/5
Controls - 5/5

Morality Score - 80%
Violence - 8/10
Language - 5/10
Sexual Content - 10/10
Occult/Supernatural - 10/10
Cultural/Moral/Ethical - 7/10
All of the tables look and sound very close to the originals. Some of the artwork has been made more family friendly by removing blood, cigars, and changing beverages to non-alcoholic variants. Females are also clothed a little more modestly too. The console versions remove a phrase containing an F-bomb, but Steam players can hear that expression if they desire to do so. By default, the tables are shown in the remastered modes with 3D characters and enhancements. By pressing the B button you can revert back to the classic look.
Just like the other Pinball FX3 tables, the tables in this DLC support table upgrades, hot seat multiplayer, and challenge modes. The three challenge modes are 1 ball, 5 minutes, and survival mode. The goal in the one ball challenge is to get the highest score possible with only one ball. If you lose the ball while the ball save light is illuminated, the ball is still saved, but if it's off, you're done for. After the ball is lost for good, your score is added to the global leaderboards and stars are earned depending on how good of a score you received. The 5 minute challenge gives you an unlimited number of balls so you have plenty of opportunities to get a high score within the time limit. The survival mode gives you unlimited balls as well; however, if you don't meet the score requirement in the time limit, your game will end.
Overall, this is an excellent DLC pack and is well worth the entry fee if you enjoy Williams pinball tables. The free table Fish Tales is worth playing if you have Pinball FX3 installed on your system. Pinball FX3 is free and even better with a Williams table available for everyone to enjoy.