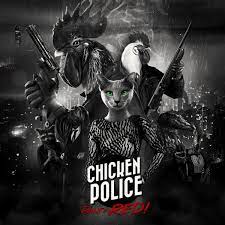 Game Info:
Chicken Police – Paint it RED!
Developed by: The Wild Gentlemen
Published by: HandyGames
Release date: March 30, 2022
Available on: Android, PS4, PS5, Switch, Windows; Xbox One
Genre: Adventure
Number of players: Single-player
ESRB Rating: Mature for Blood, Drug Reference, Partial Nudity, Sexual Themes, Strong Language, Violence
MSRP: $19.99
Thank you HandyGames for sending us a review code!
Chicken Police – Paint it RED! was released in 2020 and has overwhelmingly positive reviews on Steam.  The PlayStation store has a PS4 only edition and one that works on PS4 and PS5 for the same price of $19.99.  As I am writing this review it's currently on sale on Steam for $9.99.  
Chicken Police – Paint it RED! takes place in the town of Clawville where animals with human bodies generally live peacefully.  Except for the insects, they're still looked down upon.  The main character is a chicken detective named Sonny Featherland.  While on probation, a damsel in distress visits Sonny and he agrees to help her out.  In order to take on the case, Sonny will need the assistance of his former police partner, Marty MacChicken.  A decade ago, they were an unstoppable team called the Chicken Police.  They had a rocky past that ended with Marty shooting and putting a hole though Sonny's comb.  Thankfully, they bury the hatchet to work together on this "unofficial" case.  
This point-and-click adventure game begins with Sonny dialoguing about the coexistence of animals in Clawville as he's driving to his office.  One of the first things you'll notice about Chicken Police – Paint it RED! is that it's mostly black and white with the exception of the occasional accent of green eyes or red blood.  Upon entering his office, Sonny discovers that he's not alone.  A humanoid deer named Deborah is seeking Sonny's services on behalf of her boss, Natasha.  
Highlights:
Strong Points: Interesting art style and characters; funny dialogue
Weak Points: The game crashed on me once
Moral Warnings: All kinds of language including the F-bomb; blood and violence; the characters have human bodies and many of the females dress provocatively; there's a brothel scene; alcohol consumption
Natasha is a seductive humanoid cat who sings at a ritzy club.  She is dating a rodent mafia boss.  Someone is not happy with this pairing as her home was defaced with the word "whore" painted on it.  In order for Sonny and Marty to find the culprit, they'll have to interrogate people to find leads.  The interrogation process is a mini game where you'll get scored on how well you can read the person of interest and ask the proper questions to gather the pertinent information without annoying them.  There are walkthroughs available to help you get a perfect rating.  
Like many adventure games, you'll have to investigate your surroundings and solve puzzles with things you may have deemed insignificant.  You'll have to unlock safes and access a hidden room with clues you gather throughout the game.  Later in the game, Sonny and Marty will find themselves tied up in a burning boat.  There's a timed mini game where you'll have to trace the rope maze path correctly in order to free them in time.
Visually, Chicken Police – Paint it RED! is extremely well done with the unique looking humanoid animal characters.  The black and white environments are nicely detailed and the objects you get to interact with are easily recognizable.  If you pick up all of the issues of The Chicken Police throughout the games, you'll get an extra scene at the end of the game.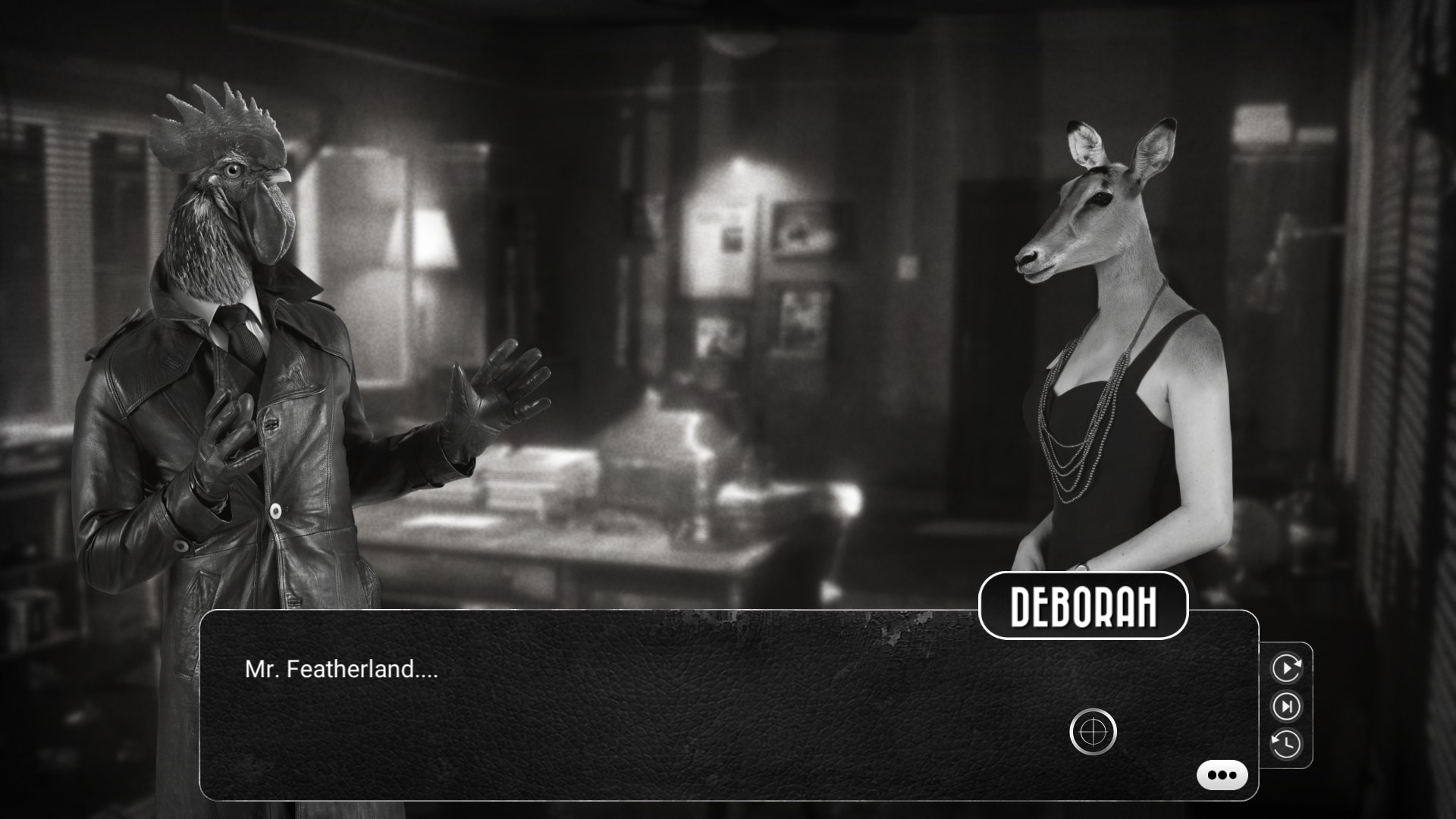 Score Breakdown:
Higher is better
(10/10 is perfect)
Game Score - 86%
Gameplay: 18/20
Graphics: 8/10
Sound: 8/10
Stability: 4/5
Controls: 5/5

Morality Score - 52%
Violence: 3.5/10
Language: 1.5/10
Sexual Content: 3/10
Occult/Supernatural: 10/10
Cultural/Moral/Ethical: 8/10
On the audio front, Chicken Police – Paint it RED! does not disappoint.  Each of the characters in the game are fully voice acted.  The dialogue is quite funny, though it's riddled with vulgar language.  
I anticipated puns on the word cluck, and there were phrases like "cluck off!", but that wasn't good enough.  You'll hear the F-bomb and other curse words like sh*t throughout the game.  Murder, blood, and violence are present throughout the game.  Stopping at a brothel is unavoidable, but you won't be utilizing their services. Just gathering information.  At the brothel and other areas of the game, you'll see paintings of seductively posed females. Not surprisingly, sex outside of marriage is referenced.  Alcohol consumption is also shown in this title.  
If you enjoy noir or adventure games and don't mind seeing blood or hearing fowl (get it?) language, Chicken Police – Paint it RED! is worth looking into. This title is on sale often and is definitely worth considering when it is.