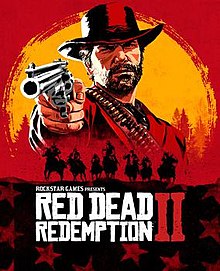 Game Info:
Red Dead Redemption II
Developed By: Rockstar Games
Published By: Rockstar Games
Released: October 26, 2018
Available On: PS4, Xbox One
Genre: Action-Adventure
ESRB Rating: M for Mature
Number of Players: Single-player
Price: $59.99
(Amazon Affiliate Link)
Red Dead Redemption II is a prequel to the wildly popular Red Dead Redemption. Preserving the feel, the gameplay and even some of the characters, RDR2 feels like a comfortable extension to the universe of the original game.
The player takes on the role of Arthur Morgan, an outlaw and loyal second-in-command to Dutch, the leader of a gang of outlaws and associated hangers-on as they hide from authorities after a botched caper in the town of Blackwater. Some of the members of the gang will be familiar to players of the first Red Dead Redemption, including the main character from that game, John Marsden. The gang is regrouping and most of the side quests undertaken by the player are done for the purpose of helping the gang recover its strength and, ultimately, the money that was lost in the disaster and remains hidden in Blackwater.
The game controls are essentially the same as the first Red Dead Redemption and are, for the most part, comparable to other FPS or over-the-shoulder games. The Dead-Eye feature is retained, allowing the player to slow time while placing one or more precise shots on targets. The mechanic of using the 'X' button (on PS4) to control the horse's speed has also been retained, much to my personal annoyance. Two Red Dead Redemption titles in and I STILL don't have the hang of it. Most of the controls are context driven and the game does a reasonably good job of reminding you which button does what in its context as you play. Hopefully you have good dexterity to play this game; some of the menu/item use controls have you flexing your hand in a way you're not used to. Overall I find the controls somewhat clumsy and difficult to get used to.
Yes, this being 2019, the game has to have some form of crafting. You can make bait for fishing, bait for hunting and camping supplies and so on. Harvesting materials consists mainly of finding herbs picked from the local plant life. This even includes tobacco.
The biggest feature of the Red Dead Redemption games, for me, is the feeling of authenticity in the environment. I'm not an expert in the history and culture of the American Old West, but the game feels believable and realistic, at least to someone who doesn't really know enough to nitpick anyway. It's the details. When a horse rides through the muddy streets of a town, it leaves hoofprints and kicks up mud. Wagon wheels do the same. Get into a fistfight? That mud's going to end up on your clothes. Shoot a deer and throw it over your shoulder to carry it back to your horse? Yeah, the blood's on your jacket now. Stamina core low? Take a nap. Riding over terrain? Those tree branches and bushes will smack you if you ride through them, and your horse won't be too thrilled about it either.
Sometimes the realism actually starts to make the game feel a bit overloaded. Maybe Red Dead Redemption II is too realistic for some players. If you don't eat and sleep regularly, Morgan will start looking thin and gaunt. His beard grows out, so you'll have to shave it periodically. Pay attention to the temperature outside, too. If Morgan isn't dressed warmly, he'll start suffering the effects of the cold. The same happens if he's overdressed for the heat. Sometimes the temperature can vary fast, so you can carry extra outfits in your horse's saddlebags. Been in a few gunfights? Time to clean your weapon or its stats will suffer. You'll need gun oil for that, which means a trip to the general store... Oh, and you'll also need to pay attention to your horse because yes, his needs matter too. Feed him, brush him, pay attention to his stats.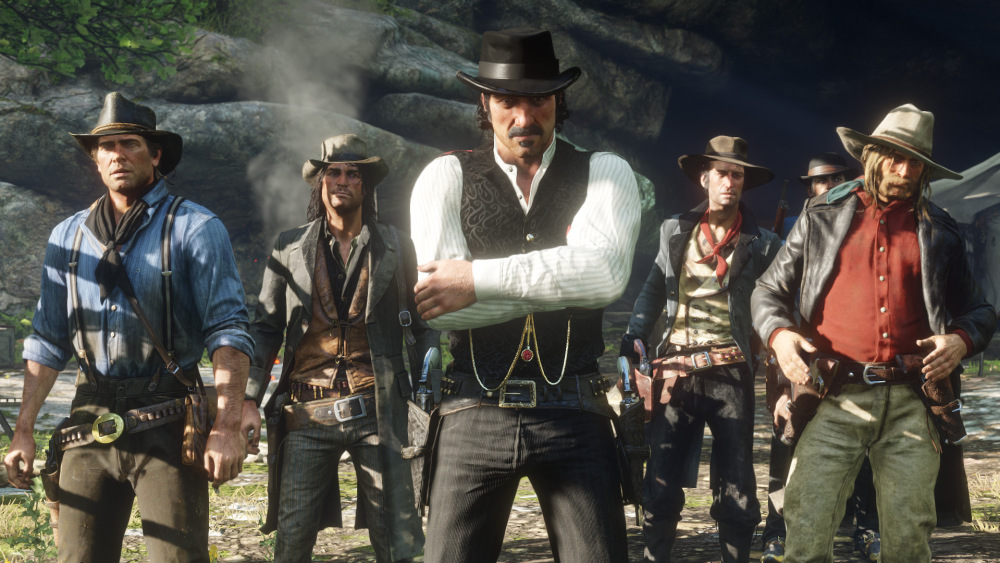 Highlights:
Strong Points: Excellent production quality, graphics and sound; relatable and believable characters
Weak Points: Awkward controls; occasional glitches
Moral Warnings: Violence, language, blasphemy, unethical behavior, mild sexuality, very mild occult.  No kitchen sink though.
This is what I mean by the game being maybe a bit too real. If you're not interested in the immersive feel of a game like this, these details will become annoying because some are unavoidable. You don't have to do much crafting, but you had better maintain that weapon. If, on the other hand, you've been looking for an "Old West Simulator" then this is definitely the game for you. It's as close to Westworld as you can get in 2019.
Getting into trouble with the law is still a part of the game, and a frustrating money sink. Committing a crime like robbery or murder will quickly result in a posse arriving on the scene to investigate if there were any witnesses. Morgan could kill the witness to prevent them from alerting law-enforcement though. Armed deputies will arrive and attempt to kill Morgan if he's still in the area. He can choose to fight or flee. Once law enforcement is alerted, the bounty on Morgan's head rises. Having a bounty on your head isn't much of a problem at low amounts, but the higher the bounty gets, the more aggressively Morgan will be pursued by bounty hunters. The option to pay off the bounty does exist, but it's a very painful money sink. To do it you just travel to the nearest post office, and you can pay off the bounty.
There's a ton of mini-games in Red Dead Redemption II as well. I'm not only talking about the obvious games-within-a-game like Poker and Dominoes. There's also things like fishing, which can be done from a beach or on a boat. Yes, there's actually a scene where Morgan goes fishing in a boat with two other outlaws and the three of them chat and tell stories for as long as you care to keep catching fish. Listening to the men chat actually made it a little more interesting to just wait around to get a bite. The dialogue writing is quite good.
The features of the combat system are fairly standard with the usual abilities to run, take cover, shoot, reload, etc. Morgan can rapidly switch between weapons during a fight which I found incredibly useful. The combat AI isn't bad, and can sometimes be frustratingly good at flanking so stay alert and use the mini map.
The sound feels real and has all the details to keep up with the level of detail shown visually in the world. The voice acting quality is excellent and really helps bring the characters to life. The ambient music, heavy on the harmonica and strings, fits right in and felt like the perfect background score when riding alone on the plains of the Old West.
Unusually, multiplayer doesn't ship with the base game. There is an online add-on for Red Dead Redemption II but it costs extra. So far community feedback on it doesn't seem to be very good. There's also a community feature that allows players to show off screenshots and communicate with other players, apart from any multiplayer play. It's an interesting fusion between video gaming and social media, though I didn't personally find it to be very useful.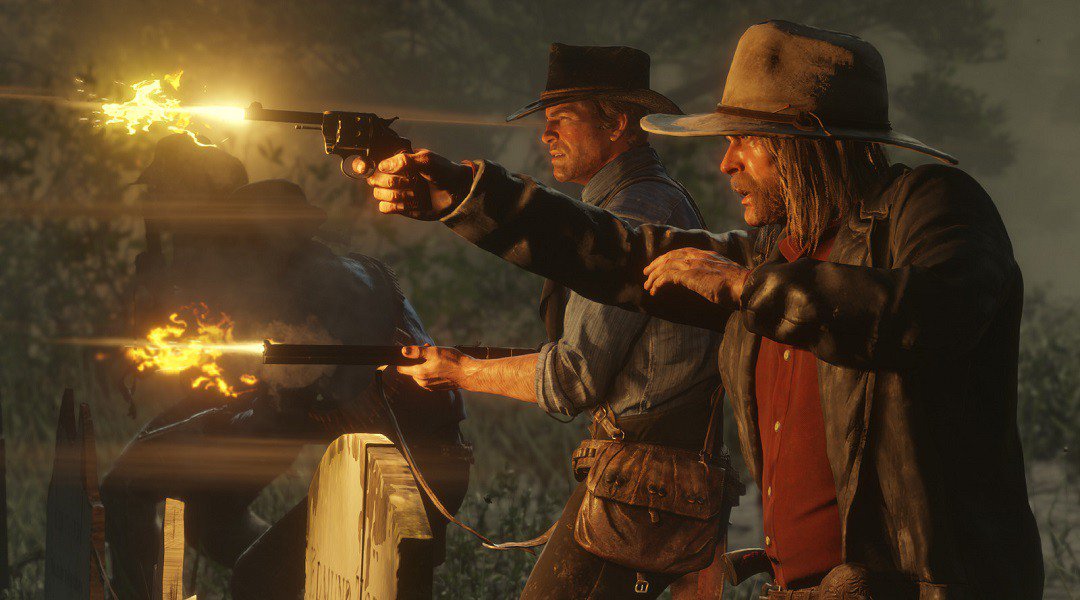 Score Breakdown:
Higher is better
(10/10 is perfect)
Game Score - 90%
Gameplay - 18/20
Graphics - 10/10
Sound - 10/10
Stability - 5/5
Controls - 2/5

Morality Score - 56%
Violence - 4/10
Language - 5/10
Sexual Content - 6/10
Occult/Supernatural - 9/10
Cultural/Moral/Ethical - 4/10
Overall the game plays smooth and beautifully on PS4. I did occasionally see odd glitches like a beer bottle hovering in midair (it fell to the ground and shattered when Morgan walked into it) or the horse would have a hard time making its way to a hitch. There are also times when Morgan needs to pull out a lantern to see in the dark, which is supposed to happen automatically. It failed for me a couple of times, and with no method of manually deploying a lantern this got pretty frustrating. Other than that the game felt very stable.
In terms of morality, Red Dead Redemption II is a strange animal. Arthur Morgan is, first and foremost, an outlaw. He runs with murderers, thieves and prostitutes. At the same time, it isn't always necessary to play him that way. The game does have an honor system in which honorable acts, such as helping strangers in trouble or being friendly to strangers, will increase honor while breaking the law decreases it. That being said, the honor system is skewed. Contributing money and valuables to Dutch's gang brings the player honor, but keep in mind that's still aiding a gang of outlaws. There's no being a "good guy" in this game. Certain quests are required to advance the story, and those can involve jailbreaks, train robberies, etc.
Sometimes that can get very uncomfortable. In one early quest, for example, the player is forced to stand outside while an ally is inside a house brutally murdering a man and his wife just to recover his favorite pistols. The player can do absolutely nothing to interfere and can't even enter the house while this is happening. All one can do is stand outside and listen to the wife's screams as she's being murdered. Morgan does express disapproval of that but he does nothing more than complain about it. In another scene Morgan has to collect on a debt and has no choice but to try and beat the money out of the man, who is sickly and frail, right in front of the man's wife and child. Morgan expresses a distaste for this sort of thing, but he still has to tolerate it if you want to complete the quest.
Most of the time though, there's a choice of whether or not to use violence. It's unavoidable in gun battles, but during roleplay-type scenes the player can often choose whether to kill or spare a potential victim. That said, the game definitely wants the player to kill. If the player breaks a law, they'll have the law after them and a bounty on their head unless they kill the witnesses. It's also incredibly easy to kill somebody in an unarmed fist fight. What's the point of using your fists then? It could be that the character has just fallen unconscious, but witnesses will still report it as a murder.
Sexual morality is handled a bit oddly in this game. This is the Old West so yes, expect to find 'working girls' in the saloons, but Morgan can't actually make use of their services. This feels like a feature that may have been intended for the game but was canceled, because when one of them propositions Morgan, the player can choose to either simply decline, or decline and be a jerk about it. There's no way to accept or do anything else. Now, there is a way to have a weird and awkward scene by buying a bath in some places, where a woman washes Morgan in the tub while making small talk. The way she moves her arm is somewhat suggestive and the scene feels like it goes on forever.
The language in this game is fully R-rated and definitely not for the kiddies. Expect to hear all the common swear words. Unfortunately, they do seem quite comfortable with the usual blasphemous expletives and use them often. Occasionally Morgan or the characters he's with will sing, and sometimes the songs can get a bit bawdy.
The violence in this game is exactly what one would expect. Shootouts, beatings and stabbings all happen but it usually isn't too graphic. Shooting at someone produces a light red mist when they're hit. Morgan does show signs of being beaten up though when he gets involved in a fight. Bruises, blood and dirt all show on his face and take a while to fade. Disturbingly, this gang of outlaws seems to delight in the violence at times, and nearly resorts to castrating a captured prisoner to force him to give up information.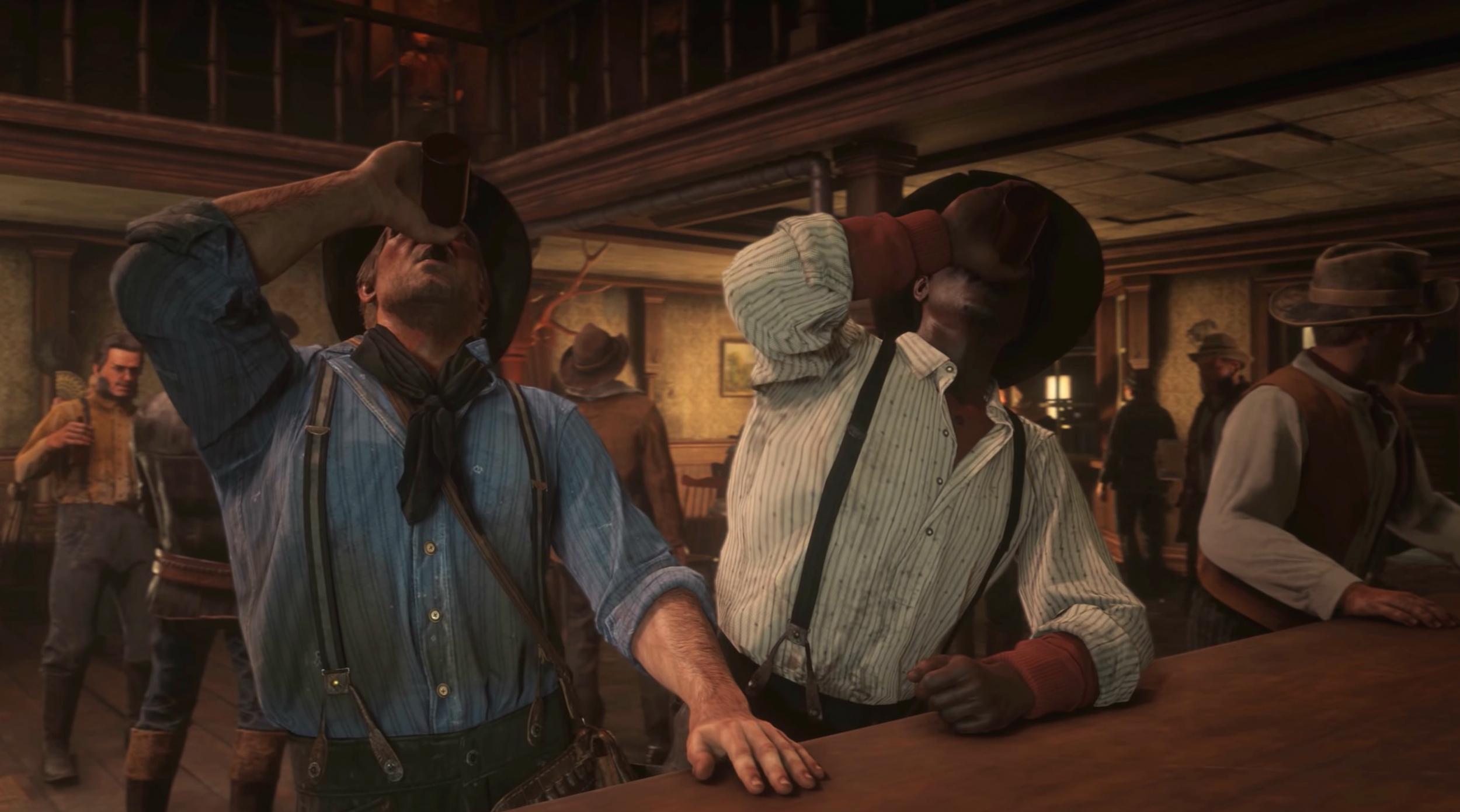 There's also gambling, in that the player can sit in on games like Poker, played for in-universe money.
Believe it or not, there's some degree of occultism in this game. It's in rare, hard to encounter niches in the world and almost feel like easter eggs, but it is certainly possible for Morgan to encounter ghosts, an alien cult, a time traveler and even a vampire.
To round out the picture Morgan can drink alcohol, and in at least one story quest gets completely blackout drunk and yes, the player is controlling him the whole time. It's a long scene too, where Morgan exhibits a variety of embarrassing behaviors and even winds up in a fight where the player has to choose whether or not to murder a beaten opponent. Of course there is chewing tobacco, cigarettes, cigars and pipes. There's also cocaine chewing gum, although I'd give that one a pass since in real life history in about this period, cocaine was believed to be a healthy product to use and wasn't illegal at the time.
Religion also feels a bit oddly handled. Church buildings exist but cannot be entered. One of the characters in the band of outlaws is a preacher but more often than not he's drunk. Jesus Christ clearly existed in this world, though as far as I can tell it was mainly for the purpose of having His name used in vain.
Oh yes, and graverobbing is a thing too. From a church graveyard.
Is Red Dead Redemption II a good game? Well, in terms of production quality it's excellent. Clearly this is a game that has been well crafted and intelligently put together. A lot of attention has been lavished on it to make it feel as real as our 21st Century understanding allows it to be. Is it Grand Theft Auto in the Old West? I wouldn't go that far. Morgan's behavior does matter and there is a definite sense of right and wrong, even if it's somewhat bent to benefit the conscience of the outlaw gang. Would it be harmful to youngsters? It depends on their age and maturity, I suppose. The game doesn't try to promote the outlaw lifestyle as a good thing, and yet it is presented with a romantic, almost nostalgic feel to it. The language is definitely not for the kiddies. I'd boil it down to saying this: Red Dead Redemption II is an entertaining game and is fun to play, but offers very little in terms of spiritual uplift.