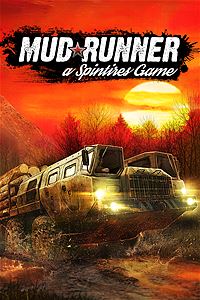 Game Info:
Spintires: Mudrunner
Developed by: Saber Interactive
Published by: Focus Home Interactive
Released: October 31, 2017
Available on: PlayStation 4, Xbox One, Microsoft Windows
Genre: Cargo hauler simulator
ESRB: E for everyone
Number of players: 1 - 4
Price: $39.99
(Amazon Affiliate Link)
Thank you Focus Home Interactive for sending us a review copy of the game.
Note: This review is based on the PS4 Pro version and might not look, sound, and perform the same on other consoles and PC.
When I first saw the launch trailer of this game I knew that I wanted to play it. I had several friends on my PS4 who were getting it and I didn't want to be left out. This game is slow and relaxing and that is the type of game I enjoy to play after a long day. The original version of this game, Spintires, has sold over a million copies and the developer decided to give the game a full upgrade and re-release on PC and bring it to consoles. One of my friends had put in many hours on the original and told me that this was the type of game I would fully enjoy. He definitely was correct; I've had a wonderful time playing this and look forward to playing it for a long time to come.
Spintires: Mudrunner is the type of game that you think you might not be able to get into until you get into one of the 19 vehicles in the game and start driving down the dirt (or paved) road and come across a patch of mud and water that you need to get through to get to your objective. Sometimes you can get through easily and sometimes you need to be patient and figure out how to solve this predicament you find yourself in. One option is to try to back up slowly and touch on the gas pedal to get your tires spinning backwards to slowly create traction and pull back. Another option is to put your vehicle in 4 wheel drive and hope that this will help (which can make a difference). Even another option is to use a "winch" and attach it to a tree and use this to help pull your vehicle out of its predicament. If none of this works well then you have no choice but to select another vehicle (you have to unlock them on the map to use) and bring it to the vehicle you have stuck and try to pull it out of the mud using a winch. All of this can be very fun (unless you get frustrated easily) and cause each player a chance to solve these type of situations like a puzzle.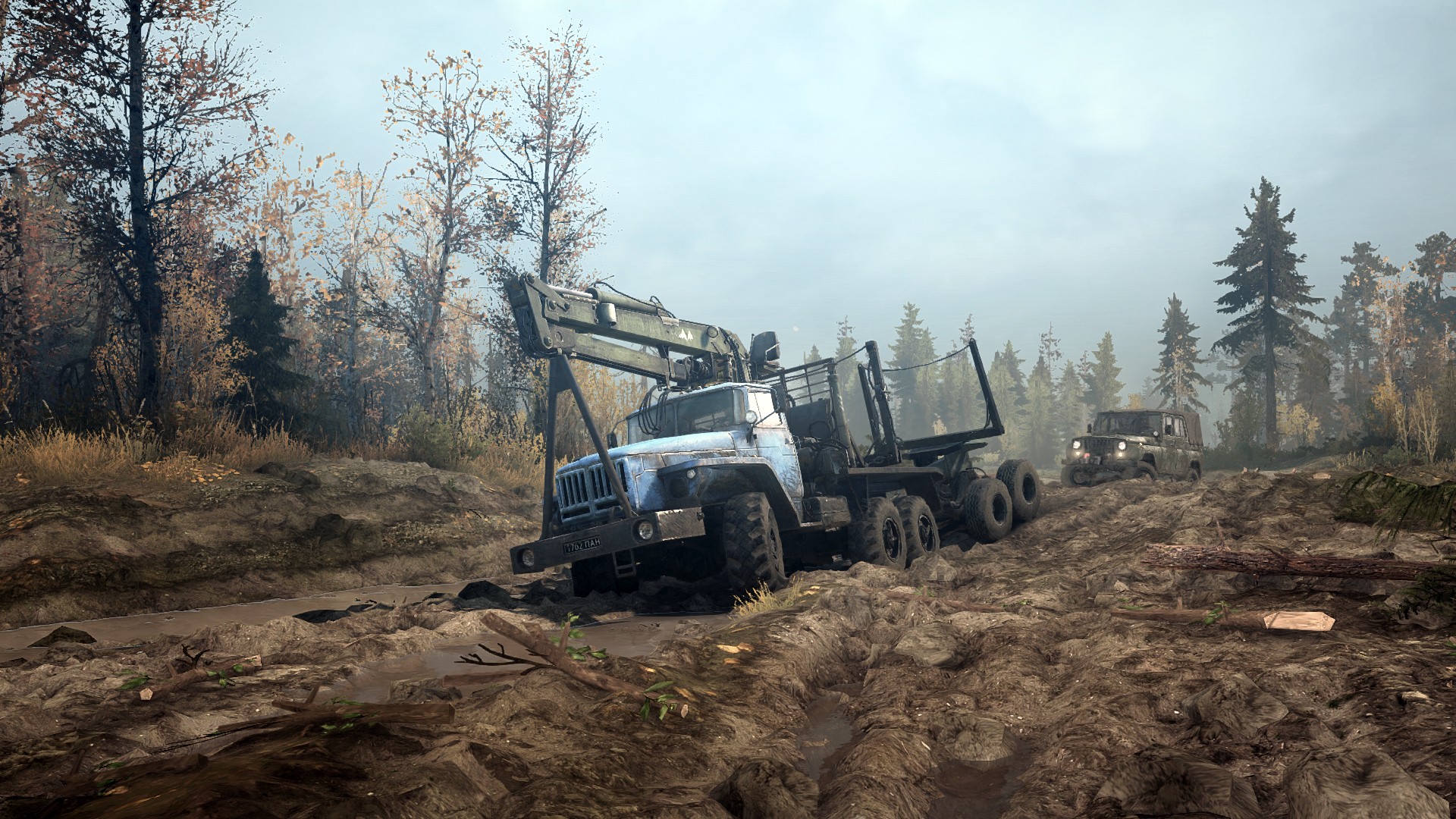 Highlights:
Strong Points: Enjoyable and relaxing cargo hauling simulation. Graphics and sound are very well done. Tons of replayability. 
Weak Points: Some game crashing stability issues. Map controls are very frustrating and need a complete overhaul. Trying to join a friends multiplayer lobby can be a pain.
Moral Warnings: This game is definitely family friendly
The game offers several game types: single player, challenges, tutorials, and multiplayer. The single player mode is what you expect, playing on a variety of maps by yourself and at your own pace. Challenges test your skills and teach different mechanics of the game. Based on how well you complete each challenge (9 total) you get a star rating (1 through 3). The tutorials have you complete very simple learning skills so that you can get a very basic feel for the game. Multiplayer allows you to play with up to 3 friends or random players on maps. You have an option to create a public lobby or a friends-only lobby. You even have an option to continue on the last multiplayer map you were on. My friends had some difficulty joining my friends only lobby, but we figured it out (no thanks to the game making it simple).
The graphics and sound quality are top notch. I loved the sound of the vehicles as they drove across the muddy roads, water, and tree branches. The animals and other ambient sounds of the forest were very well done and surprised me that the developer went to all the trouble to really bring the player into this fictional world. The graphics had a very realistic look to them, with an added softness to it that made each map warm and inviting.
In regards to stability I had a few issues that caused the game to crash and that took some of my enjoyment away (I still restarted the game and continued). If the developers get the occasional crashing bug fixed soon it will help keep their loyal fan base playing for a long time.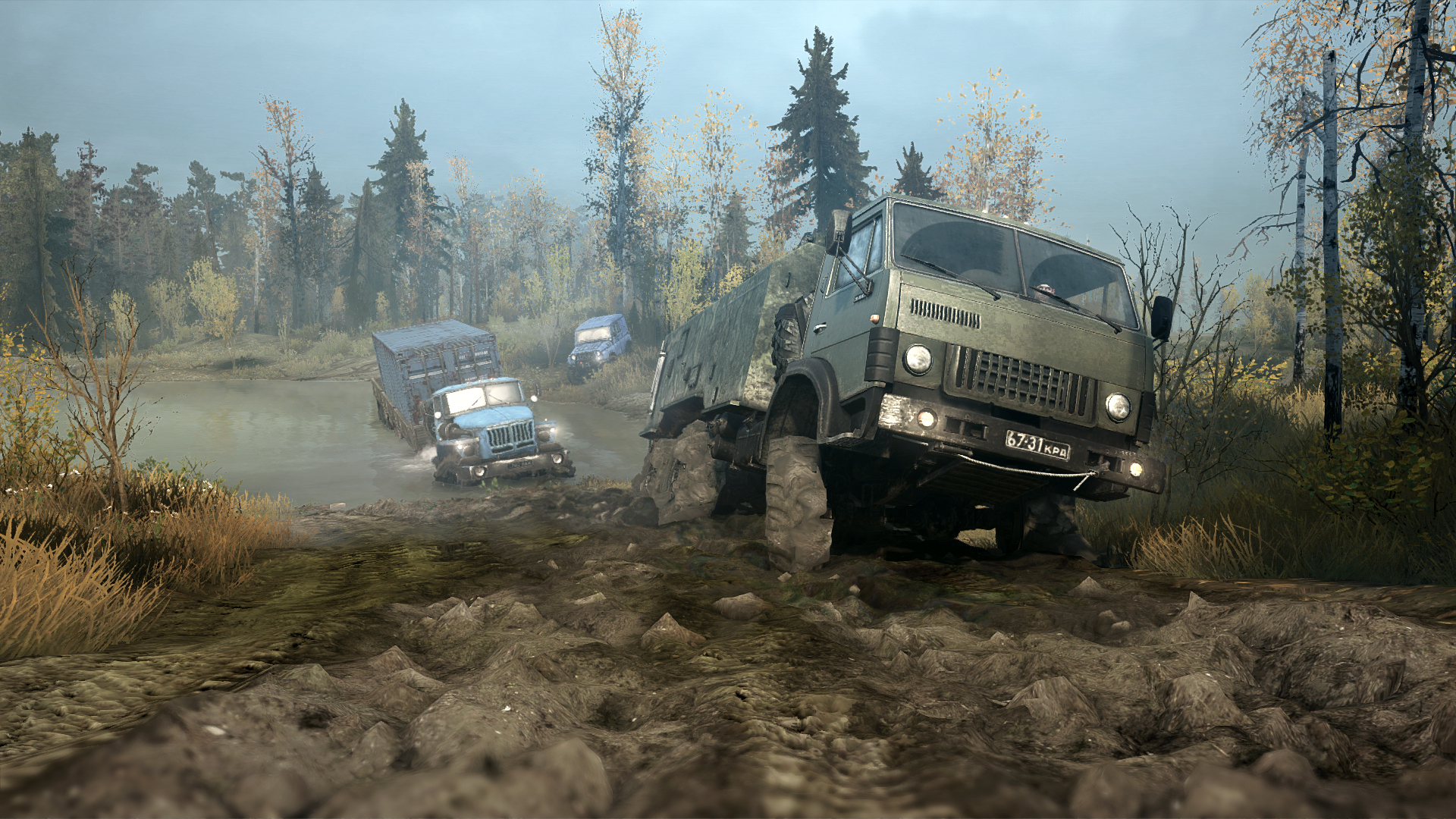 Score Breakdown:
Higher is better
(10/10 is perfect)
Game Score - 91%
Gameplay - 19/20
Graphics - 9/10
Sound - 10/10
Stability - 3.5/5
Controls - 4/5

Morality Score - 100%
Violence - 10/10
Language - 10/10
Sexual Content - 10/10
Occult/Supernatural - 10/10
Cultural/Moral/Ethical - 10/10
The controls for the most part are done well. My main complaint is the controls on the overview map which definitely need to be completely reworked immediately. I had a very hard time trying to select my next objective and just had to wing it. Other than that, the vehicle controls seem to be just pretty good and I was able to control my vehicle just fine.
This game has no morality issues whatsoever. Everyone in the family can enjoy this game. However, I would recommend that little children enjoy watching this game and not playing because of the constant challenges that occur for the driver of these vehicles. This game requires many problem solving capabilities and patience. If a person who can't problem solve at a high level and also has little patience to figure out each problem that will occur during the course of the game then they might want to try a different type of game. I have friends who I know would get frustrated and just give up because they can't and won't try figure out how to get their vehicle unstuck.
If you're a patient and good problem solving type of gamer you will thoroughly enjoy this game. Gamers who are into much faster styles of games will quickly become bored of this slow paced game and move on to something else. I have had a blast playing this and enjoy the many challenges this game offers. I appreciate that I can finally play a game that makes me think about each of my actions and causes me to use problem solving to complete different objectives.