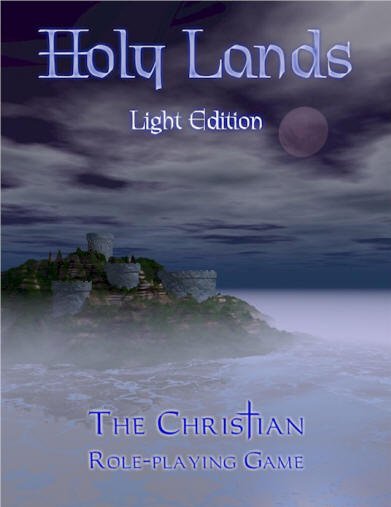 Requirements
Dice, Pencils, People, Imagination
Version Reviewed: Light Edition with Adventure Packs 1,2 & 3
3-5 people

Holy Lands is a Christian pen & paper Role Playing Game set in medieval times. The church is under attack by demons and others various monsters. You can use your character?s skills and faith to defeat these monsters, so let the adventures begin!
How do I create my character?

Character creation is vital to this game. Because of the amount of detail going into developing your character, allow a couple hours to set them up when you first play the game. Rolling of dice determines attributes like Intellect, Wisdom, Patience, Strength, Agility, Speed, Endurance, Beauty and Charisma. There are many character classes and they have certain skill requirements that have to be met. The adventure packs often add a new character class so be sure to check those out! To make the characters more unique they will have a sin and a phobia in their life. You can determine the name, origin, language, weapon and family history of your characters. Certain classes have weapon and armor restrictions so read carefully before you commit to a class.
What character classes are there?
The Bard-musician can perform miracles
The Chancellor-noble ambassadors (in adventure pack 2)
The Cleric-fighting priest
The Devil Hunter-can perform miracles (in Devil Hunters manual)
The Knight-noble warrior
The Martialist-hand/foot combat
The Saint-miracles
The Scout-ranger
The Soldier-loyal to the king/town (in adventure pack 1)
The Spy-evasive
The Warrior-heavy weapons preferred
The Raconteur

The Raconteur (or Rac) is the person who sets the story and plays as the enemies and non-player characters that the players will interact with. This is similar to a Dungeon Master (or DM) in other paper RPGs. The Rac role requires lots of imagination and memorization (or cheat sheets), as they will determine what enemies the players will fight and what the possible outcomes will be. The Rac also keeps track of the player experience and progress throughout the game. Basically it comes down to a Raconteur making or breaking the game. Fortunately many of the adventure packs come with a pretty detailed adventure to get you started. (Plan on having an adventure to last a couple to several hours to complete)
Learning Curve

There is so much detail involved in this game that it does have quite a learning curve. Once you have a character made, familiar with them, and played a couple times, you?ll get the hang of it. You?ll always need to keep the books handy to see what the enemy?s stats are, how much items are, etc.
Community

Holy Lands has a yahoo group where you can chat with other players, grab some files and add your own files and suggestions. You have to be a member of the community to access the files. You can get printable character sheets, fan made adventures, helpful guides and character creation sheets.
Artwork

The Game manuals and Adventure Packs have wonderful artwork. The characters and monsters look great and are very detailed. The adventures have diagrams of the puzzles you?ll see or the caves you?ll explore etc. Everything else is left to your imagination.
Appropriateness

There is violence but it?s all in your imagination. You will be fighting against undead, demons, druids and witches. There are no mage characters and players will use miracles instead of magic. This is a Christian centered game and rewards good works. There is no sexuality in it either.
Final Thoughts

I havent played many pen & paper RPGs but this was a positive experience. I was surprised at how much time it took to create a character and to play through an adventure, but you?re sure to have a good time if you have fun people to play along with. With the strong Christian theme it can be a great youth ministry or an outreach. However with the demons, witches and other undead creatures, some may think that it?s not much different than other secular pen & paper RPGs out there. I highly recommend checking out the site and the community before casting your judgment. You can purchase the game manuals on CD-ROM for $14, a basic binder pack for $24 or a deluxe binder pack for $34. You can get it either from Holylands.net or CovenantGames.com.It does come with dice but will be easier if each player has their own.
Appropriateness 41/50
Game Play 18/20
Artwork 10/10
Learning Curve/interface 3/5

Overall Score 87%