2 minutes reading time
(417 words)
Risk Plants Vs. Zombies Collector's Edition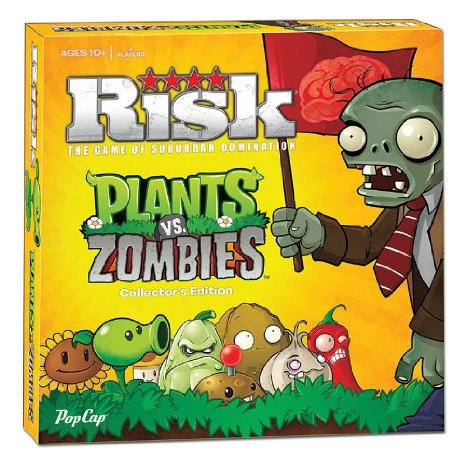 While the game of Risk has been around for decades, I have not played the game until it got the Plants Vs. Zombies makeover. Instead of global domination, the Plants Vs. Zombies version focuses on suburban domination. Who cannot snicker at a suburb named Breakwind Butte? One side of the game board is shaped like a brain and many of the suburb names play on that with names like Sierra Bella Park, Mount Brainer and Pituitary Glen. There are color coded regions that give your army a bonus if you have control of all of the suburbs in that region. The other side of the game board has the lawn backdrop from Plants Vs Zombies. This side of the board accommodates the exclusive tower defense version of the game. In this version of the game, victory is granted to the zombies if they make it across the yard or the plants if they are completely annihilated. In the classic game mode you can win by eliminating your opponent's army or by completing three of the mission objectives.
I like how this game gives you two basic training scenarios for beginners and an advanced one for increased difficulty. One departure from the classic game of Risk is that this edition of the game is limited to two players. One player plays as pea shooters while the other player controls brown coat zombies. The board's regions are guarded by garden gnomes that are an enemy to both sides. The zombies use three grey dice while the plants utilize three green ones. Each team has a stack of faction cards that can aide in invasions or be traded in for units. The cards seem to be of decent quality and the garden gnome and station wagon markers are made of cardboard. My only complaint with the construction of the game is that holders for the pieces (instead of relying on the plastic bags they came in), would have been nice.
The instruction manual is colorful and easy to read and understand. It offers some good suggestions to increase or decrease the game's difficulty. The suggested age range is 10+ and given the complexity of the game and rules, I think that's an accurate recommendation. If you know anyone that enjoys either Risk or Plants Vs. Zombies, this game is worth checking out. I have seen it online for less than $30 and you'll get hours of enjoyment out of it.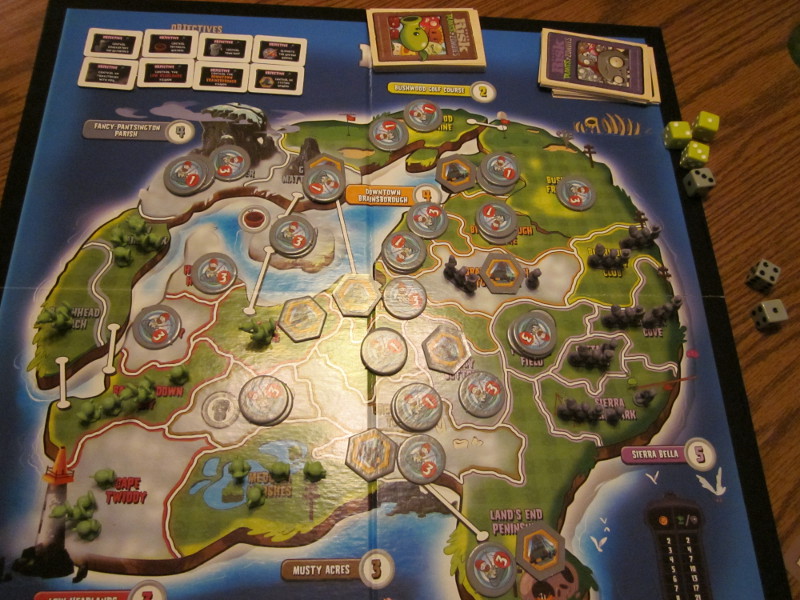 (Affiliate Link)