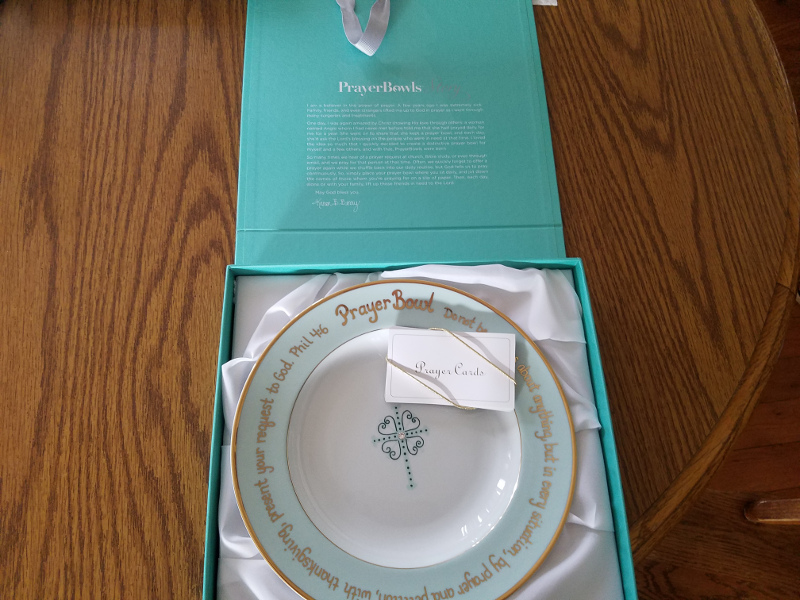 Thank you PrayerBowls for sending us one to review!
PrayerBowls is a husband and wife team that offers two different styles for bowls designed to receive prayer requests. We were sent the Angie set, which is named after a woman that prayed daily for the founder during a serious illness and her many surgeries. Angie used a bowl to place her written prayer requests and this idea inspired Karen to design some PrayerBowls for family and friends. They were well received and PrayerBowls was born.
The Angie bowl is white and has a light teal edge with a cross in the center of it. A Swarovski Crystal adorns the center of the cross. Inscribed on the edge is Philippians 4:6 which states: "Do not be anxious about anything, but in prayer and petition, with thanksgiving, present your request to God." The Celeste set is white with gold trim and it has five Swarovski Crystals on its cross and the verse Romans 12:12 which reads "Rejoicing in hope, patient in tribulation, continuing steadfast in prayer."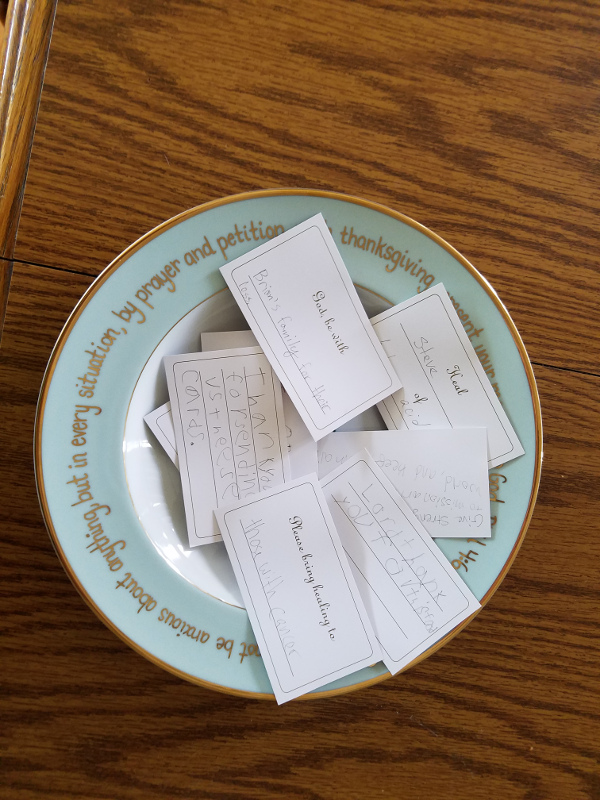 Each set comes with one pack of 25 prayer cards. Some of the cards have lines to fill out while others have fill in the blanks like "Protect __ from harm" or "Lord, I lift up __" or "Please bring comfort to __". While any piece of paper will do the trick, replacement card packs are $3 on the website and are best ordered in bulk or with the PrayerBowls since there is a $5 flat rate shipping price on any item. Both PrayerBowl styles sell for $52 apiece and a dollar from each sale goes to the Mary Lee's House Charity which aids children who are abused.
PrayerBowls can make wonderful gifts and can be an excellent tool for strengthening your prayer life. There's even an AppStore version if you prefer to digitize your prayers. Our family has been blessed with our new PrayerBowl and my son alone has put about ten prayer requests into it. One of his cards thanked God for the PrayerBowl and cards. If you have children or foresee a lot of prayer requests, it's probably not a bad idea to order an extra set or two of prayer cards. Many retailers sell PrayerBowls and their website will help you locate the nearest store that carries them for you.