Thank you Iserlohn for sending us these office wheels to review!
I used to roller-blade quite often before having kids. I still put on my Rollerblades every so often, but not as much as I used to. I'm familiar with doing standard maintenance including rotating the wheels and greasing/replacing the bearings in them. There are many different kinds of wheels available and in varying degrees of firmness. The softer wheels will give you a smoother ride, but will wear down faster. Apparently, softer wheels are great on office chairs if you have wood, or another smooth floor surface. I wish I had known about these before our wood floors got scratched up by the anti-scratch mats we bought for them. If we would have started off with these wheels, our ruined wood floor could have been avoided entirely!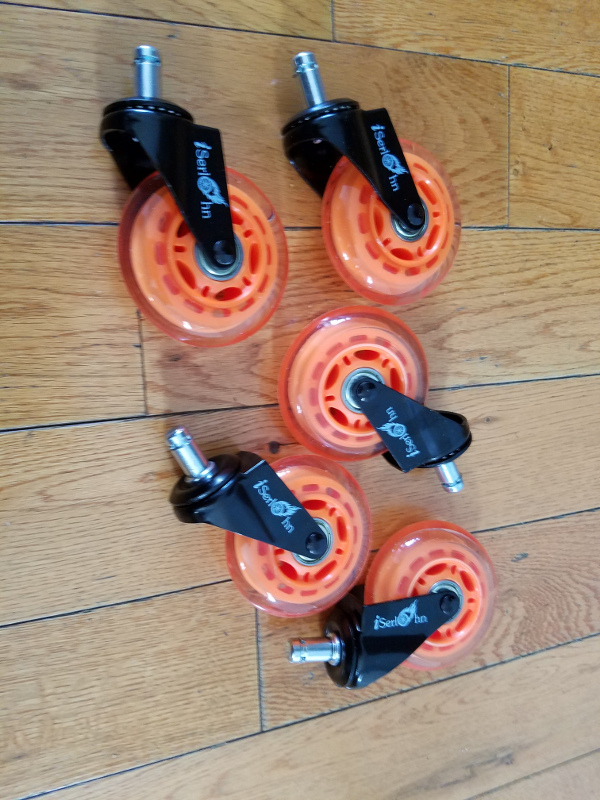 Included in this $19.99 bundle are five orange or teal wheels with ABEC 7 bearings in them. These are some pretty fast bearings! They make me want to roll down my driveway, or a big hill, or a long corridor if I worked in a stuffy office building. If I did give into that temptation, I would no doubt lodge some gravel or sand into my wheels and ruin my wood floor some more!
Installation was a breeze. It took me less than a minute to pull off my old wheels and install the new ones. The orange wheels are much brighter and are definitely more noticeable. Black or gray would be more professional, but are not available from this vendor. When going in a single direction the movement on these wheels is buttery smooth. However, changing directions takes a little more effort with these wheels than the standard wide ones. Vertically challenged people will be happy to know that these wheels will raise your chair an extra inch or so.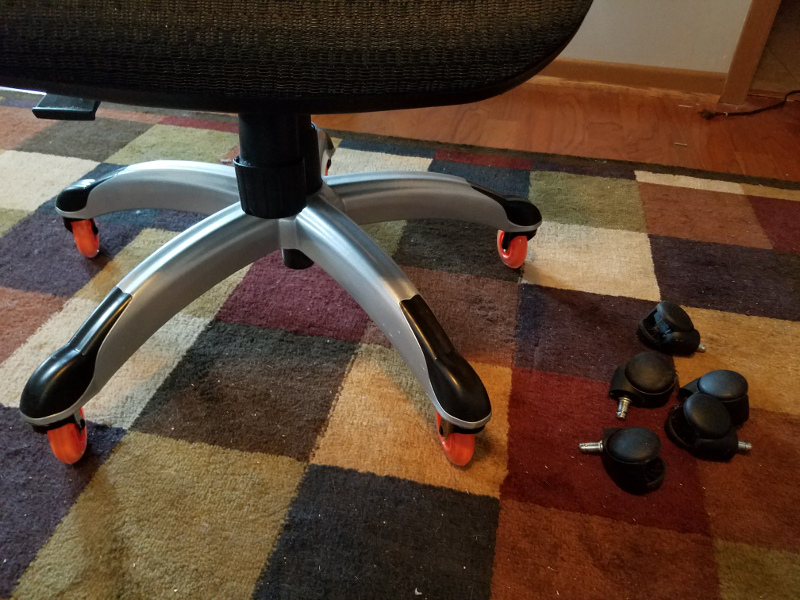 Despite the more effort needed to change directions, I'm still pleased with these wheels. When we get our floors fixed and remove the throw rug covering the scuffs, we'll be buying a couple more sets!

(Amazon Affiliate Link)