eniTAB360
Developed by: Filofax
Price: $19.99
Thank you Filofax for sending us this product to review!
I've been toting around a tablet for a few years and I use it for accessing online recipes in the kitchen and taking digital sermon notes at church. The purple Fintie case I've been using for my LG tablet has served me well and I like how it has a built-in flap that allows the tablet to be propped up horizontally. Until now, I haven't heard of Filofax and their universal tablet cases and tablet holders. Many of their tablet cases are over $50, but they include the universal tablet holder with them ($19.99 value).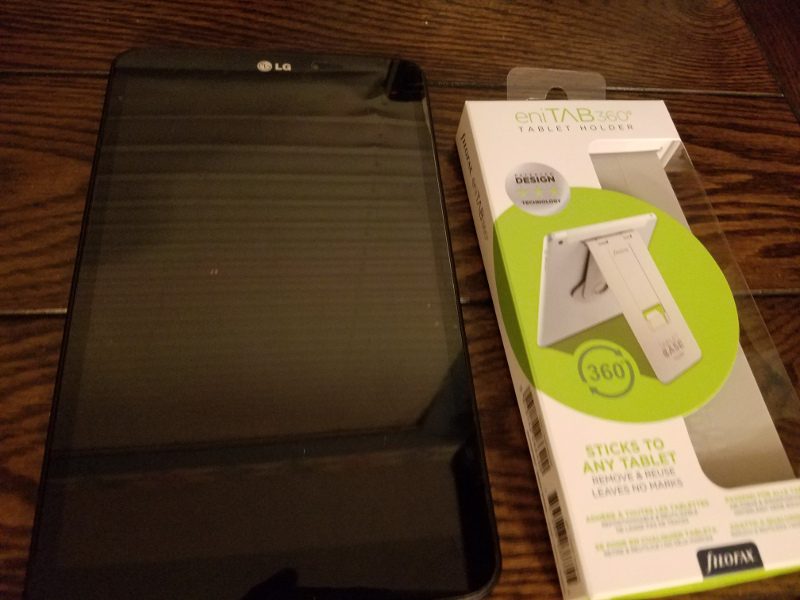 The eniTAB360 comes in two sizes: small and large. The small is designed for 8.5" screens and smaller and the large is for 8.5" or more. I was sent the small model to review. The design is well thought out and very sturdy. I like how the edge that comes in contact with the flat surface is rubberized to prevent scratching. The green circle part that sticks to your tablet uses silicone based polymer micro-suction technology. The suction is very strong and you need to use the included smooth card device to have it loosen the grip off of your tablet. If you lose the remover, a credit card could work instead though I would worry about some potential scratching.
For my first test, I used my tablet and was quite pleased with the results. Putting the eniTAB360 on is much easier than taking it off though. The 360 rotation is great and the 0-140 degree hinge works well. After installing and removing the eniTAB360 several times, I have not noticed any loss of stickiness. As advertised, there is no residue left behind after use.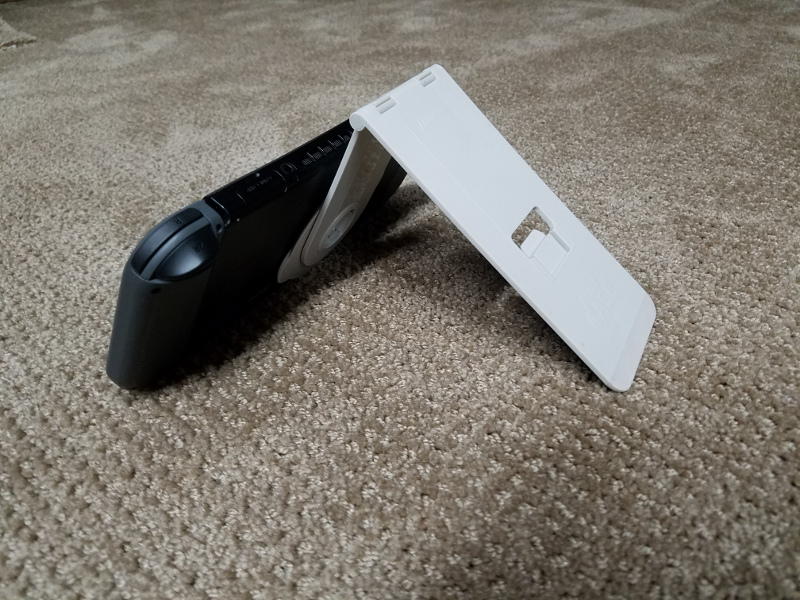 After the eniTAB360 passed with flying colors on my tablet, I wanted to test it out on my Switch since the built-in stand for that is a complete joke. The built-in stand is small and prone to coming off. Not surprisingly, the eniTAB360 works great on my Switch. Since our tablets have cases with built-in holders, we'll continue using the eniTAB360 for our Switch from here on out since we know that it works and does not scratch or leave behind any goop after use.

(Amazon Affiliate Link)