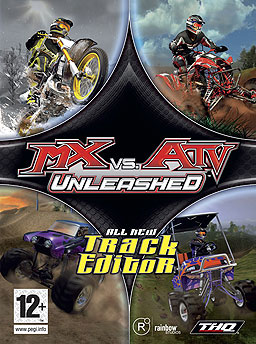 Game Info:
MX vs. ATV Unleashed
Developed by: THQ, Rainbow Studios
Published by: Nordic Games
Re-Release Date: April 17, 2015
Available on: PS2, Xbox, PC
Genre: Racing
Number of players: Up to 8 players
ESRB Rating: Everyone
Price: $9.99
(Amazon Affiliate Link)
Thank you Nordic Games for sending us a review copy of this game!
MX vs. ATV Unleashed originally came out in 2005 for the PS2 and Xbox console systems.  The following year, a PC port was released with a track editor.  The single-player mode has over fifty tracks to complete so the ability to expand on that further is great.  Especially since single-player is all that's left since GameSpy is long gone along with the original developer, THQ.  In its stead, Nordic Games has released this game on Steam in 2015.  Many gamers rejoiced and enjoyed reliving their childhood memories while others had difficulty getting the game to run on their Windows 8.1 systems.  I had no trouble whatsoever running this game in Windows 10.
For those like me who are new to the series, MX vs. ATV Unleashed is a racing game where motorcycles and all-terrain vehicles can race separately or against each other with few rules besides the goal to claim first place.  In addition to racing, there are stunt modes where you can win by having the most points, the biggest jumps, or by following or being the leader.  
Highlights:
Strong Points: Fun racing game with the ability to create your own tracks to race on
Weak Points: Online multiplayer is obsolete so it's LAN only
Moral Warnings: You can knock people off their vehicles and fall off of yours with no blood or serious injuries
There are short races, championship races, and even a quick race option in the menu.  The 16-week championship races encourage you to do a practice run to get familiar with the track and to have a say in your position for the main event.  There are separate championship races for the ATVs and motorcycles.  For each successfully completed race, points are earned and more gear and tracks become available.  Challenge modes are not available at the beginning of the game, but they can be unlocked later after some skillful racing.  
The Hill Climb tracks are pretty challenging and consist of a massive hill that's hard to climb as you're quickly losing momentum.  The first to reach the top will win the race.  Another racing mode is the Way Point mode where you have to drive through various check points within a lap to successfully complete it.  
Sometimes it's easy to lose your way and the mini-map on the left hand side is handy for keeping an eye out for upcoming turns.  When I went off course a big arrow appeared on the top of the screen to point me in the right direction.  Failure to obey resulted in me being reset back in place as if I crashed.   The physics in this game are hit or miss.  There were times when I should have wiped out and didn't and other times where I was cruising along and crashed for no apparent reason.   Thankfully you're back in the race quicker and less painfully compared to real life wipeouts.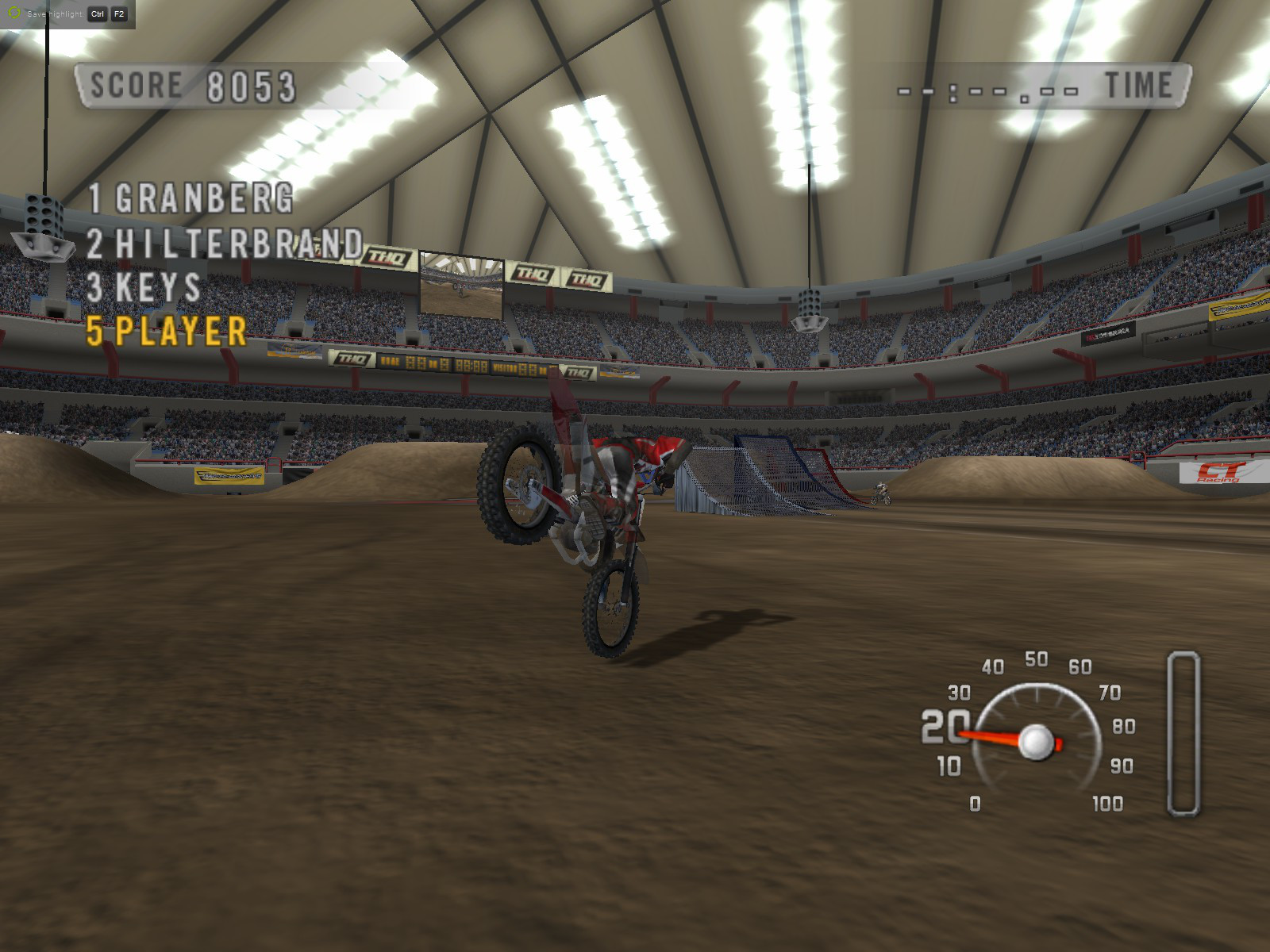 Score Breakdown:
Higher is better
(10/10 is perfect)
Game Score - 76%
Gameplay - 16/20
Graphics - 7/10
Sound - 7/10
Stability - 4/5
Controls - 5/5

Morality Score - 96%
Violence - 8/10
Language - 10/10
Sexual Content - 10/10
Occult/Supernatural - 10/10
Cultural/Moral/Ethical - 10/10
Other than falling off your own bike or vehicle, you can knock others off of theirs.  That's the extent of the violence in this game.  There are various rock and rap style songs from groups like Nickelback, Papa Roach, Pillar, and Black Eyed Peas.  I didn't hear any cussing, but the motorcycle or ATV sound effects were louder than the music.  In the end it was all noise to me since I wasn't familiar with any of the included song tracks.
Visually MX vs. ATV Unleashed does look a little dated by today's standards, but ten years ago the graphics were pretty good.  The ground, dust particles, and the audience were not very detailed but the riders and their vehicles looked good.  The crashing animations were pretty painful looking and made me glad that it was just a game.  
My Xbox 360 controller worked seamlessly and I experienced no issues running or playing this game.  The menu system is a little redundant at times and is probably a result of taking some shortcuts while porting this game over to PC.
The console version of MX vs. ATV Unleashed may be easier to get multiple players racing against each other locally, but the PC version compensates by letting users create their own tracks.  LAN games are still possible, but harder to arrange than a functional online mode.  Even without online multiplayer, there is plenty to do in single-player.  The asking price of $9.99 is reasonable and bound to entertain racing fans of all ages for quite some time.