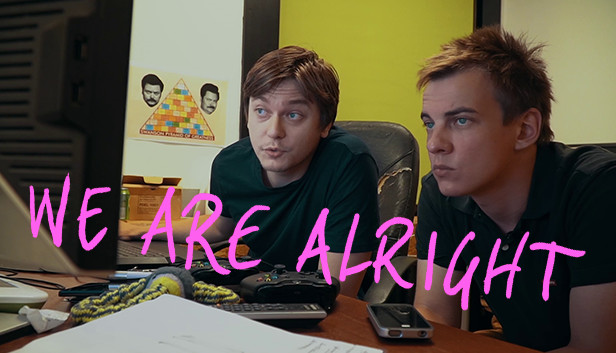 Thank you Borys Nieśpielak for sending us this digital film to review!
Making a video game that's fun and stands out from the crowd takes a lot of time and effort. Many indie games remain obscure and don't get insanely popular like Mojang's Minecraft. In fact, many game developers get discouraged and quit once their game releases and fizzles shortly afterward.
We Are Alright is a sixty-four minute documentary about Lichthund's founders Bartek and Rafel and the preparations/launch of their first title, Lichtspeer. The audio is in Polish, but thankfully, it's subtitled. The film begins five months from release day and continues on though the game's launch on Steam and PS4.
Until the launch, there are several bugs and issues that need to get sorted in order to get Sony's approval. Time and money are tight, as the composer is seen asking for his money and in order to break even the developers are hoping to sell 10,000 copies or 300 a month to make ends meet.
Lichtspeer has a lot going for it with some great looking merchandise and highly praised gameplay feedback at the PGA conference. Both of the developers quit their jobs to finish working on Lichtspeer, which has been in development for two-and-a-half years.
After many trials and tribulations, the launch date drew near and it was time to get influencers to check it out and spread the word. Sadly, many of them did not respond. Our site was too niche to be contacted but I can see the importance of launch day coverage after watching this film.
I won't spoil the ending or divulge the sales numbers as I recommend checking out this film if you have any interest in developing games. It will give you some valuable insight into the struggles of game development and getting coverage for your title. If you don't mind drinking and strong language, you can rent this film for $2.99 or own it digitally for $9.99 on Steam.