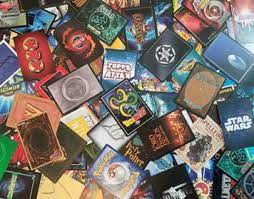 Hi there, dear reader! Before delving deeper into the subject, I want you to know exactly how I feel about CCG. I don't believe in them. Basically, it's very rare that a collecting card game actually avoids pay to win or they avoid gambling mechanics. But really CCG are designed in order to manipulate people's addictive natures and to spend money. It's money-making games but sometimes some of these games are legitimately fun, very good games and generally fair for the most part, and sometimes they're completely fair, and you're going to see actually a couple of them on this list. Hopefully, we can appreciate these games for what they are. Maybe you can actually jump in and play around a couple of rounds with a friend or two. But this is going to be the list for card games that no one plays. And it's kind of a sad tragedy but at the same time let's try to celebrate these games what they did good and hopefully in the future we get more games like them, at least for what they did well. So let's get down to business.

Prismata

Okay, so starting the list, I want to talk about a game called Prismata. It is actually the reason why the title is card games and not CCG. Collecting card games generally involve buying card packs to collect the cards. Something I completely disagree with and I will never promote or play a game that utilizes those heinous monetization schemes. But Prismata is actually not a CCG. In fact, it's a strategy game, and really if it was played in real-time, you would call it an RTS. It's extremely inspired by RTS. It just comes in the form of a card game that does play in turns, and that's pretty much it that's kind of what makes it really cool. Now, I thought the game was gonna promote itself cross-platform immediately because the beta was on the browsers. I was really excited about that. You know, I thought I was gonna go on mobile instantaneously and launch on Steam, and I just thought it was gonna be this big push, and the game seemed pretty much ready. I don't know what happened to it, just kind of slightly launched one day and nobody cared. But this was one of the coolest games for free to play, for strategy games, for card games like. I wanted to talk about this game because it's such a cool idea! I don't have the mechanical intensity or attention span to really learn Starcraft. So, I want to learn strategy games and I thought Prismana would be a really great way to play. Literally, it is the strategy of the game building, your deck building, your army fighting the enemies' army but without the real-time aspect. And maybe people who want to play strategy games really do appreciate the real-time aspect or they were playing some other tactics games which were kind of on the rise possibly, or really just focused on other CCG proper like Hearthstone and Shadowverse, which were really becoming viral. And not just viral, but popular enough that people started doing business selling in-game services like hs boosting. Either way, this game was kind of competing with too many different genres and just did not do anything at all to really promote itself as distinguished and unique as it really was.

Infinity Wars

But next up we have Infinity Wars. This is a game that I pretty much glowed on when I did my first impression. I really liked this game. Just say it's a CCG but in terms of a digital game. It actually had some mechanics that made it really only able to be played digitally. Went above and beyond Hearthstone, I think it had multiple zones which kind of reminded me of Yu-Gi-Oh to an extent, but you had a defense zone, support zone, command zone, and you actually had two different ways to win: you could win via moral victory or through like health points. So, there were a lot of different ways to kind of play the game. Also, I loved the card arts which were animated, truly animated card arts. But I think overall it's a UI and possibly the art direction in general, which is also going to be the fault of many of these games. Maybe it was too alienating, didn't really separate it enough. It wasn't as clear to read. And again, it's a problem, just like almost all of these games. It didn't publish itself immediately enough. You know, Hearthstone was so quickly on mobile devices, so quickly came out, hit the ground running, and I actually really liked the simultaneous turns that's something you can only really do in a digital card game done. And then also the animated card arts, the complicated board, everything that really just screamed: "Hey, this is an evolution of CCG! It's digital. You can't really do this as a board game, check it out.". But it just had an awkward UI or maybe potentially too complicated on the eye. And then they just didn't publish themselves. Same story here, and they're basically of every game on this list, and the dozens, and dozens of CCG that have been released in between. But this one was debatably the highest quality AAA most polished in my opinion.

Duelist

Number three is Duelist. To me it was the foundational father of all tactical CCG, despite its success or otherwise. I really appreciated the mixed medium arts so in the background you have digital paintings and in the advertisements, they have this sort of anime or comics-inspired sort of look to everything. Definitely, is like a world. It's really like the world of
worlds kind of and they're all colliding and fighting together. So you have really radically different characters and monsters represented on the board with pixel arts. They're fully animated and have sound effects. To me, it was just an engrossing game visually and I think it might have come out at a time. That was a little too early for the hyperpixel art, maybe it really should have launched just then and had that momentum but I know some people were turned off by it to an extent