Nutritional Info:
Calories: 440
Fat: 30g
Cholesterol: 70mg
Sodium: 1090mg
Carbohydrates: 22g
Protein: 20g
When I first saw the Naked Chicken Chalupa, I was equally intrigued as I was excited. As a prolific connoisseur of fast food oddities, I was immediately reminded of KFC's Double Down. The Double Down replaced the buns with chicken patties and left the cheese, bacon, and sauce in the middle. The Naked Chicken Chalupa replaces the tortilla with a curved chicken pattie and leaves the cheese, tomatoes, and lettuce in the middle. I thought the Double Down was delicious so I was stoked for this new beyond-the-bun creation.
When I took the chalupa out of my bag and unwrapped it, my first impression is that it seemed really thick for a chalupa. As advertised there's a cardboard holder covering about 2/3 of the chalupa. I took it out of its holder but it felt awkward to hold, I guess I don't regularly touch fried chicken patties. I put it back in its holder and took a bite. I was hit with a surprising amount of flavor. The chicken was moist and well seasoned and the avocado ranch sauce really compliments it. The breading on the chicken was nice, and didn't fall off chicken or stick to my fingers while I was eating it. I usually douse everything from Taco Bell with a packet or two of their fire sauce, but that was not necessary for this.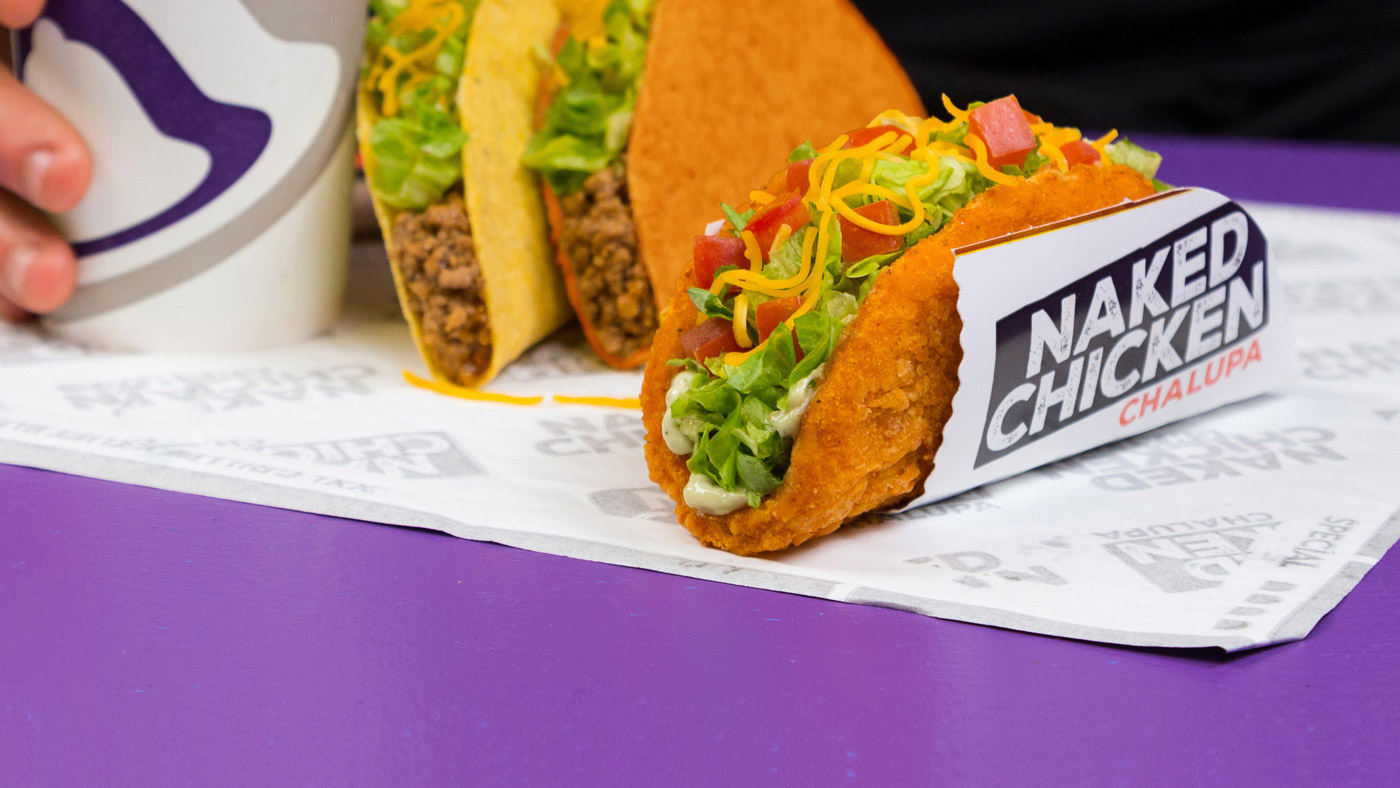 The filling in the Naked Chicken Chalupa is its main downside. The stock Taco Bell lettuce, tomatoes, and cheese come off as incredibly bland when paired with the chicken shell and the sauce. Those items are just filler to round out the fact that it's a chalupa. Also while I really enjoyed eating the Naked Chicken Chalupa it wasn't as filling as a normal chalupa due to the lack of traditional chalupa shell. Its $2.99 price tag is only $0.10 more than a Chalupa Supreme which is great for a new/novelty item but you may not feel as satisfied after eating it compared to a regular chalupa. Fortunately there's a $5 box with the Naked Chicken Chalupa, crunchy taco, Doritos Locos taco, and a medium drink for a nice, "well rounded" meal.
I really enjoyed the new Naked Chicken Chalupa from Taco Bell and hope it sticks around. The chicken shell is well made and flavorful and pairs exceptionally well with the avocado ranch sauce they use. I did end up putting some fire sauce on the my chalupa after the first few bites but it really does not need it. It's perfectly enjoyable on its own. The lackluster fillings are par-for-the-course from Taco Bell and don't detract enough to prevent me from ordering this again.