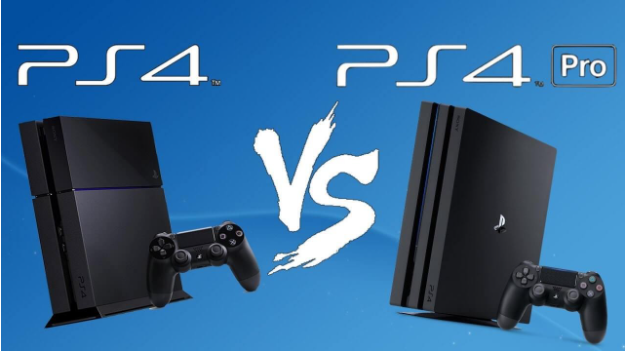 Launched in 2016, PS 4 and PS 4 Pro are still the most incredible consoles in the market - But which one should you choose? Check out this quick guide to know the difference between PS4 and PS4 Pro.
Are you a gaming freak? Then the chances are high that you adore all the PlayStations and are eager to try out everyone available in the market. Sony is one of the most loved brands for gaming consoles, and all the gamers are crazy over it. 
Sony has just achieved a milestone in 2020 by launching the next generation of gaming consoles, the PS5. However, people are skeptical about some features and their performance. Back in the days, there were many awful reviews about its size and other vital features.
So, in today's time, if you are looking forward to buying a gaming console, then you should look for the classic PS4 series. Launched in 2016, the PS4 and PS4 Pro systems are still the best and coolest consoles in the market. They are reliable, high-tech and are a perfect gaming gadget for pro-gamers. 
But wait; if you get to buy a console today, what would you take? The super classic and reliable PS4 or upgraded PS4 Pro. 
You must be thinking that how could there be a competition between an old and upgraded console? Well, if you aren't a pro-gamer, then you can't understand why people still find themselves in a dilemma to choose between these two cool play stations. 


What Is the Difference Between PS4 and PS4-Pro?

PS4 or PS4 Pro? Buying a Sony console, it's always those few extra letters that make all the difference. PS 4 and PS4 Pro are both designed to meet the highest standards and expectations of our pro-gamers. Both models play the same game, use the same gaming peripherals, and access the PS store. 
Then what is the difference between PS4 and PS4 Pro? Read below:

HDR Gaming Experience

Apparently similar, but the original difference appears when you actually start playing. The feel and look of both the consoles introduce you to a whole new gaming experience. PS4 Pro, as you may know, is the premium console of Sony. It is famous for its high-resolution gaming experience. PS4 Pro runs games at up to 4k (3840x2160) resolution, which, unfortunately, the standard model cannot. The biggest difference so far is the resolution of both consoles.
However, it doesn't mean PS4 is less. Both consoles play in HDR. Some games run well on PS4 as well. Those games often perform at 4K (2160p) -around the speed of 30 frames per second using the 'checkerboard 4K' technique which provides better, crisper graphics than the classic PS4. 
However, it might not be an issue for the existing games as they are created at 1080p resolution. This means PS4 would be able to play them just smoothly. 

4k HDR Video

Another aspect to count when playing a game. A similar situation occurred when it comes to video performance. The latest PS4 Pro is packed with high-tech and capable of 4K ultra-HD video outputs, while the original PS4 is confined to a maximum of 1080p. 
However, the video or picture quality also relies on the Tv set you got. If you don't have a 4k/HDR screen, then PS4 Pro would feel like PS4. No major difference. 

Price Comparison

The PS4 Pro does offer some great advantages over the original PS4. However, when it comes to price, you would go for the classic version. PS4 is comparatively less expensive and affordable than the latest Pro. A standard PS4 costs around $203 for 500Gb, but it also comes with a decent collection of games for this price.
However, the PS4 Pro is way expensive, with a price of $370. With a great console comes great prices, you know. 

Game Library

One thing that you won't have to compromise on when choosing your console. All existing and upcoming PS4 games work on PS4, PS4 Slim, and PS4 Pro. The only difference you may get is the look of the games- which appears a bit more pretty on Pro. As of course, the 4k HDR experience is always better, no? 

Design

Ok, I'm not the person who goes for exterior looks rather than specifications of the console, but hey, pretty looks also do matter somewhat. While both consoles share similar design aesthetics, the PS4 Pro is definitely a bit chunkier than the latter. The classic PS4 weighs around 2.1 Kg and measures 265 x 39 x 288mm It looks a lot neater when tucked in the AV cabinet. 
While the PS4 Pro is not only great in specifications but also giant in size, thanks to that extra wedge in its sandwich design style, this beast weighs around 3.3 Kg with the size of 295 x 55 x 327mm. 

Conclusion

So far, we have realized that both play the same game, both capable of HDR provided with a good HDR monitor/TV. The only difference between PS4 and PS4 Pro occurs in 'resolution.' If you want a supreme gaming experience and spend an extra $100, then PS4 Pro is better. 
But if you want an excellent yet affordable gaming experience, then you are surely going to enjoy and have a great time with a classic PS4.