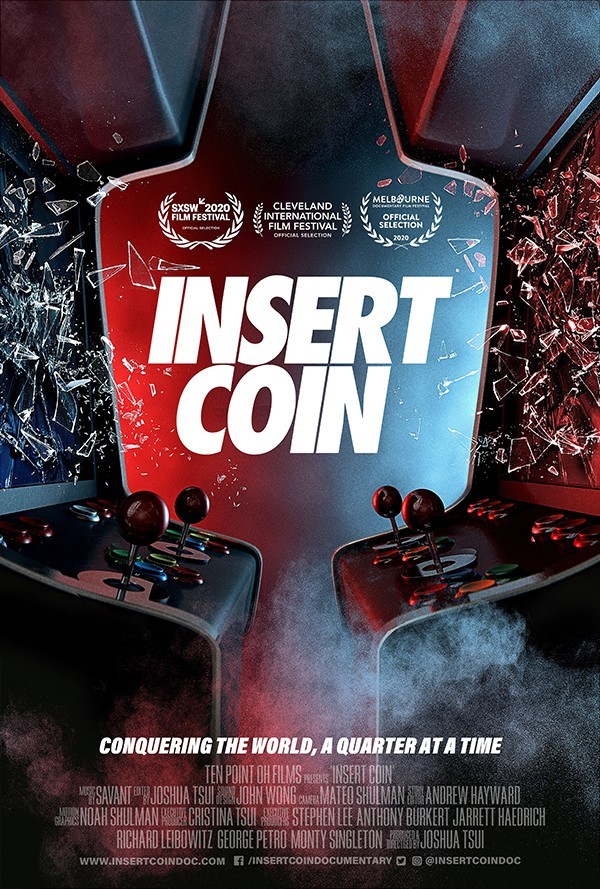 Thank you UberStrategist for sending us a screener to review!
Insert Coin is a documentary about the rise and fall of the popular arcade game making company, Midway. Though Midway has been around since 1958, this film covers the 80s through their bankruptcy in 2009. The 1981 acquisition of Bally is also discussed with their rivalry with Williams. These companies combined are well known for their pinball and early video games like Defender, Joust, Robotron 2084, and Rush. In the mid-80s people were getting tired of the copycat and low-quality games and as a result, the industry was losing its audience.
In 1988, the recently re-branded Midway released Narc which was an arcade hit and stirred up some controversy with its bloodiness and dismembering of body parts. Smash TV did well in the theaters but Midway had to learn from a mistake of teasing the gamers about a nonexistent hidden area (Pleasure Dome) and shipped out ROM chips to actually add it to the game. Countless quarters were spent trying to find that mystical area.
It's interesting to know that a successful arcade game was one that generated $700/week. NBA Jam was such a success that the arcade machines were deemed defective because their quarter holders were filled to capacity! Their most popular franchise, Mortal Kombat is covered in detail with its over-the-top violence and backlash for it. The film adaptation is also covered. Mortal Kombat was so edgy that Nintendo removed the blood from their SNES release. SEGA left the game intact to attract an older audience.
As the console systems took off, arcades became less popular. In 2001 Midway phased out their coin operated machines and closed their doors for good in 2009. They have made some great games and seeing their inspiration and backstories in this documentary is truly fascinating. Some of the executives and game developers have unbridled tongues so you may want to think twice before letting young kids watch this movie. There's also a lot of violence and blood/dismemberment shown in the game footage too. If you've enjoyed Midway games, you should check out this film on demand or at virtual cinemas!