In general, the science that studies the forms of objects and their interaction in space is invisibly present everywhere. There is such a thing as "space geometry". In combination with the design, it depends on it whether you will be comfortable in the room or want to escape from there as soon as possible.
The visual arts turned to simple geometric shapes as early as the beginning of the 20th century. Cubism, Suprematism, Abstractionism. Now the "geometric style" is popular in various areas of design - from apartment interiors to clothing and tattoos. And if you are partial to clear lines and simple shapes, you can add geometric patterns to the interior of your own apartment. Let's see what can come of it.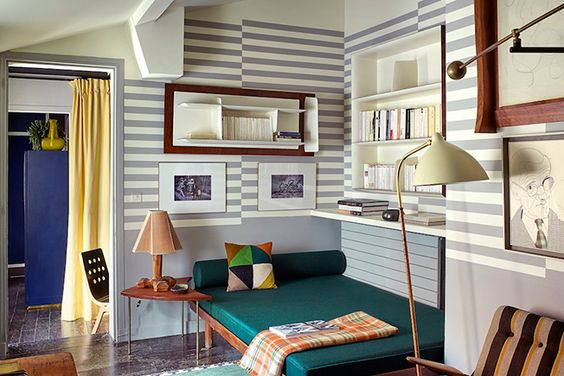 Geometry in different interior styles
In fact, strict geometric shapes can successfully fit into almost any interior. It's another matter when the entire design of a room is based on simple lines and laconic colors. True fans of geometry will surely love minimalism and functionalism.
Constructivism came to interior design from architecture and the visual arts. It brought practical forms and functionality to apartments. All for the sake of comfort and no-frills. The laconic decor of geometric figures (especially in the form of an allusion to some famous painting) will successfully fit into constructivism.
The cute Scandinavian style is famous for its simplicity, comfort, and coziness. The decor and the feeling of the airiness of the space are responsible for the coziness here. For convenience - functional furniture. For simplicity - the very principle of style. And what could be simpler than simple geometric shapes? Textiles and decor with geometric patterns are especially popular in the Scandinavian style.
Contemporary furniture and decor also show a love of geometric shapes and patterns. If you mix scandi, minimalism, and constructivism, you get a contemporary style. Modern, harmonious, for any premises and tasks.
For bold experiments in large areas, deconstructivism is suitable. This style arose at the intersection of philosophy and the denial of the principles of constructivism. Its main essence is to break the usual ideas about space. Tired of boring standard apartments? Deconstructivism will disassemble all components of the design into separate elements and put them in the most unexpected order!
Geometry can be different. Not necessarily within the strict limits of minimalistic styles. For example, a modern classic. The same lines on the walls, but in tune with the rest of the design, look very harmonious.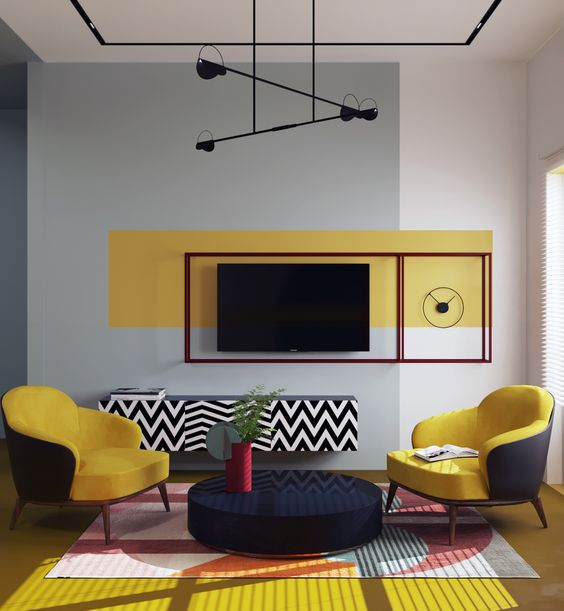 Walls. Paint
Either people have fewer things, or they began to store them somehow differently, but the walls of rooms in the 21st century have finally sighed calmly. They have become an important part of the interior, which should "work" by itself. Large geometric patterns on the walls can be done using paint and stencils precisely so that "bare" walls do not look like that, but create a complete picture of modern design.
 
Wallpaper
The variety of wallpapers in stores can be crazy: a bunch of materials, sizes, and properties, not to mention millions of colors ... How to choose exactly what you need? As for geometric patterns, they can be absolutely any: zigzags, rhombuses, circles, lines, triangles and squares. Choose the color of the wallpaper based on your own taste and general rules for combining colors. But the size of the patterns is usually directly proportional to the area of ​​the room. Otherwise, small diamonds will ripple in the eyes in a large hall, and huge circles in a small living room can visually reduce its area. In order not to overload the interior, you can glue the wallpaper with geometric patterns only on one wall, thus focusing on it.
3D Wallpaper
There is a legend that somewhere in nature there are stylish 3D wallpapers that do not turn the interior into bad taste. But nobody saw them. And if he saw, he does not remember where. In general, it is difficult with them. But you can. If you don't overdo it with color and design. Neutral colors and geometric shapes can allow the wall to "stop screaming": "look everyone, I have 3D wallpaper!"
3D panels
3D cinema, printer and cosmetic procedures - everything that has a 3D attachment is supposed to be modern and cool. 3D panels are so-called because they are not flat, but three-dimensional. And in fact, they've been around since synthetic materials were invented. The advantage of 3D panels is that you can decorate the wall in one color in an original way, without resorting to posters and mirrors for decoration - they are simply not needed here. On the other hand, this is also a minus, because you can't hang anything on such panels - not only decor, but also furniture, for example, shelves.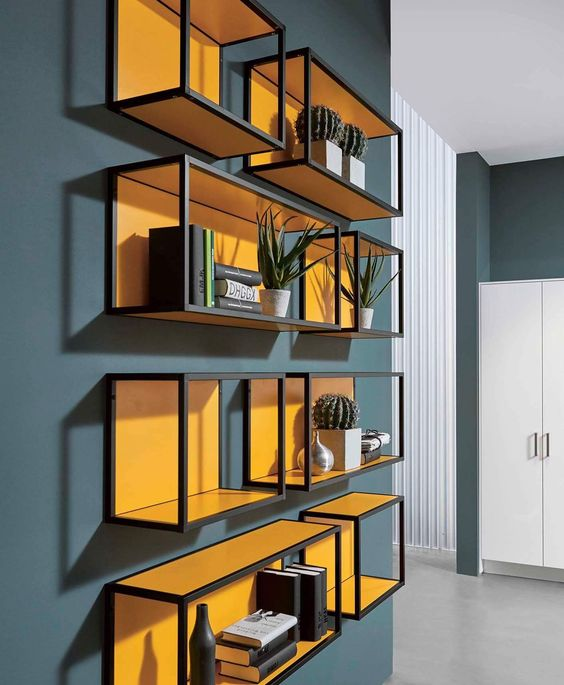 Furniture
And here are the shelves. You can experiment with them as much as you like! From the front, the shelf looks like a line, which means that any pattern can be created from these "lines", for example, a semblance of an Indian mandala. Such designs are usually made to order as a cool art object for an apartment.
And here is another exhibit worthy of exhibition halls in contemporary art museums - designer tables. Their creators were clearly inspired by nature and jewelry craftsmanship, associating with stones and diamond facets.
To find some modern and fascinating furniture models with the pure geometric design you can go to New York Furniture Outlets.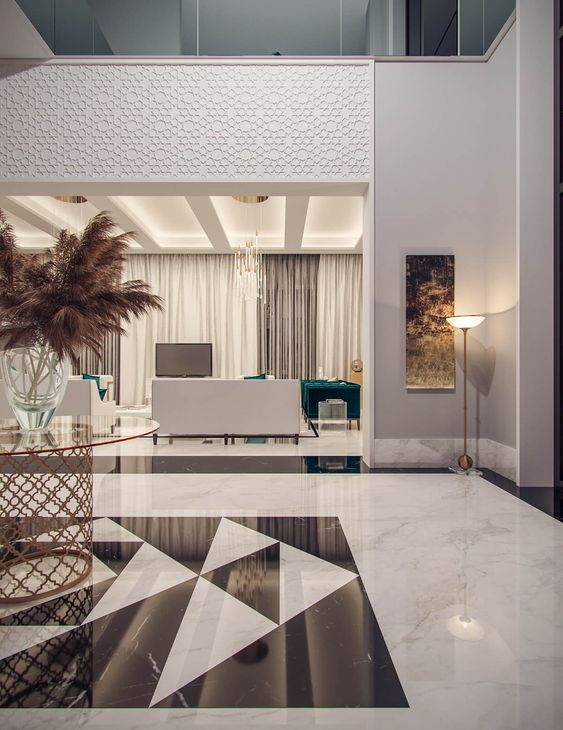 Tile
Any ceramic tile can be attributed to geometry in the interior. It is difficult to find an apartment without tiles at all, most often it is made in the bathroom and a kitchen backsplash. A more original solution is a kitchen island or part of a wall. Original and soulful.
Carpets
Do you love the minimalistic design, but are afraid that the apartment might be boring? Focus on one thing, like a carpet. It doesn't matter whether it is black and white or colored - geometric patterns on carpets never lose their relevance.
Textile
Curtains, pillows, and blankets are irreplaceable textiles in any interior. They add coziness, decorate the interior. Textiles with geometric patterns are versatile as they are neutral in design and suit many styles. As a last resort, you can always replace it, if you get bored, with something else and at no great expense.
Geometric patterns on the upholstery of chairs and armchairs look stylish. The figures themselves may be different, but by choosing a single color scheme, you still get furniture that will be combined with each other. The upholstery can be made to order - a second life to an old armchair and an exclusive item for your interior.
Lighting
Geometry in lighting has a lot to roam! LED panels and strips fit perfectly into hi-tech and minimalism, combined with the lines of the rest of the decor.
Geometry looks fresh and modern in the design of chandeliers, echoing with other interior elements or, on the contrary, contrasting with them.
Decor
Geometry in decor has almost become a new classic in modern design styles. Instead of expensive paintings - laconic posters, instead of gilded baguettes for them - simple black or white frames. Pictures, of course, have not gone anywhere, but abstract images are becoming more and more popular, in them everyone can find some kind of meaning. Florariums in the form of diamonds, octahedrons, and other interesting geometric shapes fit perfectly into the idea of ​​minimalism and scandi - simply and tastefully. Conceptually - this can be said about the geometry in the interior as a whole. And if you haven't decided on a style yet, we have a cool style preference test!