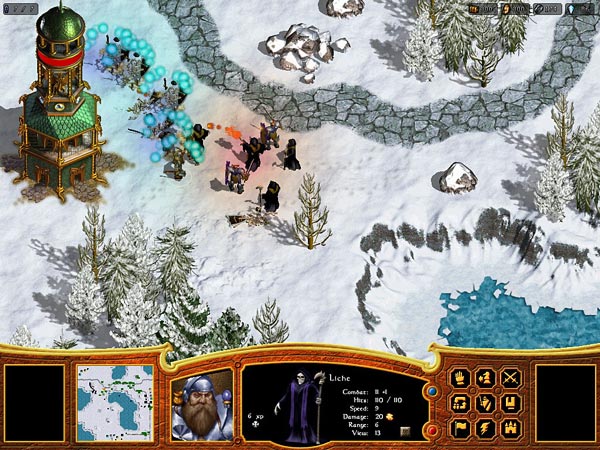 System Requirements
CPU: 350Mhz OS: Windows 98, ME, 2000, XP HDD: 100MB Video: 16MB Direct3D Compatible Sound: DirectSound Compatible Age: Everyone
Grab your raft and bazooka and head for the water. There are many colored blocks heading towards you and you need to destroy them all! You must shoot all the blocks with the same colored ammo. You will have to aim quickly and accurately because you\'re timed! Also, if you miss you will have a weight or a safe dropped on your head. No pressure! So choose your character and let\'s play! The demo offers two characters, and the full game will offer nine. Each has their own special abilities and unique personalities. In the demo, you can be Buggy B a worm with a raft, paddle and a lot of courage. Or you can be Calvin a sheep with a motorized raft and his desire to be a super hero when he grows up.
Game Modes
The Demo offers single and multiplayer play. For multiplayer you use the same machine with different controls or keys. You can play against the computer as well. Most of the game play is in the puzzle mode. This is where you have a limited amount of time to destroy all the blocks. There is usually a trick or two that will knock more blocks off per shot. Other game modes include a Tetris style mode where you have to knock out colored layers of blocks before you get crushed. The last game style is death match. In this mode you still have to avoid being crushed, but you can bounce bullets off of the divider between you and your opponent. Sometimes the barrier opens up enough to take a shot at the other player.
Enemies and ammo
There are many different kinds of blocks and you have a variety of weapons available to you as well. Usually the blocks start off a certain color, they can either be destroyed by hitting with the corresponding ammo or altered by a different color bullet. There are dead blocks that you set their color by hitting them. There are also bouncy blocks to ricochet off of. For weapons you get your standard bazooka and color coded ammo. You can also get dynamite and grenades, laser beams and shot guns will also be available to help you get the job done.
What to expect in the full game
The full game sounds very promising. There will be sixty challenging puzzle levels and eight multiplayer modes. To help you beat the levels, there will be twenty weapons and gadgets to use as well. Finally you will have nine characters to choose from, each having their advantages.
Appropriate?
From a Christian perspective this game is pretty clean. There is a little violence when the safes and weights smash you after you misfire. You can also attack the other player in death match mode. The violence is very animated, no different than cartoons. This game is rated for everyone and I would have to agree with that.
Overall experienceEase of use
The game was easy to install. When you run it, it will prompt you for the resolution. You have the option to use T & L (Transform & Light). The graphics are very colorful and has a console feel to it. The music was very fitting. It was tropical at times and dance style the rest of the time. When your time starts getting low, the music will speed up to add the appropriate pressure. The sound effects and voices were cute and fitting as well. For controls you can use the keyboard or joystick/game pad. The controls take some getting used to, and you can customize them. The game ran very stable, I didn\'t experience any lock ups or glitches. My only complaint is that this game is very hard. I am sure the full version will have easier levels and more game modes. But for $19.99 it is a real cute game.
Final Ratings
Graphics B+ Game play B+ Sound A Interface B Stability A+ Offensive Content B+
Overall 88% B+