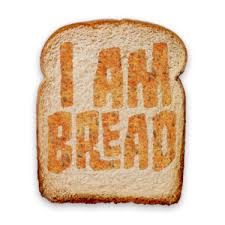 Game Info:
I Am Bread
Developed by: Bossa Studios|Published by: Bossa Studios
Release Date: April 9, 2015
Available on: PC, Mac
Genre: Simulation
Number of Players: Single-player
ESRB Rating: Not rated
Price:$12.99
Thank you Bossa Studios for sending us this game to review!
I Am Bread is yet another comedic physics game produced by Bossa Studios, the makers of Surgeon Simulator.  Instead of removing bodily organs, your goal in this game is to simply become a piece of toast.  Unfortunately this ambition is at the expense of the sanity of Mr. Murton, the house owner.    Each level/room of Mr. Murton's house is prefaced by hilarious therapy notes from the psychiatrist treating him.  
Naturally, the psychiatrist doesn't believe it's the piece of bread that's trashing Mr. Murton's house and taunting him with a piece of toast in the wreckage.  To prove his theory, Mr. Murton places the mysterious loaf of bread in various rooms of his house including the kitchen, bedroom, lounge, bathroom, garage and back yard.  
In the Story mode there are two critical variables of which you must be aware.  The edibility meter is your health bar and the less edible you are, the lower your level score will be upon completion.  If your edibility reaches zero you'll have to start over. You lose edibility for time spent on the floor and you'll have to avoid it by climbing on walls or cabinets instead.  When you're climbing you'll need to pay attention to your grip meter.  Speed is key because when the grip meter is depleted you'll lose your grip and fall.    After a couple of consecutive failures in the Story mode, a magic marmalade jar will appear and when broken, will give players infinite edibility and no grip meter.  The highest letter grade available after using the magic marmalade is E. All but the last level offer the magic marmalade option.  Completing the Story mode levels are mandatory for unlocking more game modes and levels for them.
Highlights:
Strong Points: Wacky humor and game modes
Weak Points: Some of the game modes are very challenging
Moral Warnings: Some doughy violence
My kids got a kick out of the concept of dragging and flinging a piece of bread around.  The Free Roam mode lets you do just that with no goals, or edibility and grip meters.  If you just want to destroy stuff, frenchbread/baseball bat style, the Rampage mode is right up your alley.  In Bagel Race you get to roll around and climb walls as a bagel to go through check points as fast as possible to the finish line.  If you mess up, you can re-spawn at your last check point.  
Cheese Hunt has a unique twist on the edibility meter.   In this mode, you play as a cracker and how edible you are depends on how much physical damage you sustain.  Your goal in this mode is to find the five hidden pieces of stinky cheese to make yourself complete.  Zero Gravity mode puts you in a zero gravity atmosphere and straps some thrusters on your piece of bread for maneuverability.
If  you like space shooters you'll get a kick out of Bossa's Star Wars Day (May 4th) add-on, Starch Wars.  In this mode you fly around and have to take down the Starch Destroyer.  Of course, this big ship is protected by Rye fighters.  If you can take it down, you'll earn one of many Steam achievements available for this title.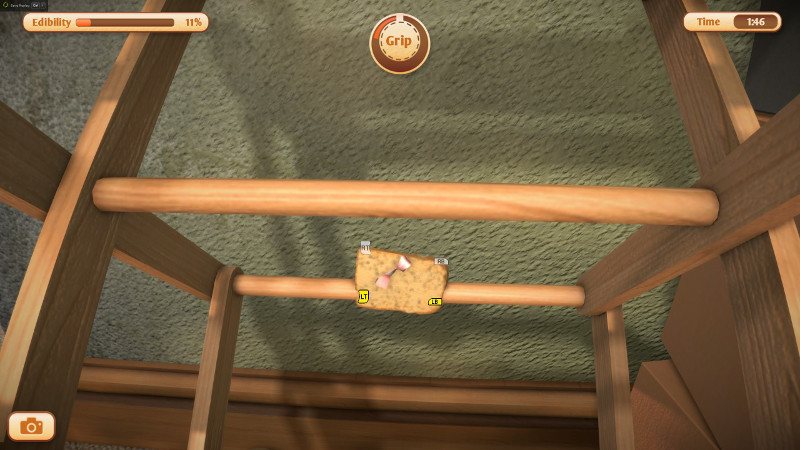 Score Breakdown:
Higher is better
(10/10 is perfect)
Game Score - 78%
Gameplay - 17/20
Graphics - 8/10
Sound - 7/10
Stability - 3/5
Controls - 4/5

Morality Score - 96%
Violence - 8/10
Language - 10/10
Sexual Content - 10/10
Occult/Supernatural - 10/10
Cultural/Moral/Ethical - 10/10
While you can play I Am Bread with a keyboard, the game recommends using a gamepad.  I agree whole wheatedly.  To maneuver the piece of bread, bagel, cracker, or baguette, you have to alternate edges to flip the bread over.  You can also fling and nudge it as much as your heart desires.  Fortunately there's a tutorial available to show you the basics.  I highly recommend starting there.
Despite some bread abuse, I Am Bread is pretty family friendly and I have little concern about letting my kids play this game.  If it wasn't for the magic marmalade, this game would undoubtedly cause many gamers to rage quit.  Thank you for your benevolence for young and bad gamers, Bossa Studios!
The graphics are nicely detailed and watching the slice of bread get dirtier and dirtier is both gross and silly at the same time.  I thought it was funny when my piece of bread had a used bandage stuck to it.  While my ATI 7970 powered desktop ran this game great, my Nvidia 660M was very glitchy.  The only way I could get this game to run on my laptop was in Open GL mode and while it was playable, the graphics flickered quite a bit.  Hopefully it runs better on beefier Nvidia cards.
The $12.99 price tag is very reasonable and is bound to entertain both kids and adults for a while.  I completed the main story in five hours with the help of magic marmalade.    There are still many levels for my kids and I to play through in other modes and plenty of opportunities to improve our high scores.  If you find the concept of playing as a piece of bread amusing, then chances are you'll enjoy this quirky title.