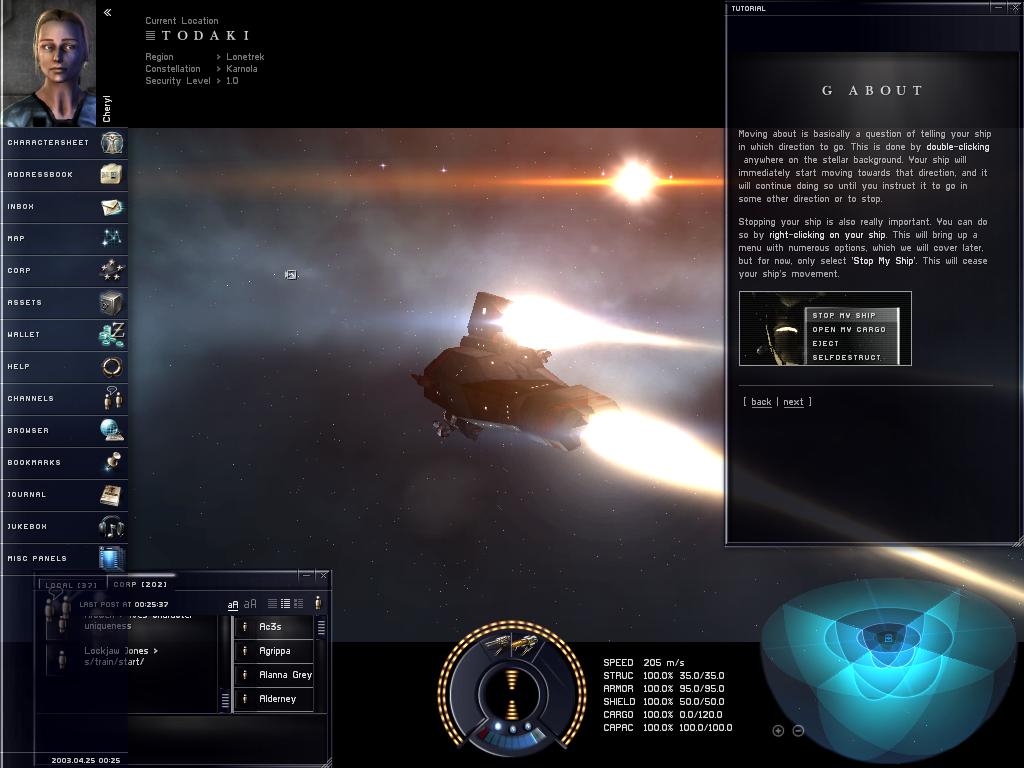 System Requirements
OS: Windows 98/Me/2000/XP CPU: Pentium 450Mhz RAM: 128MB/256MB for Windows 2000/XP HDD: 1GB VIDEO: GeForce 2 or better SOUND: 16 bit Direct X 8.1 Compatible 56K modem connection or faster needed to play Age: Teen
Eve is a Massive Multiplayer Online game that just came out of beta testing. I\'ve only played the beta so I won\'t rate this game on stability. This I will share, it has come a long way since I started the beta.
Game play
Like most online games you start off the game by setting up your character. There are four races to chose from. Each race has their own personality and history behind them. The character morphing tools are quite cool. You can alter your characters appearance by morphing their eyes, jaws, mouth and head. There are also attribute points that you can assign in intelligence, charisma, perception, memory and willpower. Once you have your characters base points established, it\'s time to give them their background. You get to choose their Ancestry such as merchandisers, scientists, or a test tube baby. You also select their education: their majors and interests. These all add to your character\'s points and specialties.
Races
* Caldari - military minded
* Minmatar - tribal
* Amarrr - authoritarian
* Gallente - self righteous, meddling, pompus..originated from France (this was in the game I did not add this in!)
Getting Started Once you have your character it\'s time to run through the tutorial to learn how to fly, attack, mine, warp and dock. The tutorials were easy to follow and I found them very helpful. Once you dock at a base you can trade your goods, go on bounty missions and chat with people. To make money in this game you can mine, trade or collect bounty. Once you have enough money you can do numerous upgrades to your ship.
Graphics
This game is very easy on the eyes. Flying around in space was a nice experience. I hope real astronauts have it this good. ;) I liked the lighting, detail and reflections. The scenery and warping effects were well done.
Sound
The background music was very fitting and definitely added to the game play. There is a juke box feature in the game interface where you can switch tracks whenever you want. I thought that was nifty. The sound effects were decent too.
Interface
I liked the controls in this game, they were pretty standard. When docked the controls are a little trickier. I found the inventory management a little tricky but it probably just takes some getting used to. There are a lot of menus and interfaces inside this game, not to mention the chat client. You have a Character sheet, address book, inbox, map, assets, wallet, help, channels, bookmarks, jukebox and journal panels at your disposal.
Christian Perspective
There\'s some mild violence in this game as you blow up other people\'s space ships, but other than that it\'s pretty decent. Regarding swearing, with all online games, the language is as clean as who you hang around with. To bind yourself to a station you have to do a cloning process.
Conclusion
I\'m not really big into space games but this one was pretty neat looking. I haven\'t played the game long to enough (beta ended) to see how fun the mining, trading or bounty hunting can be, but if that sounds like fun stuff then this game will be for you! It did run well on 56K so don\'t let that stop you from trying it.
Final Ratings
Graphics B+ Game play B- Sound B Interface B+ Stability N/A Offensive Content B
Overall 84% B