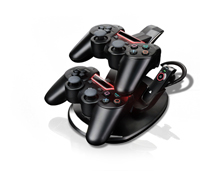 Hardware Info:
PlayStation 3 Energizer Power & Play Charging System
Developed by: Performance Design Products
Release Date: October 2008
Price: $30
Thank you PDP for sending us this product to review!
Even though the PlayStation controllers have built in batteries, having a third-party charging system offers several benefits.  By using a charging system like Energizer's Power and Play Charging System you can charge your controllers without having to constantly leave your PS3 on or changing the bluetooth pairing. This is especially helpful if you use the PlayStation controllers on a computer.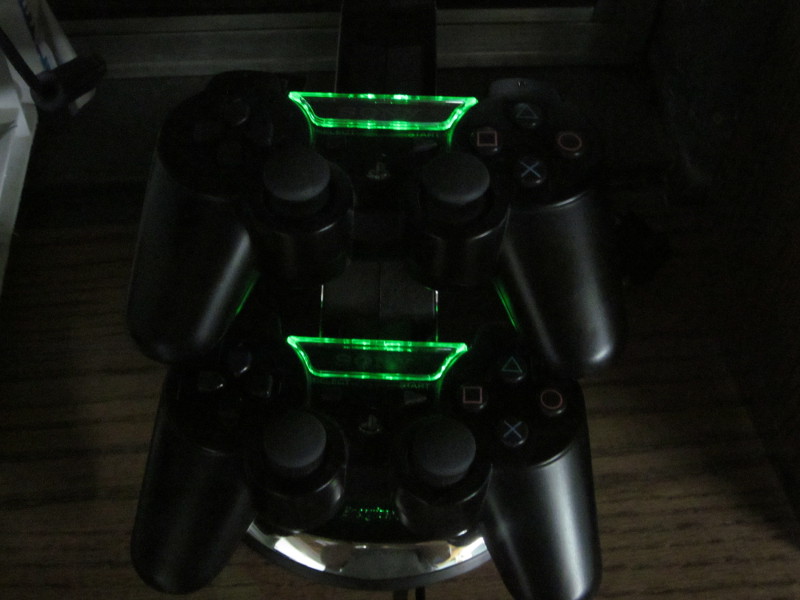 Highlights:
Strong Points: Ability to charge two controllers without losing bluetooth pairing.
Weak Points: Cannot charge the PlayStation Move Navigation controller with the side USB connector.  

The Power & Play Charging System doesn't take up much space and has a simple-yet-elegant design.   There are models available with and without an extra side USB port.  Our model has this extra port which is intended to charge a bluetooth headset.  Since we didn't have that headset, we unsuccessfully tried to charge our Move Navigation controller.   Energizer sells inexpensive charging systems for the Move controllers.  On a positive note, we were able to charge our Snakebyte Wii controller with it.  
The Power & Play Charging System includes the base, the stand, a bluetooth charging adapter, and an AC adapter.  Since all of our controllers are Sony branded, we cannot confirm compatibility with third party controllers.  As long as they have similar dimensions and standard USB connectors they should work.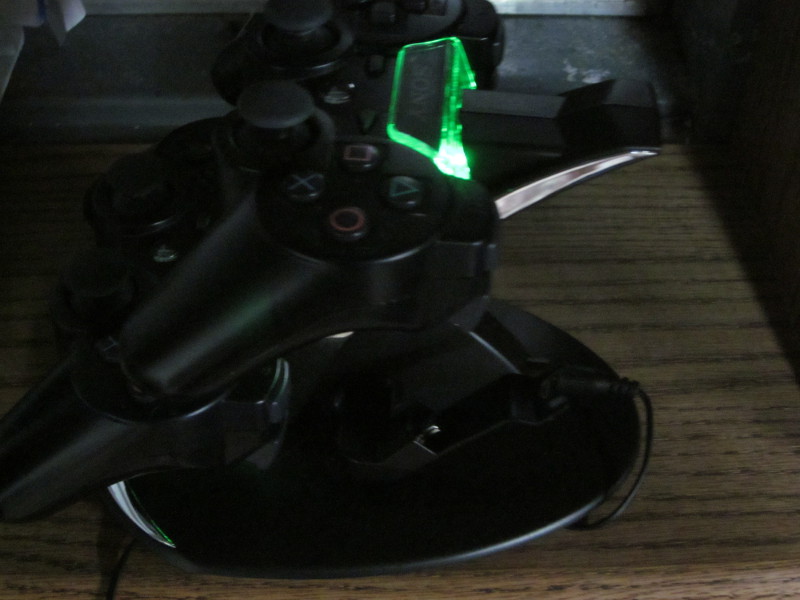 The Power & Play Charging System is well designed and fairly easy to use.  You must plug the PlayStation controller up and into the device.  When the connection is secure, the nearby LED will illuminate. The LED will glow red when charging and green when charged. Each device has their own LED.  Even though the LEDs are toward the back, they are still distracting in the dark.  
It's great to have controllers that are fully charged and ready to go.  You don't have to worry about this system overcharging the batteries either.  Charging a dead controller takes approximately two and a half hours and only minutes to top off controllers after a short amount use.   While the suggested retail price is $30, I have seen it for less than $20 at Amazon.com, though that model does not offer the extra USB port.