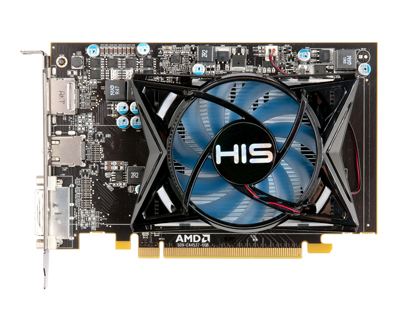 First of all, thanks a lot to HIS for giving us the opportunity to review this video card.
About HIS
HIS is a graphics card company that primarily builds ATI-based products. They are a Christian company as well. This is part of their company statement: "HIS was established in 1987 with the mission to produce the highest quality graphics cards in the industry. Besides strong devotion to excellent products and services, HIS has been conducting business with the aim to "Glorifying God". Honesty and integrity are the two key principals of how HIS are conducted. Ethical business practice has been an everyday commitment to our clients, vendors, and investors." Most of us pick a video card based purely on chipset and price. It's good to see HIS is more than a typical ATI card manufacturer - they have a mission that CCG can agree with. Even so, this review is based on the quality of the product reviewed; no unnecessary bias has gone into the review process.
HIS HD 7750
800MHz core clock 
1GB GDDR5 128bit interface 
Memory Clock 1125MHz 
PCI Express 3 support 
DirectX 11.1 support 
Shader Model 5 
OpenGL 4.2 support 
HDMI 1.4a, Display Port 1.2, DVI, HDTV 1080p support 
The Comparison

HIS HD 5870

850mhz core clock 
1GB GDDR5 256bit interface 
Memory Clock 1200MHz (4.8GHz effective) 
PCI Express 2.1 Support 
DirectX 11 support 
Shader Model 5 
OpenGL 3.1 support 
HDMI,DVI, HDTV 1080p support
HIS HD 5570
650MHz core clock 
1GB GDDR3 128bit interface 
Memory Clock 1800MHz 
PCI Express 2.1 Support 
DirectX 11 support 
Shader Model 5 
OpenGL 3.1 support 
HDMI, DVI, HDTV 1080p support
Asus GTX560 (factory over clocked)
810MHz core clock 
1024MB GDDR3 256bit interface 
Memory Clock 1002MHz 
PCI Express 2.0, takes 2 slots 
DirectX 11 support 
OpenGL 4.1 support 
Dual DVI
Benchmark System
Intel Core i7 860 2.8GHz 
Gigabyte P55-UD4P motherboard 
OCZ 8GB DDR3-133 
Seagate 160GB 7200RPM 
Creative Labs X-Fi
We ran the benchmarks using a 64 bit version of Windows 7 Professional. Windows gave the 7750 a 7.4 rating in desktop and gaming graphics. With the exception of 3DMark 11, most of these benchmarks were ran at 1920x1200 wide screen resolution. The NVIDIA driver used was 285.62 and the ATI cards used a beta 12.1 driver provided by HIS.
3DMark 11
These results were obtained using the performance test at the default resolution of 1280x720. The HD 7750 (green) more than doubles the performance of the 5570 here.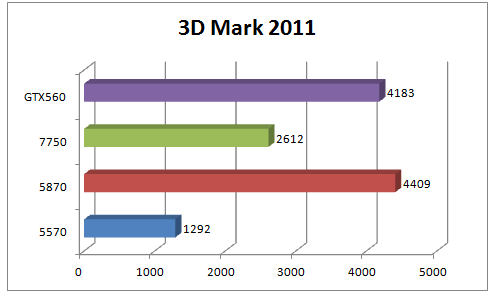 Heaven Benchmark 2.5
Unigine's Heaven Benchmark was the first to incorporate Direct X 11. The HD 7750's new processing design beats the powerful HD 5870, thanks to vastly improved tessellation performance. The GTX 560 maintains a nice lead.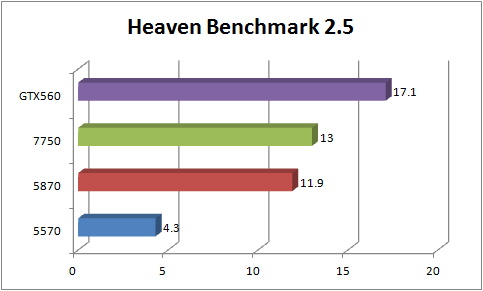 Cinebench 11.5
Cinebench is a great tool for testing Open GL performance. The HD 7750 is the only model that features OpenGL 4.2 support. In this test it slightly trails the 5870 by a couple of frames per second.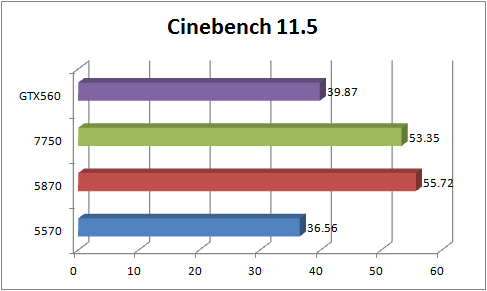 Battlefield 3
Battlefield 3 will bring any powerful system down to its knees. We had the graphics maxed and recorded the temperatures and frames per second using a beta version of MSI's afterburner software. All of the video cards struggled here but the HD 7750 is playable but not recommended with an average of 26FPS. The 5570's performance was painful to watch. The HD 7750's idle temperature was 31 degrees Celsius and BF3 brought it up to 48 degrees.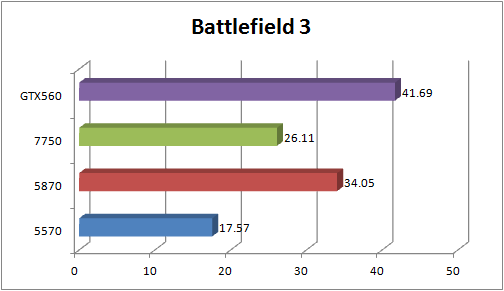 Skyrim
Skyrim is a popular game that offers enhanced textures to make video cards work even harder. The 7750 averages close to thirty frames per second and is playable with the graphics set to Ultra. The temperature stayed at a reasonable 45 degrees. Battles were hard for the HD 5570; I think it took an arrow to the knee.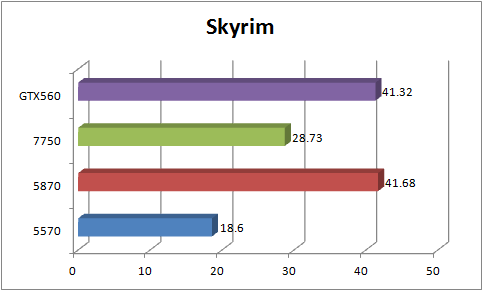 Dirt 3
Dirt 2 was one of the first games to support Direct X 11 and we love games that offer built in benchmarks. Dirt 3 does not disappoint; the benchmark shows more snow than dirt making it pretty to watch. The HD 7750 gives a playable performance averaging 25 FPS which is half of the GTX560 but nearly doubles the HD 5570's output.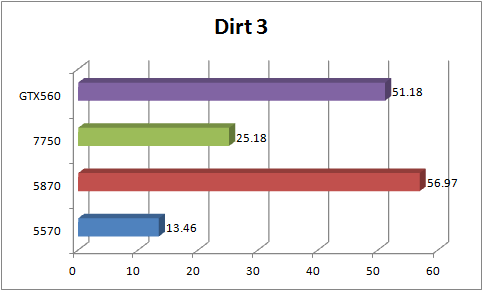 Crysis Warhead
This venerable Crytek engine still punishes video cards to this day. These cards struggled. This benchmark was ran under the Very High setting which is not recommended; the GTX560 and HD 5870 tied at 29FPS. I wouldn't attempt to play Crysis on the 7750, but if you insist, you might want to consider lowering the detail.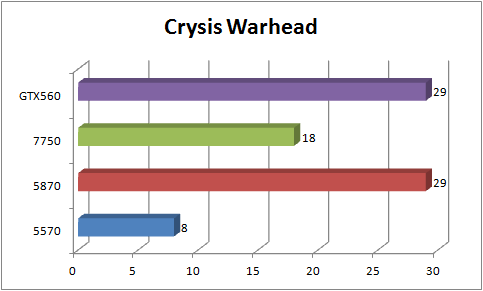 Street Fighter IV
Street Fighter IV has a unique cell shaded, comic book style look to it. Most of the cards did well and the HD 7750 gets an average of 80FPS. The moves go by so fast in benchmark mode, but with the HD 5570, you can see every move done at a realistic speed. It was the only card to get a D rating.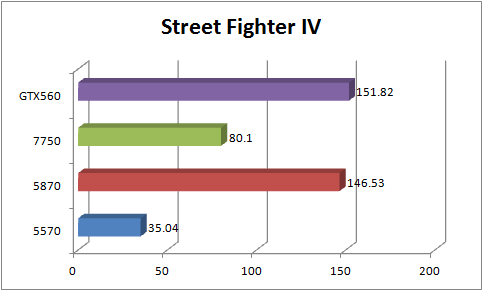 Conclusion
While the HIS HD 7750 can hold its own in popular games, its strength lies in its new architecture, with its improved processing power, and multimedia features. The improved processing power was really evident in the Heaven benchmark with its heavy tessellation. I was very impressed that it did better than the much more powerful 5870 in this area. The HDMI 1.4a feature that this card supports includes not only 4k video output, but stereoscopic 3D. Given its small power requirements, if you're looking for a mid range media center graphics card, look no further. Casual gamers will be content with the performance, but gaming enthusiasts might want a beefier and more expensive card. But given that it does not require a PCI-e power connector, and only requires a 400W power supply, this card does HTPC duty quite well. The HIS HD 7750 launch price is a reasonable $109.