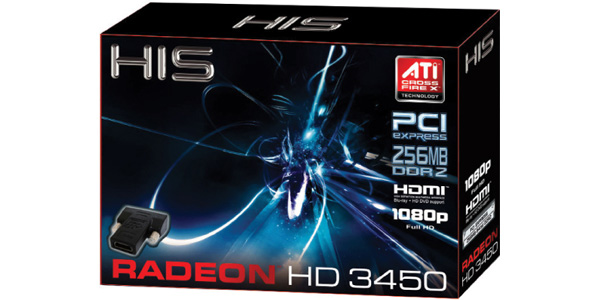 First of all, thanks a lot to HIS for giving us the opportunity to review this video card.
About HIS (Hightech Information System Limited)
HIS is a graphics card company that primarily builds ATI-based products. They are a Christian company as well. This is part of their company statement: HIS was established in 1987 with the mission to produce the highest quality graphics cards in the industry. Besides strong devotion to excellent products and services, HIS has been conducting business with the aim to "Glorifying God". Honesty and integrity are the two key principals of how HIS are conducted. Ethical business practice has been an everyday commitment to our clients, vendors, and investors. Most of us pick a video card based purely on chipset and price. It's good to see HIS is more than a typical ATI card manufacturer - they have a mission that CCGR can agree with. Even so, this review is based on the quality of the product reviewed; no unnecessary bias has gone into the review process.
HIS HD3450 256MB PCIe
The HIS HD3450 is HIS & ATI's answer to the low end multimedia market. For $60 it's a decent card that can allow you to play Blu-Ray and HD DVD at 1080p. This video card relies on passive cooling so it will be perfect for noiseless multimedia systems.
Key ATI/HIS HD3450 Specifications
· 600MHz GPU core clock (varies by brand)
· 800MHz memory clock (varies by brand)
· 40 stream processing units · 128-bit HDR lighting
· 256MB of 64-bit wide GDDR2 RAM
· DirectX 10 support
· Unified  Video Decoder (UVD) for Blu-ray and HD DVD at full 1080p
· Dual-DVI support (needed to support super-high resolution displays) Of particular note is the Dual-DVI, which allows you to use those nice 30" displays, and the very high GPU and Memory clock. Keep in mind that the GDDR 2 with a 64-bit bus limits the memory bandwidth.
-Crossfire X support for multi-GPU upgradability, including integrated video on supported motherboards.
The Comparison
I'll be comparing this ATI/HIS HD3450 against other Direct X 10 cards we have here.
 Key ATI/HIS HD3650 Specifications
· 790MHz GPU core clock (varies by brand)
· 1.78GHz memory clock (varies by brand)
· 120 stream processing units
· 512 MB of 128-bit wide GDDR3 RAM · Pixel Shader Model 4.1 support
·Dual-DVI support (needed to support super-high resolution displays)
Key ATI/HIS 2600Pro Specifications
· 650MHz GPU core clock
· 1.05GHz DDR RAM
·120 stream processors

-128-bit HDR lighting
-512MB 128-bit wide3 GDDR2 RAM
-Dual DVI Support
· Pixel Shader Model 3.0 support
· DVI and VGA connections
Key NVIDIA 8800GT Specifications
· 650MHz GPU core clock
· 1900GHz DDR RAM
·112 stream processors
· 16X full screen antialiasing
· 512MB of 256-bit wide DDR RAM
· Pixel Shader Model 4.0 support
· NVIDIA PureVideo video playback technology
Benchmark System Specifications
For our PCI-Express reviews, we have a fairly high-end system available. It should make fairly clear where the GPU limitations are, since we are not CPU bound here. · Intel Quad Core Q6600 2.4GHz OC'd to 3GHz · Abit IN9 32X Max Motherboard, using the NVIDIA 680i Chipset · 4GB of DDR2 1000 RAM, Dual-Channel, 120GB Seagate 7200RPM Hard Drive with 8MB Cache · SB Audigy 4 · Onboard Nvidia ethernet · Windows Vista Ultimate x64 edition. There was no anti-virus software or anything of that nature installed. The driver versions were as follows: · NVIDIA NForce  drivers, ver. 15.08 · For the ATI cards: Catalyst 8.2 For the NVIDIA 8800GT: ForceWare 169.25
Games Benchmarked and Setup
· Unreal Tournament 3 version 1.1, Crysis version 1.1, 3Dmark06 version 1.1.0 The benchmark tools used for this review can be downloaded at www.guru3d.com.
Benchmark Results
3Dmark06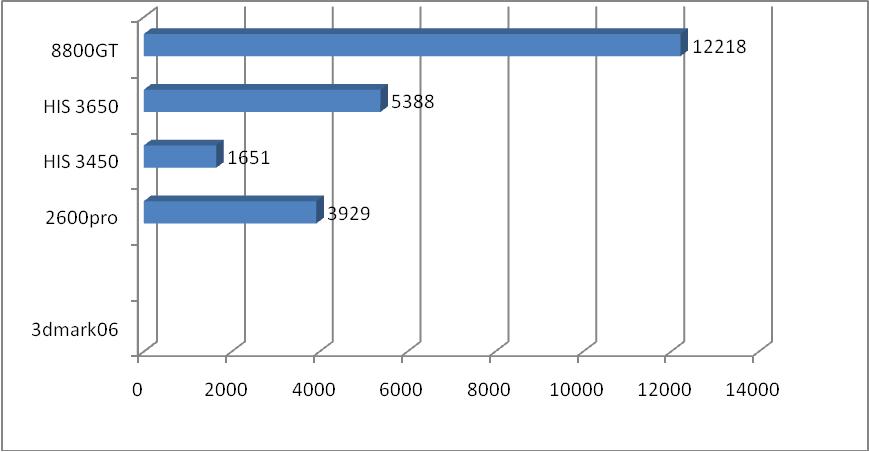 As you can tell, this isn't a very powerful card.  The 64 bit memory limitation is taking its toll.  The default resolution ran on this benchmark is 1280 x 1024.  It was painful to see this card choke on areas that the other cards breezed past.
Unreal Tournament 3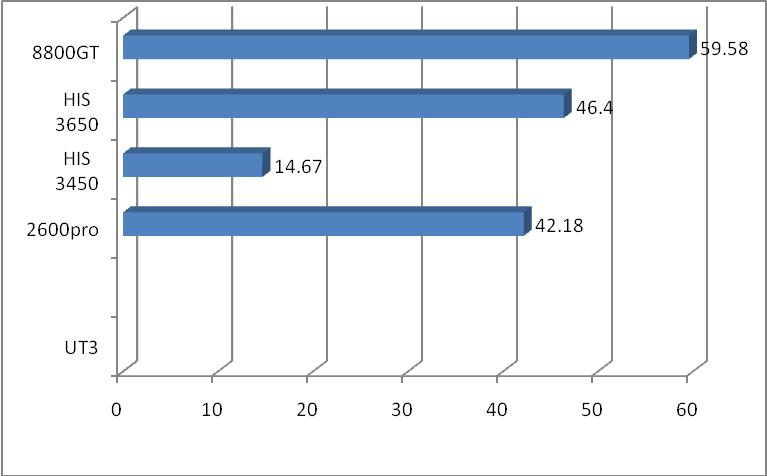 At less than 15 frames per second, I don't recommend playing this online or against tough bots since you'll be fragged before you know it!  It's pretty likely that the FPS is capped to 60FPS, the 8800GT is a pretty powerful card and can probably go further.  This benchmark was run at 1280x1024 with low detail, and 12 bots doing capture the flag.
Crysis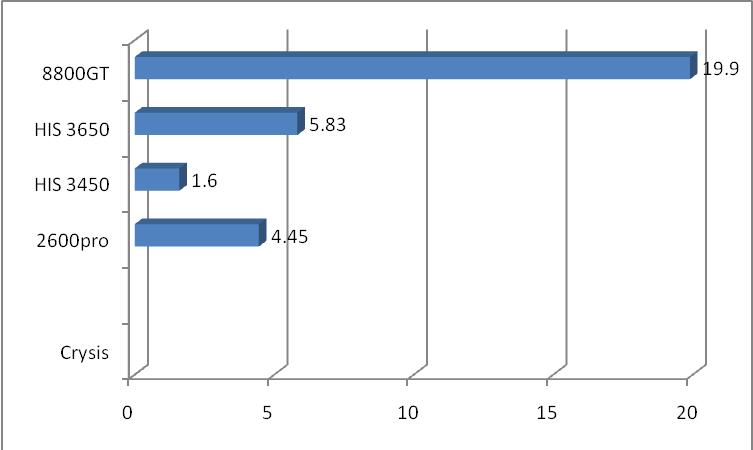 This benchmark was too painful to watch.  It was seconds per frame, literally!  The benchmark took so long my screen saver kicked in.  You don't want to play Crysis with this card!  This benchmark was run at Very High settings with 64bit and Direct X 10 enabled.  The resolution was 1280x1024.  It's a time demo benchmark based on actual game play.  (Which is unplayable with this card)
Vista Rating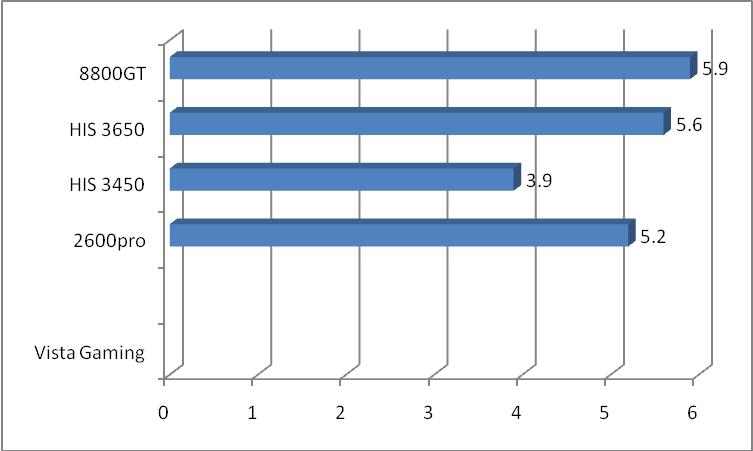 For some reason this card was given a 3.6 in business applications and a 3.9 for gaming.  I don't know why gaming scored higher.
Conclusion
The HD3450 is clearly not a card suited for gamers. It's nice that it supports CrossfireX which not only will crossfire with similar cards, but will crossfire with certain motherboards using AMD's integrated onboard video. The 64 bit memory really hinders the performance.  On the other hand, this is a solid solution for multimedia or HTPC systems.  The fanless heatsink is nice and the 1080p support, as well as AVIVO for Blu-Ray and HD DVD playback is great.  I would recommend this card for Personal Video Recording and business systems only.  It's a good card for the $50 price range, just don't expect to play the latest games on it.