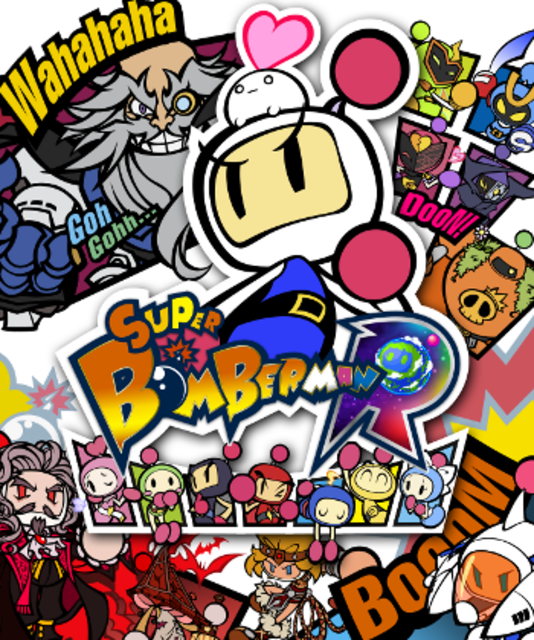 Game Info:
Super Bomberman R: Shiny Edition
Developed by: Konami
Published by: Konami
Release date: June 12, 2018
Available on: PS4, Switch, Windows, Xbox One
Number of players: Up to eight players
Genre: Action
ESRB Rating: E 10+ for cartoon violence
Price $39.99
(Amazon Affiliate Link)
Thank you Konami for sending us a physical copy of this game to review!
The Bomberman series has been around since the '80s and the first one I played was at a Switch launch event in early 2017. My family enjoyed the game and purchased it along with our Switch soon after. Due to our massive backlog, we haven't gotten around to playing it much until the Shiny Edition was sent to us for the Xbox One. The Shiny Edition comes with bundled in DLC that adds new levels, accessories, and platform-specific characters. The Xbox version comes with Halo's Master Chief Bomberman while the PlayStation version has Ratchet and Clank's Ratchet and the Windows edition includes Portal 2's P-body. All of the versions have Konami characters like Castlevania's Simon Belmont, Vic Viper from Gradius, and Pyramid Head from Silent Hill 2.
There are two game modes, Standard and Grand Prix. The Grand Prix mode has Dracula Bomber from Simon's Quest challenging the Bomber brothers in a 3v3 tournament. The Standard mode has a different villain for the story campaign, Emperor Buggler, who has sent out the Five Dastardly Bombers to take control of five planets in the solar system. It's up to the Bomberman brothers (and sisters) to save the universe from his reign of terror. If you're looking for instant eight player action you can jump right into the Battle Mode and blast your friends, family, or AI players. Be warned that even on the easiest setting the AI bots are brutally challenging. I highly recommend playing through the story mode to get the hang of things before attempting a ranked online match. There are unranked ones as well if you wish to keep it casual.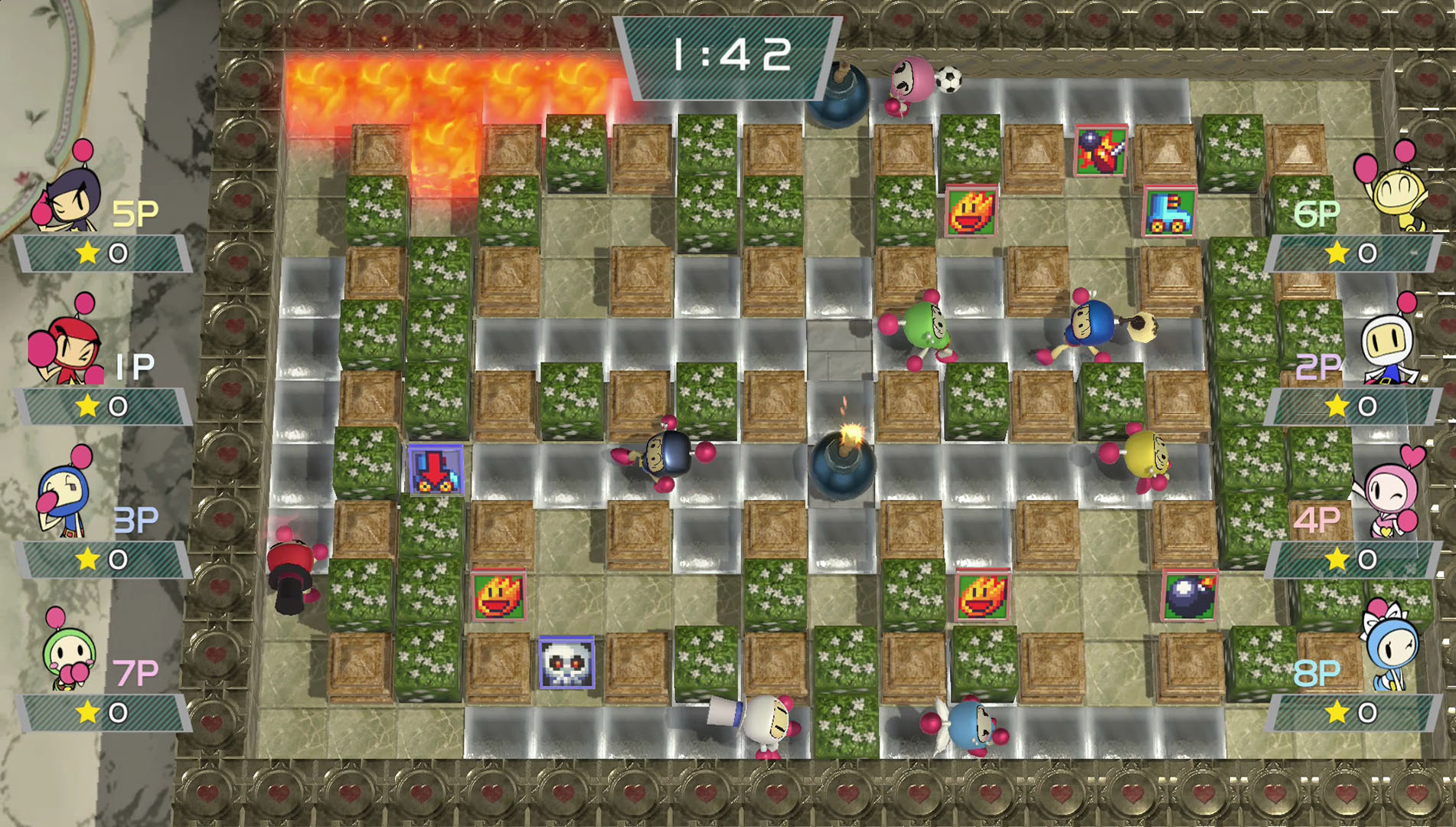 Highlights:
Strong Points: Fun addition to the classic series; active multiplayer community
Weak Points: Online lag and some stuttering in offline game modes; AI is hard to beat even on the easiest difficulty
Moral Warnings: Lots of explosions and cartoon violence
The story mode has a good amount of variety when it comes to level design and objectives. The most common goal is to eliminate all of the enemies, but there are some other conditions like locating keys, activating switches, surviving for a set amount of time, or bringing NPCs safely to a goal. Each planet has eight levels with a two stage boss battle at the end. The first boss stage is a standard bomb match and the second stage is a bigger boss form where you have to exploit weaknesses and attack when the boss is temporarily dazed.
The number of lives you have per planet depends on the difficulty you're playing at. The remainder carries throughout the planet and if you resume the game the number of lives left remains the same. If you run out of lives you can spend in-game coins to add more. Coins are earned by completing levels or local/multiplayer battles. Besides adding more lives, coins can be used to unlock characters, accessories, and game maps. The Shiny edition characters are only ten coins while other characters cost significantly more. The 1400 coins you start off with can go pretty far but you'll need to save up more money to unlock all of the characters and levels available.
Your main objective in Battle Mode is to survive. Each player will start off in a specified or random spot and will have to blow up destructible spaces to explore the map further. After a bomb is placed, you have to hide behind stone cover or stay out of the blast radius. As power-ups are collected the blast radius and number of successive bombs placed increases. Bombs can often be punched or kicked out of the way if you find yourself too close to one. In the event that you get blown up, you can walk around the top edge of the map and hurl bombs at the remaining players until a lone survivor is crowned victorious. Until a winner is determined, blowing up a competitor lets you take their place back in the game. Battles are timed and if a winner is not determined towards the end, the remaining players will get boxed in until only one remains. The ultimate winner is the one who wins three matches.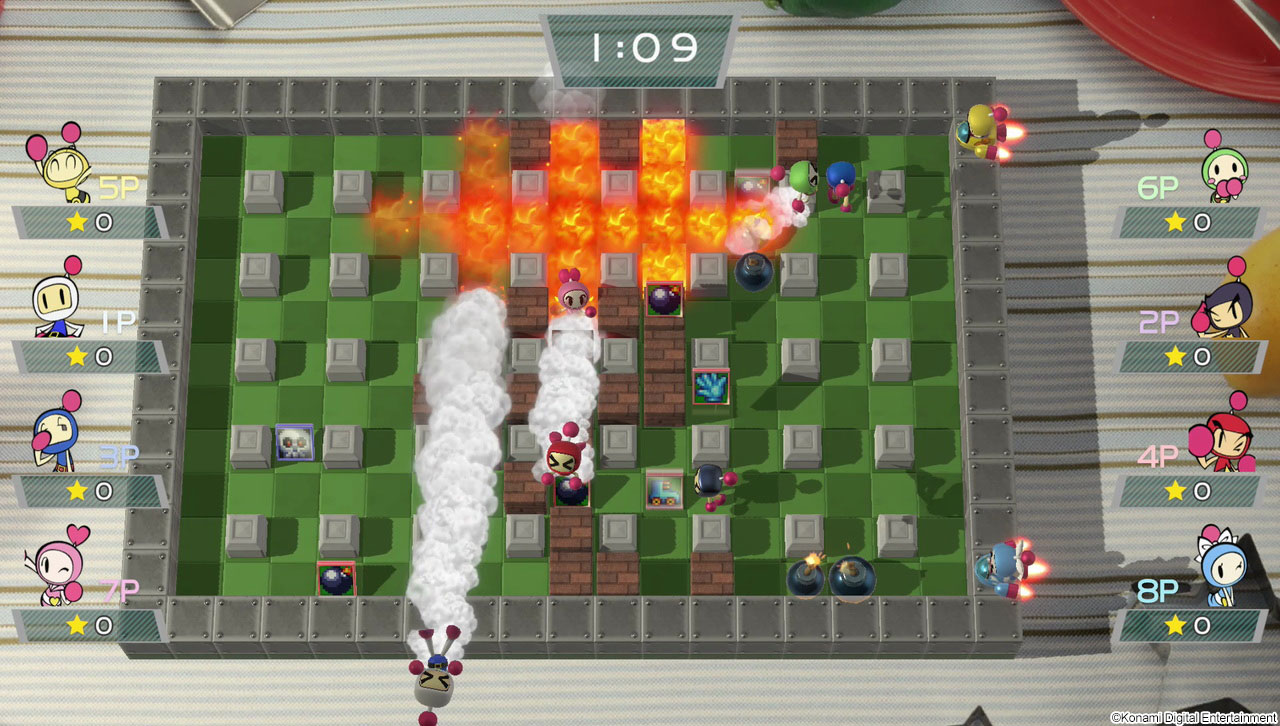 Score Breakdown:
Higher is better
(10/10 is perfect)
Game Score - 80%
Gameplay - 16/20
Graphics - 8/10
Sound - 8/10
Stability - 3/5
Controls - 5/5

Morality Score - 96%
Violence - 8/10
Language - 10/10
Sexual Content - 10/10
Occult/Supernatural - 10/10
Cultural/Moral/Ethical - 10/10
Since you're blowing up your opponents, violence is a given in this title. It's pretty cartoonish in nature and not gory in any way. Since the characters are robots, there is no blood. The art style is cute and the voice acting is pretty good. I was surprised to see some stuttering while running this game on an Xbox One X. Then again, the Xbox One and PS4 versions run at 1080p while the Switch runs at 720p docked and 540p in handheld mode.
Finding a multiplayer match was no problem, but I did experience some lag while playing. According to the numerous negative Amazon reviews, I'm not the only one who dealt with lag. Although I lost the online match I'll own up to it and not blame it on the lag.
In the end, Super Bomberman R is a cute game that my kids and I enjoyed playing together. It's a shame that the original Switch version runs better than the Xbox one given the major hardware differences. The single-player mode is cute but a little repetitive. The multiplayer mode is fun when playing against humans since the AI is too challenging to defeat. If you enjoy Bomberman games then you'll probably appreciate this latest entry.