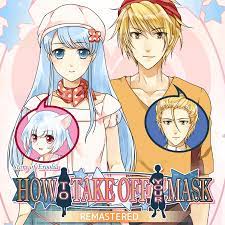 Game Info:
How to Take Off Your Mask Remastered
Developed By: Roseverte
Published By: Ratalaika Games
Released: February 5, 2021
Available On: macOS, PlayStation 4, Nintendo Switch, Windows, Xbox One
Genre: Visual Novel
ESRB Rating: Teen for Suggestive Themes
Number of Players: Single player
Price: $14.99
Thank you Ratalaika Games for sending us this game to review!
How to Take Off Your Mask Remastered is told from the perspective of a character whose default name is Lilia (it can be changed in-game), whose life is turned upside down one fateful day when she discovers she can transform into a catgirl (which is called a "luccretia" in-game). It is a romance between her and her childhood friend, Ronan, who hasn't told her that he actually works as a city guard when not around her human form. This is the main conflict of most of the story: navigating their feelings for each other whilst dealing with the identities that the other person knows nothing about.
When the player starts the game, they are brought to a chapter selection screen. Any unlocked content is labeled with question marks. There are two pages of selectable content, and many of the buttons need to be unlocked by completing the two routes that it has to offer – the human route and the catgirl route. However, these bonus scenes can only be unlocked if the player picks all the choices that contribute to the same side as the route itself. With the exception of the final CG (Computer Graphics), the bonus scenes are all from the point of view of Ronan, the love interest.
However, the player is given a heads up on which direction a choice is going to take them. If the choice favors the personality of the human side of the protagonist, that will manifest itself in the upper left-hand corner as an image of the character's human side and an arrow pointing upwards. The same thing applies to the character's cat side. This is also seen with the level of affection that is shared between the protagonist and Ronan. If the player makes a choice that amplifies the affection that the two characters share, then a heart next to an upwards pointing arrow will appear. If they make the other choice, nothing happens.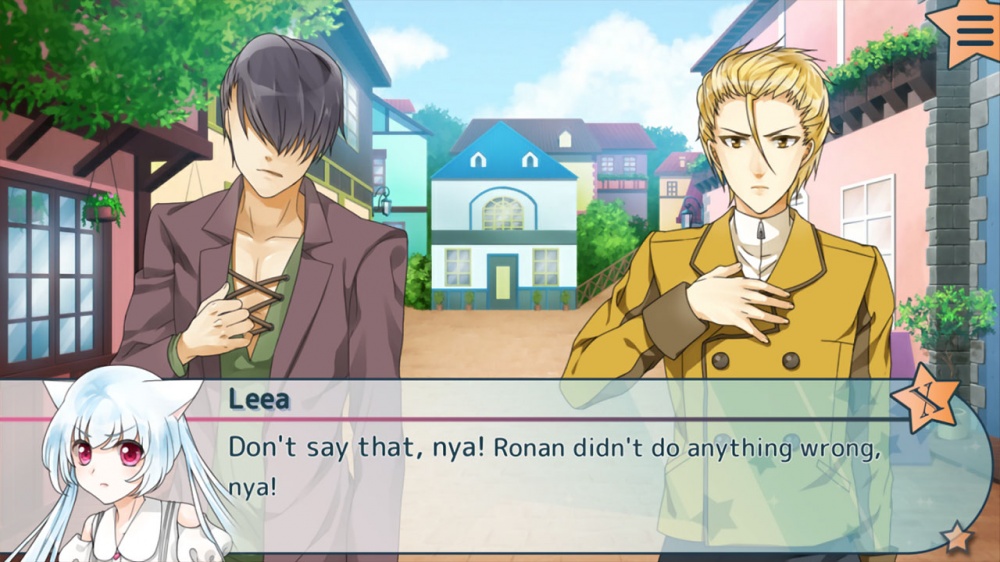 Highlights:
Strong Points: Cute and engaging story; expressive Japanese voice acting; adorable art; nice music; lots of choices; points out when you've made the right choice; can give character a name
Weak Points: While music is nice, it's not super memorable; some loose ends remain untied; glitch where original name shows up instead of chosen name; a few typos
Moral Warnings: Light swearing (h*ll, d**n, p*ss); implied sexual tensions at parts; shirtless scene; kidnapping; mild violence
The story takes place in the capital city of the fictional country of Eroolia, and is the first game in a franchise of romances in the same setting. Many characters from the other games seem to overlap in this one as less important characters than the main two, but still important nonetheless. Lilia, the protagonist, works at her grandmother's bakery, and Ronan often comes to help out a little by doing some odd jobs.
Something that How to Take Your Mask Off makes extremely obvious to the reader is the mutual pining that is going on between the two protagonists. As I found myself sinking deeper into the plot, that was one of the first things I noticed. I enjoyed this awkward idea of miscommunication, but at the same time, I was confused as to how some of these interactions didn't happen sooner.
The art of How to Take Off Your Mask was pleasant, and I enjoyed the detail that was present. Overall, it helped to create a lighthearted tone, which reflected the tune of the story, as nothing ever got too violent or dark. The most violence that is present is that of a punch or a kick.
I found the controls to be a little confusing at times. The various functions that are present in any visual novel (skip, autosave, history, etc.) were mapped out on the space of the controller in a way that took me a while to grasp.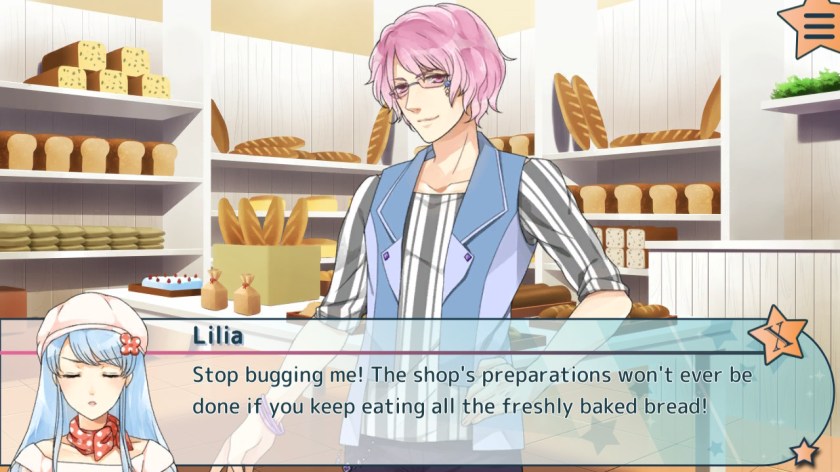 Score Breakdown:
Higher is better
(10/10 is perfect)
Game Score - 76%
Gameplay - 16/20
Graphics - 7/10
Sound - 7/10
Stability - 5/5
Controls - 3/5

Morality Score - 84%
Violence – 7.5/10
Language – 7.5/10
Sexual Content – 8.5/10
Occult/Supernatural – 8.5/10
Cultural/Moral/Ethical - 10/10
The sound of the game was pretty high quality as well. There was Japanese voice acting for every single character, even the minor ones, and also for the protagonist, which isn't very common in visual novels (in my experience). I can't actually remember most of the music, to be honest, with the exception of the opening theme, but I do remember that it was fairly simple and lighthearted, and fit the game in tone and style.
There really aren't too many dark or mature themes present in How to Take Off Your Mask, but there are a few. At one point in the story, a character gets kidnapped, and a major arc is centered around an organization that wants to exile the luccretias from Lilia's home city entirely. There are also a few scenes where sexual tensions are implied, but any romance never escalates beyond a kiss. There is a bit of fanservice present, the most notable example being a scene where Ronan is shirtless because he's changing. There are also light swears scattered throughout the game, namely, h*ll, d**n, and p*ss.
The end of the story is satisfying, but it does leave the player with questions. My best guess as to why these inquiries are present is because they are for the other games in the franchise to answer.
Overall, How to Take Your Mask Off Remastered is a very cute visual novel with an engaging story, and serves as a cute and wholesome introduction to the genre (with sneak peeks of some of its tropes as well). It's a little expensive, considering the fact that both routes can be beaten in a matter of a few hours. However, I would certainly recommend it (when it's on sale, of course).
- Kittycathead