Since I can never have too many simultaneous projects going at once, I've also embarked on a project to build a fleet of Starfleet ships.
First,
U.S.S. Enterprise NCC-1701-A
.
The kit is the AMT kit from the '80s which is an absolutely horrible kit. I didn't realize it until after I ordered it from eBay there's a much better (and larger) one out now that I will be purchasing when I go to do the Enterprise NCC-1701 post refit. For now, I'm making do with what I have.
The biggest problem with building a starship model like this is the studio model looks WAY different from the way it looks in the actual movie.
The studio model:

Looks like this in the films: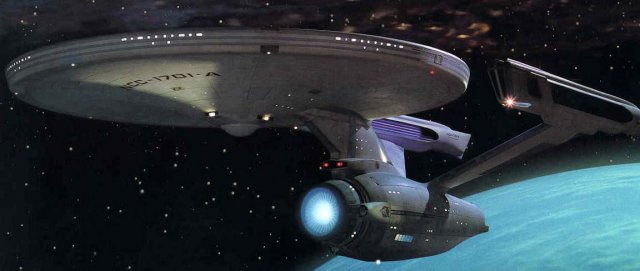 The difference is because of lighting. A studio model in a warehouse is lit very differently form that same model when it's being filmed to look like it's in the darkness of space. As far as I'm concerned, that's what the ship was
meant
to look like. The problem is, painting the hull a dark gray then trying to do a lighter gray where the ship's running lights hit the hull would look awful and not natural under normal lighting conditions in the room where I display it, and if I'm gonna display it in the dark I would be better off adding the lights for real.
So how to paint it? Are we going for accuracy to the model, or the "movie look?"
I decided to do neither. I'll just be painting it to match how it looks in my head, and take a little artistic license.
So first, I built the 4 main sections separately. The saucer, each of the two warm nacelles, and the secondary hull with the neck and pylons. I like a lot of detail, and if you look close at the Enterprise in any of the shows or movies, you see a lot of paneling where the metal looks like slightly different shades. I initially tried several different gray shades together, but it looked cluttered so I just went back to two shades of gray. Here's the port side warp pylon as viewed from above.
It's more subtle, but still gives the impression of separate panels.
More to come...